Tips for Choosing the Best-fit Outdoor Dog Kennel for Your Dog
by Dakota Storage Buildings, on August 05, 2020

Whether your dog is a working dog or a family pet, consider these insights when choosing an outdoor dog kennel.
Your outdoor dog is a loyal and valuable contributor to your household. So, one of the most important decisions you'll need to make is where Fido will stay. If keeping your dog inside the house isn't the best option, you'll want to provide an alternative shelter that's comfortable and safe.
A quality outdoor dog kennel is the perfect solution. It will give your pup plenty of space to move around and protect him from the elements. But with a million different options available, where do you even begin? What should your main concerns be? What design options and features are vital for your specific dog?
You've come to the right place. When it comes to designing and building the best outdoor dog kennel, we have a ton of experience and can make sure you end up with the one you need. We've put together four useful tips to consider when choosing the right outdoor dog kennel.
1. Determine the Right Size
The last thing you want to do is get an outdoor dog kennel that isn't big enough to move around in comfortably. If you're planning to shelter more than one dog, you'll want to take that into account, too. We offer both single and double outdoor dog kennels.
To find the right size for your outdoor dog kennel:
Measure each dog's height, length, and body width. (If your dog is still a puppy, you'll want to look up the average full-grown size of a similar breed.)

Add 9 inches to the height of your tallest dog, and add 18 inches to the length of your longest dog. Take the total width of each dog you measured and add 12 inches per dog.
These measurements should help you assess the minimum space requirements for your outdoor dog kennel. It's always a good idea to err on the larger size in case you ever decide to get a larger (or additional) dog. You'll also want to think about the outdoor area too. A dog should be able to easily go in and out of its house when it pleases.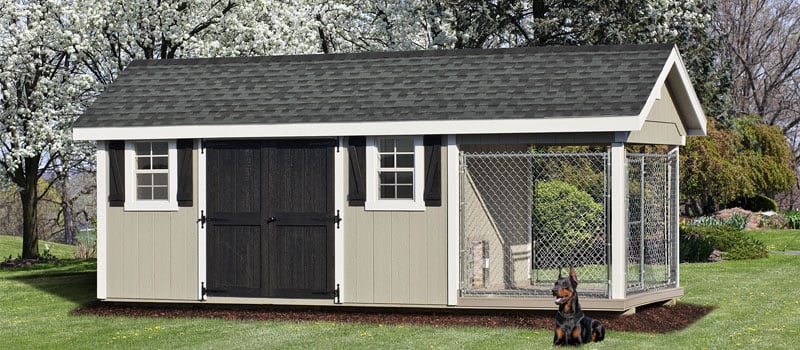 TIP: If you'll be using the dog house as a permanent shelter (he's living outside 2/47), consider buying a larger dog kennel that includes amenities such as an insulated room and a built-in outdoor run with sturdy chain link fencing.
2. Settle on a Location
Once you get the size right, you've got to find the perfect location for your outdoor dog kennel. A lot of the decisions you need to make will be based strictly on your preference, but the right location for your outdoor dog kennel should also protect your dog.
Outdoor dog kennel placement considerations:
Do you want the kennel far enough away from the house so nighttime barking is muted? (Don't forget to keep any neighbors in mind as well.)

What foundation do you want for your outdoor dog kennel? Maybe gravel or a cement slab?

Is there an area available that will provide shade most of the day to limit sun exposure?

Does your yard have drainage problems? If so, elevating your outdoor dog kennel can help ensure that sure rainwater doesn't become an issue.

Are there any gardens, buried power lines, or sprinkler systems to stay away from?
3. Assess Your Environment
Make sure your outdoor dog kennel is equipped to handle the kind of weather typical in your climate, especially if your dog will be in the kennel year-round. By selecting an outdoor dog kennel that's equipped to keep your dog safe in any environment, you'll both feel good about the living arrangements.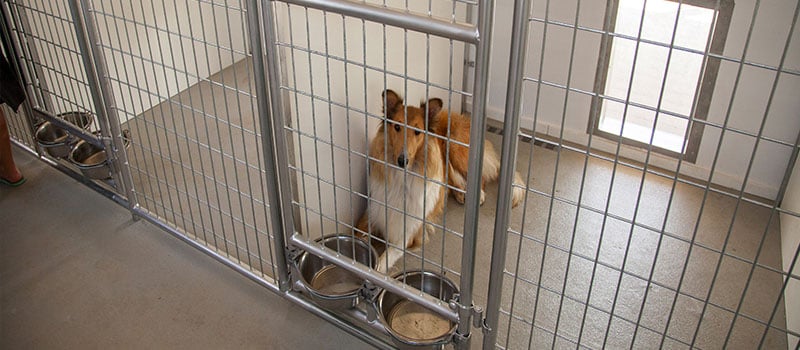 Ventilation
During the cold of winter or the scorching heat of summer, proper ventilation is vital for your dog to thrive. This airflow not only ensures that your dog won't overheat during the hot days, but also keeps mold from growing in the kennel in humid or damp environments. A ridge vent or a few properly placed holes should do the trick.
Precipitation
Your outdoor dog kennel must also be leak-proof; this is also important for the health of your pup. Choosing a slanted roofline can help with this, as well as making sure that any windows and dog doors are properly sealed.
Temperature
Finally, to keep your dog cozy, assessing the wind patterns can help you decide which way to position the outdoor dog kennel. Typically, it's best to avoid having the entrance face north. For further protection in some climates, outdoor dog kennels with insulated rooms are an excellent choice.
4. Decide Whether to Build or Buy
Once you've identified the right size and location for your outdoor dog kennel, and considered the type of environment you need to protect your dog against, you'll have another important decision to make. Are you going to build your own kennel, or are you going to purchase one?
If you are a DIY type with plenty of time on your hands, building your own outdoor dog kennel is something you might enjoy. As long as you have woodworking skills, the right tools, blueprints, and a big imagination, a DIY outdoor dog kennel is definitely doable.
However, a project like this may be outside the realm of a typical weekend warrior. It may be nice to sit back and enjoy drinking a cup of coffee instead. Purchasing a quality pre-built kennel allows you to spend time doing things you'd enjoy more. You'll have the comfort of knowing that an expert is building the kennel – and you won't have to worry about all of the potential headaches that come with building a kennel yourself.
Our high-quality, low-maintenance outdoor kennels include:
Ample Sizing
Chain Link Fencing
Insulated Room
Plexiglass Dog Doors
Feed Room (large-size kennel only)
Weather-Protected Roofing
Run with Poly Decking
Insulated Fiberglass Door
Durable, Decay-Resistant Flooring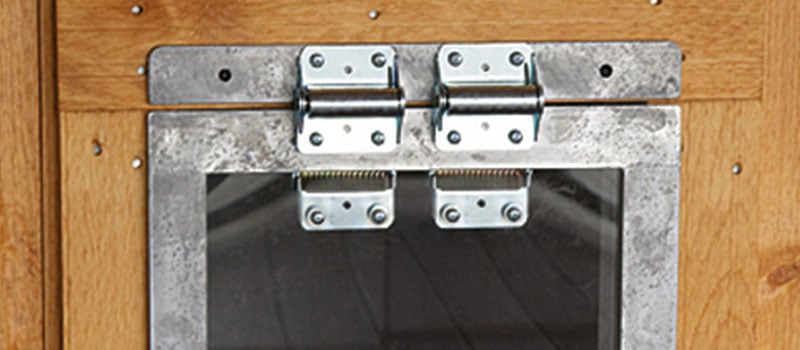 Download Our Guide to Choosing the Best Outdoor Dog Kennel
Now, you can get additional help in choosing the perfect outdoor dog kennel by simply downloading our guide. It includes more information on everything we've discussed in this article, plus a ton of other tips, including dog house essentials, resources for beginners, and more.
With so much to consider when it comes to creating the best outdoor space for your dog, we're committed to come alongside you and help make your perfect outdoor dog kennel a reality. If time is of the essence to give your pooch a palace, learn about our options, browse our in-stock kennels, or contact us today!