We Use These Trusted Brands Because Quality Materials Matter
by Dakota Storage Buildings, on August 09, 2017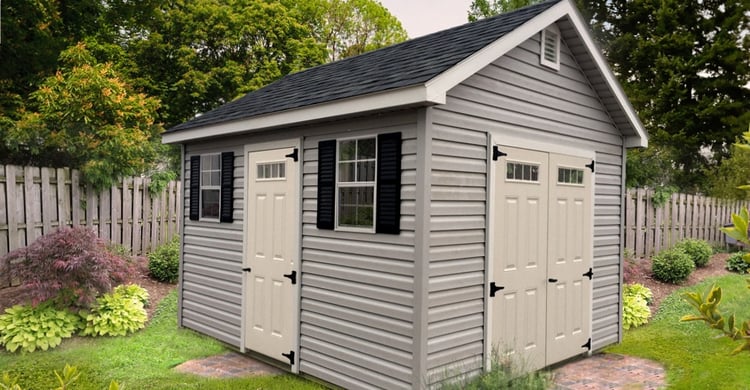 At Dakota Storage Buildings we only use premium materials—and here are three reasons why.
We believe our buildings are

a

representation of our integrity, so we only use the best materials. If your building looks bad or isn't made properly, we look bad, and you feel disappointed. No one wins. Our goal is to satisfy our customers and showcase the products that make us so proud.


Using

great materials makes our job easier. Premium materials are easier to build with and increase our productivity. This increased productivity allows us to sell you a much higher quality building for a cost similar to our competitors.


High-quality materials

increase the lifespan of a storage building and cut down on the maintenance

needed to keep each shed and garage in top condition.
It's for these reasons and more that we choose trusted manufacturers—everyone benefits when high-quality materials are used. Short cuts never win.
Here are a few of the brands that we know and trust.
Sherwin-Williams
We use Sherwin-Williams paint exclusively for our Painted and Lap buildings as well as for the trim packages we offer. Their high-quality paint provides superior coverage and holds up to wear and tear, harsh weather, and regular cleaning.
Over the last 150 years, Sherwin-Williams products have beautified and protected many of the world's most iconic structures, such as The White House (D.C.), Freedom Tower (New York), and The Golden Gate Bridge (San Francisco). It's clear that Sherwin-Williams is the choice for many professionals—including us.
Clopay
Our garages come with Clopay's Premium Series garage doors because they're built to be energy efficient, functional, and beautiful. These doors boast 1 ⅜" Intellicore insulation that improves strength, security, and operation. These garage doors operate smoothly and quietly and offer safety features to prevent accidental injuries. They also utilize weathertight tongue and groove section joints to withstand the elements.
Louisiana Pacific (LP)
We've been using LP Building Products in the creation of our sheds for a long time. Here are three specific LP products that we use.
LP ProStruct® Flooring with SmartFinish is standard on all of our storage buildings because it maximizes the structural longevity. This premium flooring has no knots or voids, which creates a sleek and beautiful appearance and increases the overall quality due to its durable overlay. Significant increases in durability are due to Treated Wood Strand Technology that is made to resist pests, decay, warping, splitting, and cracking.


LP SmartSide Siding is the standard on all of our Painted storage buildings.


LP SmartSide Trim and Lap Siding is standard on our Lap storage buildings.


We're happy to offer LP SmartSide Panel with Smart Finish as an add-on to our Painted sheds and garages. If you want the inside of your shed to look just as nice as the outside, this is a great option. It's a durable overlay that gives interior walls a clean appearance. Because these panels are treated with SmartGuard® treatment, they're also protected from rot and termites.
Long Creek Steel
Tuff Rib steel roofing from Long Creek Steel, a South Dakota-based manufacturer is engineered to provide superior protection and is available in a variety of color options. It's engineered and manufactured to provide superior performance and protection, plus it's economic and structurally sound. It's an excellent choice for commercial, industrial, and agricultural applications.
Owens Corning
Owens Corning's TruDefinition® Duration® Shingles utilize SureNail® Technology to ensure durability. Their architectural shingles are engineered to survive 130 MPH winds and resist algae. This is the single shingle brand that we offer because they come backed with a 30-year guarantee—but more importantly, they bear a name that everyone recognizes and trusts.
VersaCaddy
It can be a challenge to organize the inside of a shed or garage. We know that. That's why we offer the UniCaddy's VersaCaddy™ 16 Organizer Kit as an add-on when purchasing any of our storage buildings. With this kit, you can place each piece where it will best fit your needs. The kit is a complete and versatile storage system specifically designed to utilize the vertical space between 16" on center studs—maximizing the storage space inside sheds and garages. Each component is made of durable materials that can withstand heat, cold, and corrosion.
Explore our storage buildings.
If you don't already own a shed or garage, consider buying a dependable and high-quality storage building from us. You can rest assured knowing it's made with the best materials. You can trust that it will last a long time. With such a significant investment, isn't that what you want?
When it comes to shopping for a storage building, there's a lot to consider. If you're not sure where to get started, we can help. Our Ultimate Storage Building Buying Guide provides a complete look at the shed buying process from start to finish.
If you want to get a price for a storage building, get an obligation-free quote from our website, or to see our buildings in person, stop by one of our South Dakota or Minnesota display locations.