Why Choose An Enclosed Chicken Coop For Homestead Chickens?
by Dakota Storage Buildings, on February 01, 2022

Chicken coop enclosed runs might be the best fit for your property, goals, or preferences.
Every homestead chicken owner has to make a decision to either free range their chickens or use a coop with a chicken run attached. For some, that means an enclosed chicken coop.
Keep in mind, even if you have an enclosed chicken run, you can let your chickens out whenever you want for some "free range" time. If you are nearby or out working in your yard all day, it might be an ideal time to let them explore. But when you're ready to go inside, putting them back in the enclosed chicken run will keep them safe when you can keep your eye on them. If you have a smaller property, live near potential predators, or tend to worry about the safety of free range chickens, it's ok to use a run — just be sure that they have enough space to stretch their legs and scratch around.
What Is An Enclosed Chicken Coop?
An enclosed coop has a built-in run or a defined area where chickens are confined. The confinement area, or chicken run, can be a fence surrounding the coop or an encasement built into the coop structure. Our Enclosed Chicken Coop is a great example of a built-in run.
Chicken runs provide a protected, though limited space, for chickens. In this space they can get fresh air, enjoy sunshine, forage, and more.
Why Choose An Enclosed Chicken Coop For Homestead Chickens?
The ultimate purpose of a chicken coop is to provide shelter, keep the chickens cool in the summer and warm in the winter, protect them from predators, and give them a dark and quiet place for laying eggs. So how does an enclosed coop satisfy these necessities?
First, hens in chicken coop enclosed runs are easier to keep safe from predators, including foxes, raccoons, opossums, and hawks. Since chickens prefer to spend most of their time outdoors, providing as much safe space as you can for the run is ideal. Enclosed runs allow your chickens to do what they need to do and access what they need while being protected from predators — and it keeps them away from your flower beds and vegetable garden.
Second, chicken coop enclosed runs protect your flock from threatening elements. If winds pick up, hard-hitting hail falls, or heavy downpours happen, they won't be far from the safety of their coop. The best enclosed coops for homestead chickens have durable, weather-resistant, and sloped roofs so that rain and snow slide off.
Additionally, birds in chicken coop enclosed runs lay their eggs in the coop nesting boxes or inside the run instead of all over the yard like some free range chickens do. This makes for easier egg collection and fewer broken eggs. The best homestead chicken coops offer a clean, dedicated space for egg-laying, and you'll get high-quality eggs. The rule of thumb is to provide one nesting box for every 3-4 hens, but it never hurts to have more. No matter how many you have, be aware that there's always a favorite box that the chickens will argue over.
Last but not least, a well-built enclosed chicken coop can last a long time, providing long-term value and return on investment. The best chicken coops are made with solid materials and include features such as ample space, insulation, and ventilation that keep your birds safe and healthy. Beyond functionality, there are plenty of attractive options that will look appealing.
Buying An Enclosed Chicken Coop From a Trusted Manufacturer
We know homestead chickens are an investment, and we want to help you keep them safe. When you purchase a coop from us, you can trust that you're getting a premium product, a knowledgeable and experienced team of experts, above-and-beyond customer service, honest prices, and flexible delivery.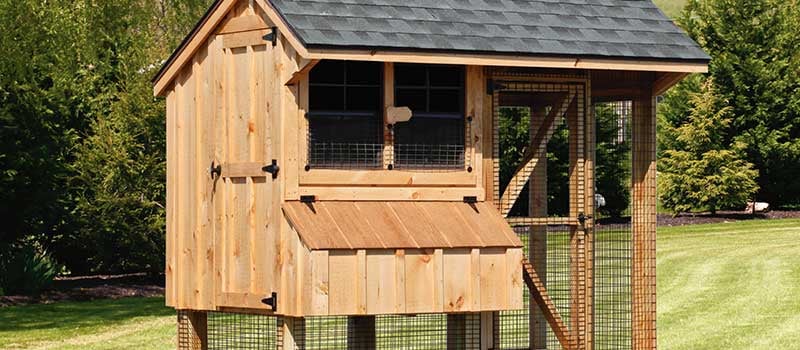 From built-in nesting boxes and roost to premium roofing and flooring, our Enclosed Chicken Coops are constructed with the highest quality components. Our skilled builders use only choice materials because we believe the coops we sell are a representation of our integrity and our commitment to customers. You can expect product longevity and minimal maintenance with quality construction and premium materials.
Because our Enclosed Chicken Coops have durable flooring, they can handle everyday wear, hold up against pecking and scratching, resist decay and warping, prevent health-hazard moisture buildup, and provide rodent and insect control. There isn't much that your chickens can do to ruin or permanently damage the flooring we use inside our coops.
While we do a quality inspection of all the coops we sell, occasionally, things happen. And every once in a while, a problem goes undiscovered until a coop's in use. We understand these things can happen, and we know it's not your fault. To give you full confidence in your purchase, we'll take care of any manufacturer-related deficiencies. Our coop's 5-year Top-to-Bottom Limited Warranty covers all of the things you definitely shouldn't have to worry about.