Why Our Home Garage Is Perfect for Your Vehicles
by Dakota Storage Buildings, on September 15, 2021

You invested in a vehicle — now it's time to invest in a way to protect it and prolong its lifespan.
Vehicles are expensive. They're not an impulse buy — they're an investment. This is the number one reason why so many people choose to keep their vehicles in a home garage when they're not in use. While this is reason enough, there are many other compelling reasons why people buy or build home garages if they don't have one.
If you're frustrated by:
The backbreaking work of digging your car out of the snow multiple times every winter (South Dakota and Minnesota winters can be relentless at times)

The dozens of times you have to wash your car during the height of pollen season

Getting drenched in torrential downpours when unpacking your vehicle
The good news is that a garage can virtually eliminate these problems.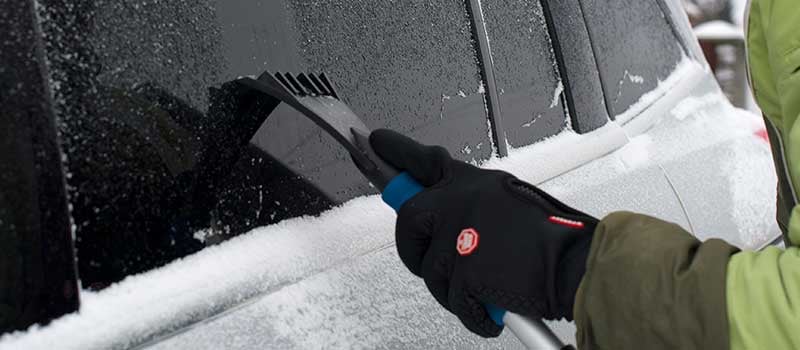 Clearly, there are many reasons why having a home garage is smart, practical, and convenient, but here's more to consider if you're on the fence about investing in a garage.
You can protect your vehicle from dust, rust, and hail — and whatever else nature throws at it. Protecting your vehicle from the elements will help it work better and last longer.
Extreme winter conditions can cause annoying, inconvenient, and costly problems that can be easily prevented. For instance, if a car sets outside for a couple of days during cold months, batteries can die and essential fluids can freeze.
Keeping a vehicle indoors overnight or when it's not in use protects it from break-ins and theft.
When a car is kept inside a garage, the interior is saved from the sun's brutality. Heat and radiant rays can damage your dashboard, steering wheel, and seats – especially if you have a leather interior.
Keeping your vehicle parked in a garage can help when you're running late during the winter and don't have time to scrape ice from the windshield or shovel out a buried car from the snow.
With all of the benefits in mind, it's clear that a garage is the best solution for vehicle storage. With many options available, what's the best one for your needs, space, and budget? We recommend our Home Garage. It's available in several sizes and colors, and it features a built-in loft, premium automatic overhead garage door, and LP SmartSide Wall Panels with SilverTech. Keep reading to learn more about this garage option and how it could be the solution you've been looking for.
Our Home Garage is a Great Vehicle Storage Solution
We know that buying a garage can be overwhelming. It's a costly investment that comes with many decisions. That's why we offer our Home Garage, a semi-customizable package that allows you to work from a baseline of common garage features so that you don't have to start from scratch, saving you time and keeping decisions simple. However, if you want to customize further, you can add all the features and upgrades you want.
This durable, practical, and charming home garage can handle the wear and tear of everyday life, plus its attractive appearance allows it to blend into any neighborhood and match or complement the color of almost any home.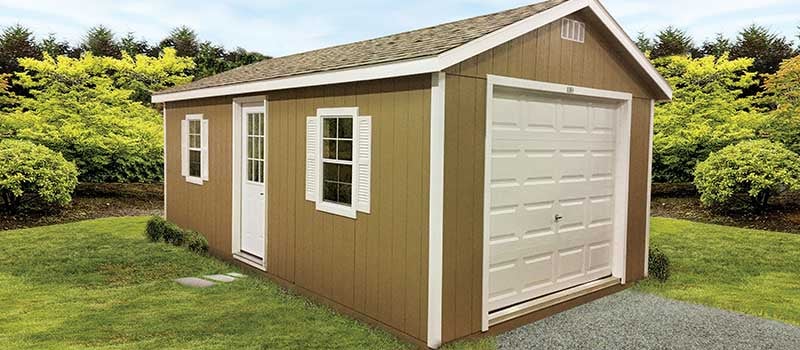 Here are the features that come with our Home Garage, as well as the options from which you can choose.
Included Features:
Clopay overhead garage door
4Ever Frame single prehung composite door
Roseburg Rigicoat Flooring
LP® SmartSide Wall Panel with SilverTech
Built-in Loft
Color Contrast Trim Package
Size Options:
12x16
12x20
12x24
14x32
16x32
16x40
Roofline Options:
Siding Options:
CertainTeed Vinyl Lap Siding
LP SmartSide Wood Paneling
Roofing Options:
CertainTeed® NorthGate® SBS Architectural Shingles
Long Creek Steel Tuff-Rib Steel Panels
Personalize your Home Garage now using our online configurator tool. You can zoom in, rotate the building for different views, switch siding colors, add windows, move doors, and more from your computer, tablet, or smartphone. Save as many variants as you'd like and get a real-time cost estimate for each. Creating and buying a home garage has never been easier.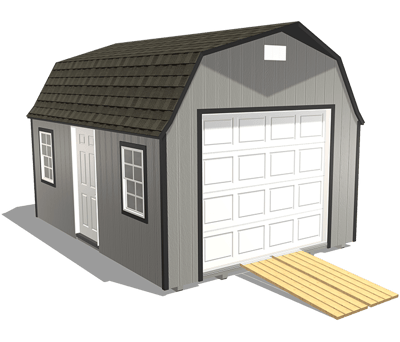 Our home garage is the perfect vehicle storage solution. It has warp-resistant and durable flooring and a reliable overhead garage door (forget about frustrating and costly mechanical malfunctions) plus a built-in loft for extra out-of-the-way storage and LP SmartSide Wall Panels with SilverTech for temperature regulation and increased brightness which is ideal for when you need to work in your garage.
While this garage is intended for vehicle storage, it can also solve other everyday storage problems depending on the garage size you choose. Imagine protecting your car and having room for a deep freezer, bicycles, a workbench, and more.
The Dakota Difference
Why buy a Home Garage from us when there are other building options and manufacturers? Because we offer the best value, the highest quality products, and the greatest customer service of any garage manufacturer in the midwest. We know you want a quality garage to solve your vehicle storage problems at a price you can afford. That's why our garages are built with premium materials by expert craftsmen at fair prices.
Premium materials. You can count on us to use high-quality materials that increase your storage building's lifespan and reduce the maintenance needed over the years.
Experienced builders. You can expect quality craftsmanship from professional builders. We care about construction details and creating products that are durable and beautiful.
No middlemen. Our factory-direct model (forget forking out more money to pay the middleman) allows us to sell high-quality buildings and offer superior service at an affordable price.
We want you to trust that you're getting a durable and long-lasting garage. While we do a full 360-degree quality inspection of all the buildings we manufacture and sell, occasionally, things happen. And every once in a while, a problem goes unnoticed until the building's in place. We understand these things can happen, and we know it's not your fault. To give you total confidence in your purchase and take away any worries, we take care of any manufacturer-related deficiencies.
Why settle when you can be delighted? From selection to delivery, we strive to make the garage buying process easy and convenient. Whether you want a semi-customizable garage package like our Home Garage or a fully custom garage, we can help. If you have any questions about our Home Garage or how you can customize it to meet specific needs, contact our team.
More reading