3 Simple Ways To Maximize Garage Storage
by Dakota Storage Buildings, on August 16, 2016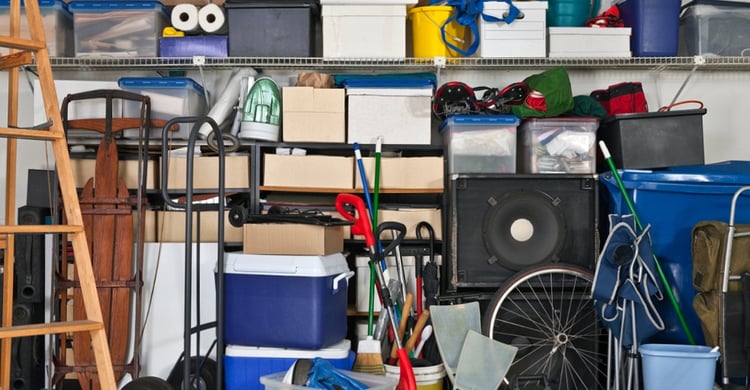 We all know that garages are perfect for storage; they're also quick to collect clutter. Try these organization tips.
The problem often lies in figuring out the best way to organize the space to maximize efficiency.



The next time you're in the mood to tackle the task of reorganizing your garage, remember these three organizational ideas.
Overhead Storage to Maximize Space and Keep Things Organized
Utilize wasted space with overhead storage. Hang cumbersome items like bikes, skis, and golf clubs. Store items up high that you use seasonally or infrequently such as camping gear, coolers, plastic storage bins, freeing up valuable square footage.

You can buy DIY kits or hire a professional to handle the installation for you, either way, overhead storage units you choose should be strong, durable, and preferably reputable. Also, keep in mind the height of the of the shelves. If you plan to use your garage to park your vehicle, the storage units must be accurately measured.
Consider SafeRacks; they're the premier provider of overhead garage storage. The SafeRacks patented design is intended to be the strongest overhead storage solution available with a lifetime warranty to back it up.
If you're in the market for a garage or smaller storage building, when you order from us, you can add on 2-8' deep lofts to your building for increased storage space.
Wall Storage to Keep Things Off the Ground and Easy to Access
Traditional wall shelving still serves as a reliable go-to. You can buy online or from a home improvement store likes Lowes, or better yet, if you like projects, build your own!
This video gives some great ideas for creating your own shelving.

If you've yet to buy a garage, consider buying from us. We can add on 2-4' deep shelves to eliminate the inconvenience of purchasing additional shelving.
Built-In Workbench for Workspace and Projects
Having a workbench built into your storage building maximizes space. A free-floating or unattached workspace takes up valuable space and can get in the way.
This short video shows how to build your own workbench.
If you'd prefer to have a built-in workspace done for you, we can do that! Our 2-4' deep shelves serve well as work tables. Browse our other storage building features.
Need A Storage Building?
If you don't already own a shed or garage, consider buying a dependable and high-quality storage building from us! Start by browsing our Shed Collection and Garage Collection, downloading our catalog, or trying out our online storage building configurator.
Have questions about the buying process? No problem! Our Ultimate Storage Building Buying Guide will give you a complete look at the shed buying process from start to finish.
Connect with us on Facebook, Twitter, Instagram or Pinterest.
--
More reading: