Why People Buy Our Backyard Storage Shed
by Dakota Storage Buildings, on March 15, 2022

Our backyard sheds offer the best value for the best price.
There are many benefits to having a backyard storage shed. Backyard storage sheds offer extra storage space for home and outdoor items, keeping them safe, protected, and secure. Backyard storage sheds can be a solution to house clutter, a preserver of rust-vulnerable bicycles, lawnmowers, tools, and equipment, and a lock-and-key protector of motorized valuables like motorcycles and ATVs. Simply put, a backyard storage shed stores and protects items that would otherwise be in the way, unprotected, or vulnerable.
It's true that you can go to almost any home improvement store to buy a backyard shed. The bottom line is that you can spend hours researching to find the right shed for your needs. Or you could look for shed packages intended to meet specific needs.
If you're looking for a backyard storage shed and you live in North Dakota, South Dakota, Minnesota, western Wisconsin, northeast Nebraska, or north-central Iowa, we can offer you the best value for the price — our backyard storage shed is your solution.
---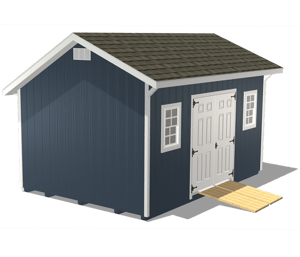 ---
Discover the top three reasons why customers have chosen to buy our Backyard Shed over other options.
Reason #1 Longevity
We understand that you want the best building for your money — and we do everything in our power to deliver that. When you buy from us, you never need to worry about low-quality material, poor construction, or cut corners. We always use quality materials and construct each building with care. Before any building leaves our shop, we inspect it thoroughly. Our inspectors work from a quality assurance checklist to ensure no component or detail is overlooked. You can trust that each building we manufacture meets our high-quality standards and is worth every invested dollar, giving you a backyard storage shed that's guaranteed to last a long time.
Reason #2 Value
We believe our customers deserve the most value for their dollar. That's why we build the highest-quality backyard storage sheds possible then sell them directly to customers without the additional cost of middlemen. Selling directly to you ensures quality, fair prices, and a personal experience. Plus, you get a backyard storage shed backed by our guarantee — one of the best in the industry.
Reason #3 Affordability
Our goal is to help you get the perfect storage shed in the quickest and easiest way possible. Even though our factory direct model allows us to sell high-quality buildings at an affordable price, we also offer three payment options.

Buy Outright: If you want to own your backyard shed immediately and not increase your debt, this is the way to go. There are many advantages to buying a Dakota Storage Building outright. The freedom to own and modify your building in whatever manner you choose is just one. When purchasing outright, a deposit of 25% is required at the time of order, and the balance is due upon delivery.
Finance: Buy today and pay over time with the Wells Fargo Outdoor Solutions credit card, issued with approved credit by Wells Fargo Bank, N.A. With approved credit, you'll enjoy convenient monthly payments and easy online account management. By taking advantage of this financing option, you won't use up your existing funding sources, like a home equity line of credit or bank accounts. Available in SD, ND, MN, NE, & IA.
Rent-To-Own: Rent-to-Own offers an affordable monthly payment plan. If you want to buy your building during the rental period, simply pay 60% of the remaining balance. Rent-to-Own is not available in MN.
Reason #4 Customer Service
People who shop with us are delighted by their storage building buying experience. From selection to delivery, we take pride in helping our customers through the entire process and making sure that our team delivers above-and-beyond customer service. But don't take our word for it — check out the reviews that our customers wrote on Facebook and BBB
What You Get With Our Backyard Shed
We've emphasized that our Backyard Shed package offers durable, long-lasting extra storage space for home and outdoor items, keeping them safe, protected, and secure. To better understand this garden storage package, let's dig into the details.
Look at the chart below. Consider the rooflines and sizes this package offers. We have a range of size options, but depending on the space you have in your backyard, you may want to choose either a smaller or larger size.
| | |
| --- | --- |
| Roofline Options | Size Options |
| Ranch Gable | 10x12 ft. |
| Quaker Gable | 10x16 ft. |
| High Barn | 10x20 ft. |
| Low Barn | 12x14 ft. |
| | 12x16 ft. |
For siding, choose either LP's SmartSide wood panel siding or CertainTeed vinyl Dutch lap or clapboard siding. Then select the color you want for your siding. Both are attractive and easy to maintain.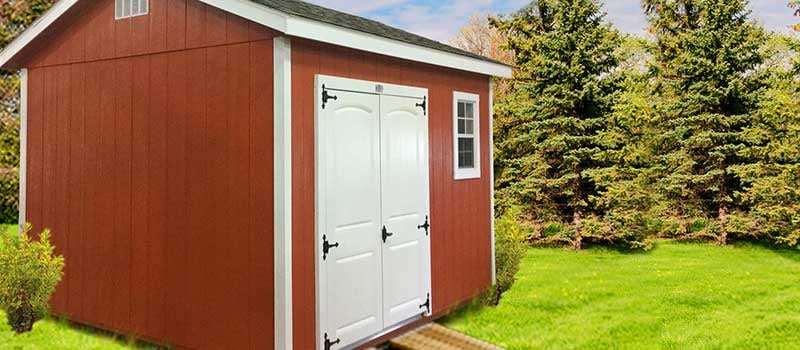 While you can choose to upgrade or add any feature you want, here's what comes standard on our Backyard Shed package.
Windows: Our backyard storage shed comes with one 24x36 window, but you can add more windows of the same size.
Double Doors: All our buildings come with top-of-the-line, energy-efficient fiberglass double doors with a polyurethane foam core. These doors have a wood grain texture that looks and feels like real wood.
Color Contrast Trim Package: You can select the color of your shed siding as well as a contrasting trim color. Because LP offers many colors, we have a

wide range of colors

from which you can choose.
LP ProStruct Flooring With SmartFinish: LP ProStruct Flooring With SmartFinish is a durable overlay that creates a clean and beautiful appearance. This flooring resists termite damage, decay, warping, splitting, and cracking.
Ramp: Our high-quality wood ramp clips into a base so that it doesn't move or slip when being used. You can freely adjust, remove, or leave the ramp in place.
How to Get Started
Ready to customize your backyard storage shed and get a quote? Here are five easy steps that will get you closer to your ideal storage solution.
Step 1: Design Your Backyard Shed

Visit our backyard shed configurator to create and save your ideal shed.

Step 2: Secure A Permit

Secure a building permit first if your township or city requires it.

Step 3: Make Down Payment

Pay through the shed configurator or call 605-467-7956.

Step 4: Prepare the Foundation

Lay a compact and level foundation in four easy steps.

Step 5: Schedule Delivery

We'll let you know when your shed is done and ready for delivery.

Step 6 (Bonus): ENJOY!

Enjoy the peace of mind that backyard storage brings to your life and space!
More articles:
---
Our mission is to help you organize your life and keep your valued possessions safe — that includes your backyard chickens. We know chickens are an investment, and we want to help you keep them secure and happy. We are proud to serve North Dakota, South Dakota, Minnesota, western Wisconsin, northeast Nebraska, and north-central Iowa.