4 Great Shed Siding Options
by Dakota Storage Buildings, on October 13, 2022
How Do You Decide Which Siding Material is Right for Your Shed?
At first glance, shed siding material seems like an easy choice. Certainly easier than DIYing your own shed! Budget, appearance, functionality, and maintenance all influence your decision. When you buy a shed you want to protect your investment with the proper siding. Let's look at why that's so important.
You Need Siding When Buying a Shed
Your Shed Protects Your Items
You store some important things in your shed. Your lawn equipment and tools are a significant investment. Maybe you use your shed as a retreat or an office. Your finishes and equipment need protection. The bottom line is that you need to protect both your shed and its contents.
Shed Walls are Barriers
Your outer shed walls act as a buffer between your contents and the elements. Rain, heat, hail, and snow all impact the life of your shed. Not to mention errant baseballs or falling tree limbs!
If you're in the research phase, read our blog before you buy a shed to cover all your bases. If you've already decided, read on as we explain our options with the pros and cons of each.
Our 4 Great Options for Shed Siding
Wood Panel Painted Siding
Wood siding is one of the classic shed siding options. It blends naturally into the environment with warmth and beauty. LP® SmartSide® Panel siding uses treated wood technology. This gives it the advantage over raw wood. It makes our panels durable, stable, and consistent in appearance.

Pros
20-40yr Lifespan
Aesthetically Pleasing
Many Finish Options
Cons
Needs Repainting Every 5-10yrs

Not Water Resistant
Wood Lap Siding
It is created for lateral (horizontal) installation by using long boards overlapped by the one above. Because the wood is specially engineered, it is resilient and long-lasting. Our LP SmartSide Lap siding ensures protection from the elements and pests. It features shiplap edges with an advanced bead system. This gives it a better look and makes installation easier. And you're sure to find the right color from our 16 ExpertFinish® pre-finished colors.
(Still wondering if you need a garden shed? Check out our 4 reasons here.)

Pros
Durable
Superior Protection From The Elements
Fewer Seams
Many Color Choices
Cons
Color Fades Over Time
Dust Accumulates Between Boards Which Could Attract Bugs
Vinyl Lap Siding
Vinyl siding is created by combining chlorine with ethylene gas. This generates a powder referred to as vinyl resin. Our GP® Shadow Ridge® vinyl lap siding is low maintenance and weather-resistant. Color is baked right in so no painting is needed. Vinyl siding only requires an annual cleaning with mild soap and water.

Pros
Low Cost
Lasts 60 years or more
Resistant to Water, Rot, & Bugs
Cons
Damage Can Have Costly Repairs
Steel Siding
Our shed-buying workbook has all the tips you need to consider when you buy a shed. We cover shed siding options like our steel siding and much more. Our Long Creek's Tuff-Rib corrugated steel paneling is an excellent choice for durability. Our tough protection extends to the weather and elements, too. Plus our steel siding is an excellent choice against dents from balls, accidents, or hail.
Pros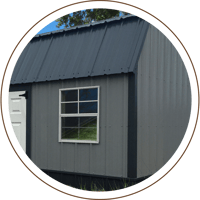 Resistant to Fire, Rot, and Bugs
Long Life - Over 40 years
Durable
Low Maintenance
Cons
Rust Is Possible In Wet Or Salt-water Environments
Needs Insulation In Hot Climates

Dakota Storage Buildings Will Help Decide on the Right Shed Siding Option for You
Our four shed siding options cover any scenario to customize and protect your shed for years to come. If you still have questions, contact us! Our team is knowledgeable and eager to help!
You can even use our 3D Configurator to see what your customized shed would look like. Try on different siding options, color choices, and more. It definitely helps to remove the worry about making a choice you can't picture in your head.
It's our mission to make high-quality buildings that exceed your expectations. Explore our storage buildings in person at our St. Cloud, Minnesota location, our Alexandria, Minnesota location, or any of our other South Dakota or Minnesota display locations.