4 Reasons to Buy a Dakota Storage Garden Shed Package
by Dakota Storage Buildings, on January 10, 2018
Content reviewed and updated in November 2021
Our Garden Shed package is perfect for all of your lawn and garden needs.
What's a Gardening Shed Package? We're glad you asked!
It's a high-quality shed that's customized for a gardening hobbyist. It includes the square footage and features that are ideal for backyard lawn and garden fanatics. Our gardening storage shed is put together with lawn equipment, gardening tools, garden supplies, and garden-related projects in mind.
You can go almost anywhere to buy a backyard shed — Costco, Lowes, Walmart, or even Amazon. You can spend hours researching to find the right shed for your needs. Or you could look for shed packages that are intended to meet specific needs. If you're looking for a garden shed for your backyard, look no further.

Discover four reasons why you should buy a Dakota Storage Garden Shed.
Reason #1. It's perfect for lawn equipment.
Our Garden Shed Package is perfect for storing all of your lawn care items like a push or riding mower, weed-eater, rakes, brooms, and ladders. Plus there's room for a portable fire pit, bicycles, sleds, and seasonal outdoor decor.
This package comes with useful features including a ramp, built-in workbench, and windows—plus it looks nice. The ramp makes navigating the mower in and out of the shed easy and convenient. The built-in workbench provides a place to organize small items like tape measures, nails, hammers, screwdrivers, and other yard care essentials. The exterior, consisting of low-maintenance siding, color contrast trim, and window shutters, allows this shed to blend into any backyard perfectly.
Reason #2. It's perfect for gardening tools, supplies, and garden-related projects.
Having a backyard garden shed is ideal for hobby and amateur gardeners alike. Keep all of your equipment, tools, and materials together in one organized space. Store pots, soil, fertilizer, handforks, trowels, shears, garden hose, gloves, and all of your other gardening gear here for safe and dry keeping.
The addition of a built-in workbench gives you plenty of tabletop space to repot plants, make plant labels, and use your gardening tools. The low-maintenance siding, color contrast trim package, and window shutters complete the look of this charming backyard garden storage shed.
Reason #3. It's affordable.
Our factory direct model allows us to sell high-quality buildings and offer superior service at an affordable price. Our goal is to help you get the perfect storage shed in the quickest way possible.
We offer three payment options: buy outright, financing, and rent to own.
Buy Outright: To own your building immediately and not increase your debt, this is the way to go. There are many advantages to buying a Dakota Storage Building outright. The freedom to own and modify your building in whatever manner you choose is just one. When purchasing outright, a deposit of 25% is required at the time of order, and the balance is due upon delivery.


Finance: If you're not able to buy a shed outright, no problem! If your credit is approved, you can enjoy interest rates as low as 9.9% and financing opportunities ranging from 24-60 months. With payments starting as low as $49/month, anyone can afford a Dakota Storage building. To get started, fill out our

online form, and a financing application will be emailed to you directly.


Rent To Own: Rent to Own offers an affordable monthly payment plan. If you want to buy your building during the rental period, simply pay 60% of the remaining balance. However, Rent to Own is not available in Minnesota.
4. Customers are pleased with their purchases.
People who shop with us are delighted by their storage building buying experience. Most will agree that Dakota Storage Buildings is the best place to buy a shed. From selection to delivery or on-site construction, we take pride in helping our customers through the entire process. In addition to our durable products, 6-year top-to-bottom limited warranty, and stellar reputation, we also have:
Above-and-beyond customer service
Honest prices for premium storage buildings
Three convenient payment options
The choice of on-site construction or delivery
Many

shed display locations

for up-close exploration
But don't take our word for it, read the customer reviews on our Facebook page.
Gardening Package Details & Features
We've emphasized that our Gardening Shed Package is ideal for gardeners and lawn care enthusiasts. It was made to scratch every itch of green-thumbs. To better understand this garden storage package, let's dig into the details.
Choose your size, roofline, and siding material.
Look at the chart below. Consider the size and rooflines this package offers. All of the size options are ideal for lawn and garden needs — but depending on the space you have in your backyard, you may want to choose either a smaller or larger size. Choose from either a Ranch Gable Roofline or Classic Gable Roofline. Both rooflines are the traditional Gable style, but with slightly different pitch angles. The roof of the Ranch Gable has a 5/12 pitch, and the Classic Gable roof has a slightly steeper pitch of 7/12.
| | |
| --- | --- |
| Roofline | Size |
| Ranch Gable Roofline | 10x12 ft. |
| Ranch Gable Roofline or Classic Gable Roofline | 10x16 ft. |
| Ranch Gable Roofline or Classic Gable Roofline | 10x20 ft. |
| Classic Gable Roofline | 12x16 ft. |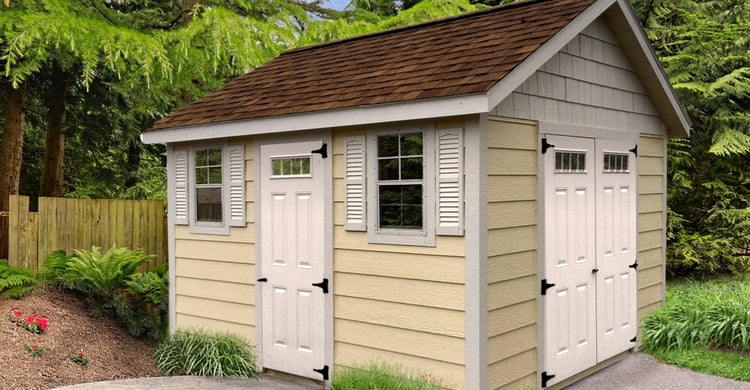 Pictured: Classic Gable Roofline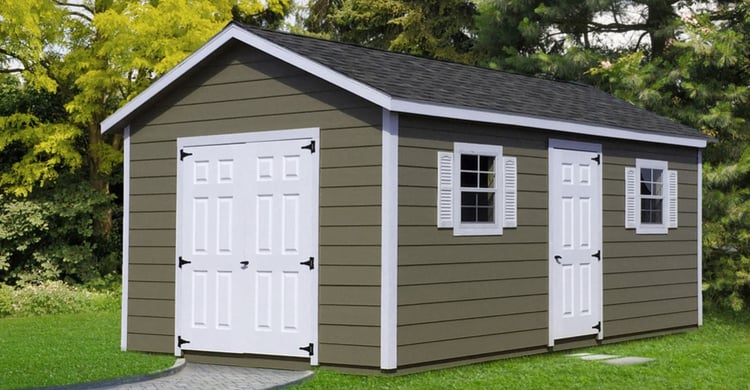 Pictured: Ranch Gable Roofline
For siding, choose either LP's SmartSide Lap Siding or Panel Siding. Then select the color you want for either of these wood siding options. Both are attractive, easy to maintain, and feature LP's SmartSide SilverTech interior paneling. These siding options are the best wood shed options the shed manufacturing industry has to offer.
Discover the features included in our garden storage shed package.
These eight features enhance the use and functionality of our Garden Shed Package. Learn a little about each.
Windows: What's a gardening shed without windows? The more natural light, the better, right? Each package comes with at least two 24x36 windows, but you can upgrade to four windows of the same size.
Wooden Doors: The double doors on this shed are made of high-quality wood for longevity and durability.
Built-in Workbench: A built-in wooden workbench (shown below) offers a sturdy table-top workspace. Use it to work on projects or as a shelf to organize small items.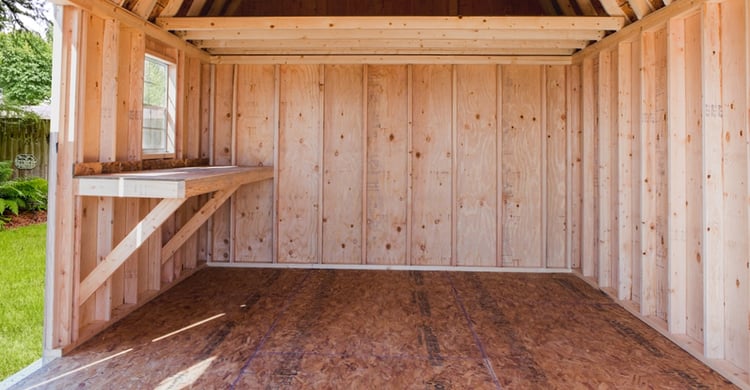 Color Contrast Trim Package: You can select the color of your shed siding as well as a contrasting trim color. Because LP offers many colors, we have a

wide range of colors

from which you can choose.
Window Shutters: Simply adding shutters to any shed immediately improves the appearance and helps it blend seamlessly into any neighborhood. Not only will your garden shed give you exactly what you need, but it will also look great in your yard or beside your home.
LP ProStruct Flooring With SmartFinish: LP ProStruct Flooring With SmartFinish is a durable overlay which creates a clean and beautiful appearance. This flooring resists termite damage, decay, warping, splitting, and cracking. Don't worry about tracking in mud or if water gets on the floor — you can trust that this high-grade flooring won't be damaged.
LP ProStruct Roof and Wall Sheathing With SilverTech: LP ProStruct Roof and Wall Sheathing With SilverTech features a durable radiant barrier that helps keep your shed or other outdoor structure cooler in the summer heat. And with its highly reflective, professional-grade appearance, it helps brighten the inside of your shed for enhanced visibility.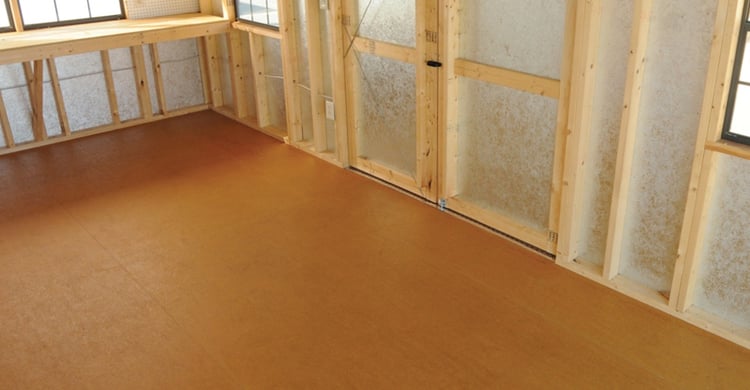 Shown: LP ProStruct Flooring With SmartFinish along with LP ProStruct Roof and Wall Sheathing With SilverTech
Ramp: Having a sturdy ramp makes moving lawn mowers and wheelbarrows in and out of the shed easy and efficient. Sure you can create a make-shift ramp, but ours is made of high-quality wood and it clips into a base so that it doesn't move or slip when being used. You can freely adjust, remove, or leave the ramp in place.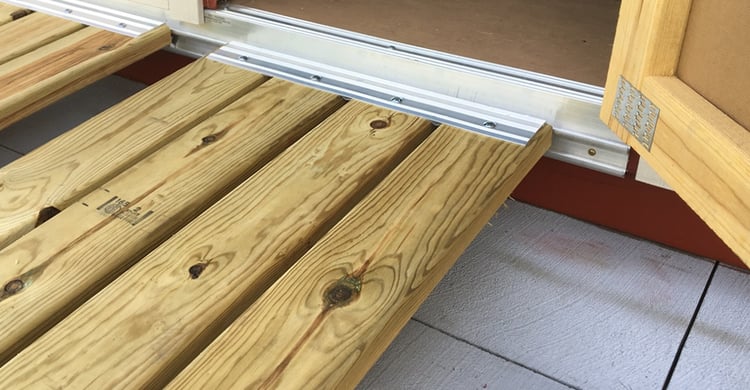 More articles