4 Ways to Use Porch Style Sheds
by Dakota Storage Buildings, on April 06, 2016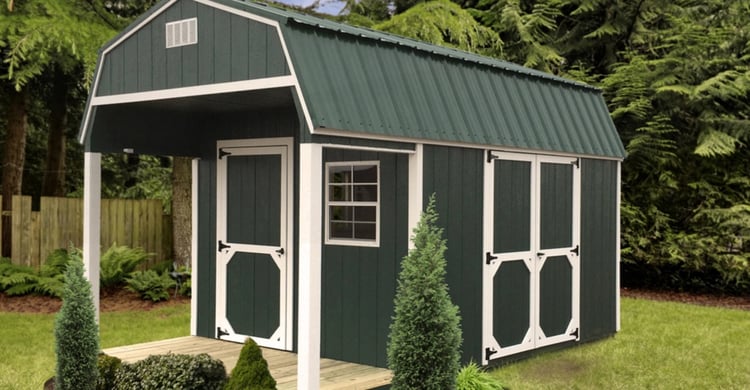 A porch shed increases the curb appeal of your building while providing shelter from rain and a place to stash muddy work boots.
Here are four ways to get the most out of a Porch shed.
1. Storage
Don't overlook the obvious use. Sheds provide the perfect space to store seasonal decor, storage bins, bikes, outdoor equipment, and more. The porch is the icing on the cake. Not only does a porch provide additional footage, but it's practical uses are unlimited.
Use a porch to—


Keep a bench and waterproof shoe caddy on your porch for convenience and cleanliness. Muddy shoes belong outside your house not inside, right?


Store trash cans, umbrellas, brooms, shovels, and other weather-durable items at arms reach.


Keep plants, herbs, or other delicate vegetation under the protective porch roof.


Beautify your yard by taking advantage of the porch design. Put up lights, hang door decor, or plant flowers around the perimeter of the porch to create a homey feel.
2. Pool House
Do you have a shed and a pool? If so, how exciting would it be to transform your shed into the perfect summer pool house? If you don't have a shed, here's where buying a porch shed would be ideal.

Because pool gear and accessories can accumulate quickly, having a shed is convenient. In addition to storing pool noodles, cleaners, and other aquatic equipment, it could double as a changing room and snack station. Sound interesting? Here are some tips to get you started.
For added safety, ask about our 4' traditional treated railing options with 32" black balusters,
3. She Shed

For the ladies, a shed with a porch can be transformed into the perfect She Shed or retreat. Life's busy; this backyard escape can provide much-needed peace and quiet.

Imagine a cute shed (yes, they do exist!) that's all your own. Create your room however you'd like. It could be for crafting, scrapbooking, or writing. All that's required is a table, lighting, and a couple of chairs, or other pieces of furniture that would add to the comfort and ambiance. Add outdoor curtains, a swing, or a bistro set on the porch for the finishing touch. The space can be personalized to fit anyone's unique taste. Check out our Pinterest board, She Shed Decor & Ideas, for more ideas.

4. Man Cave
Men also need a place to get away, a place to fix things, or to tinker. A Ranch or High Barn style shed with a porch is an excellent choice. It's available in a range of sizes so that any hobby can be accommodated. Whether you like working on your car, motorcycle, ATV, snowmobile, prefer woodworking or just need a space of your own, this would do the trick. We can even add a built-in workbench. If you prefer to build your own, check out these workbench ideas.

And when the weather is nice, take a moment to relaxing on the porch with a glass of lemonade!
Our Ranch and High Barn Porch Sheds
The traditional design of our Ranch Porch storage building offers easy storage and additional convenience. This option is perfect for shade, protection from the elements, drying off, or stashing dirty boots.
Our High Barn Porch storage building has a classic barn roofline which provides increased storage space and a porch for added convenience. This adaptable space can be used to store seasonal decorations, storage bins, bikes, outdoor equipment, and more. The porch is the icing on the cake. Not only does a porch provide additional footage, but it's practical uses are unlimited.
If you're concerned about access to your backyard or space restrictions,
we can assemble your shed on site!
To make our buildings affordable, we offer 3 payment options.