She Shed Ideas That Are Fabulous And Functional
by Dakota Storage Buildings, on March 07, 2017

What would you do with a backyard She Shed?
Imagine an entire cute shed that's all yours. You can decorate it however you please, do whatever you want without interruption, and you never have to pick up a mess that someone else created.
You could use the space for any hobby—crafting, scrapbooking, painting, reading, or writing. Really, all that's required is a table, lighting, and some chairs. To truly embrace it, make it comfortable, homey, and personalized by adding area rugs, bookshelves, wall decor, and anything else you can dream up. If you have a porch on your shed, add outdoor curtains, a swing, or a bistro set.
Here are a few She Shed use scenarios. Some ladies know exactly what to do with new found space; others may need suggestions—for those who do, we got you covered.
Here are a few She Shed ideas and uses
She Shed Office
If you need an entire office or just more space to spread out, consider moving to your backyard. There's no reason to buy a larger house that has more rooms or even adding a pricey addition to your current home; just convert a shed into an office. It's affordable and practical. If you own your home and you have usable land, this solution is ideal. Plus, you can add personal touches that make it uniquely your space.
She Shed Art Studio
Transforming a backyard shed into an art studio can be simple and fun. Store all of your canvases—large and small—and keep all of your supplies easily accessible and in one place. If creativity strikes, disappear to your backyard art studio to unleash the imaginativeness within. Here are a few things to consider when turning your backyard shed into an art space.
Garden Shed
Backyard sheds dedicated to horticulture endeavors is a gardener's dream, don't you think? Garden sheds are perfect for utility and safe storage. Keep your hand tools, seeds, soil, fertilizer, pots, water cans, and more all in one convenient place, plus have space for starter plants. It's away from heavy traffic, pests, cold drafts, excess heat, and where spills of potting mixture and water won't cause a problem. It's your space. Your garden shed.
She Shed Retreat
A cute shed can be a quite shed! Who doesn't love a quiet place to relax, drink a cup of coffee or glass of iced tea, and read. If your girlfriends are coming over, it's the perfect place to unwind and catch up. Add a plush couch to your dream shed so that you can spread out, take a nap, or snuggle up with your pet. Love nicknacks? This is the best place to display all of them without getting knocked over or broken.
Backyard Gym
It's hard to workout when you're distracted by work, household responsibilities, and children. Ideally, you'd have a dedicated room with a door that you can close, so your workout is private and uninterrupted. While a corner in your basement could serve this purpose, it's even better to have a dedicated space outside of the house yet close by.
Maybe it's time to create a backyard gym. A dedicated fitness space doesn't have to cost much money, plus it has the added value of being convenient and accessible. The best part is that it can be in your own backyard. Here are some ideas and suggestions for starting a small, reasonable home gym.
Note: Discover how backyard structures like home offices, art studios, and gyms are regulated by the Minnesota State Building Code. The Minnesota State Building Code is the standard of construction that applies statewide for the construction of buildings (MS § 326B.121).
Once you have your She Shed use in mind, it's time to find a cute shed and make it happen!
Take a moment to list the items you'd like to have in your She Shed, then make a rough sketch of what you'd like it to look like inside (and outside if you love gardening).
From that point, you can . . .
Convert your current shed.
If you've been pushing off the epic decluttering of your shed, now is the time to conquer it! You have motivation. With the shed being cleaned out, you can make space for your She Shed room. Go through all those old tools and storage boxes; decide which items to keep, sell, and donate. For the items your storing, invest in storage bins and attractive shelving—or better yet—move the leftover items to your basement. With the space your saving, you'll have room for your She Shed makeover.
Or . . .
Start from scratch by purchasing a new shed.
If you need a shed, learn about our Ranch, Low-Barn, and High-Barn style buildings. All of our buildings are handcrafted using only the highest-quality materials and sold factory direct to you (that means you save money!).
If a fully built shed cannot be delivered to your home due to space restrictions, no problem! On-site building options are available.
Here are a few of our beautiful sheds.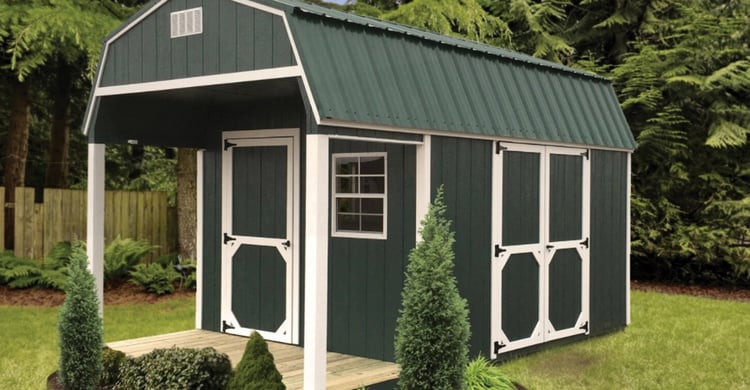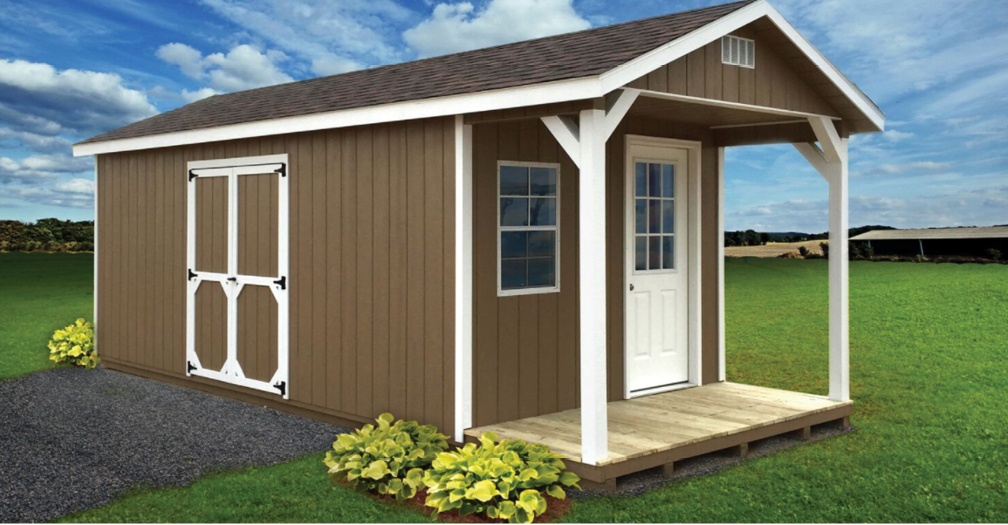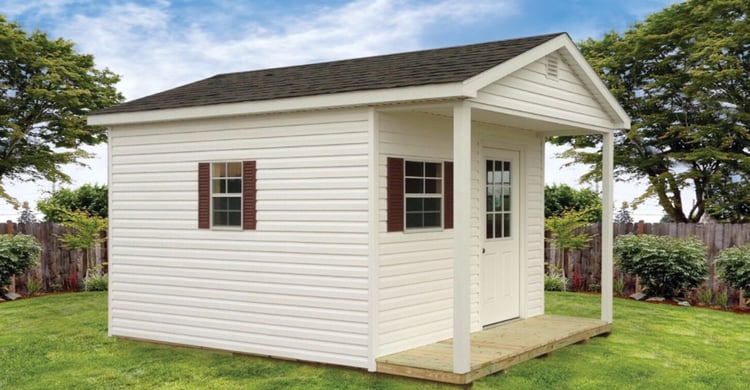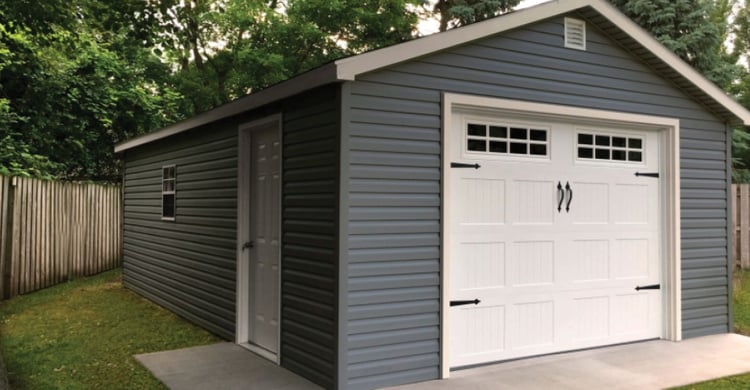 When you're ready to order, click the button below, and we'll take you through the customizing and ordering process step-by-step. You'll be able to choose all the details of your She Shed from size to siding type and color and much more. After you've finished, one of our customer service representatives will contact you with a price estimate.
It's our mission to make high-quality buildings that exceed your expectations.
Explore our storage buildings in person at our St. Cloud lot, our Alexandria lot,
or any of our other South Dakota or Minnesota display locations.
Explore our She Shed Pinterest board for more ideas.