How to Create a Custom Motorcycle Garage at Your House
by Dakota Storage Buildings, on August 21, 2018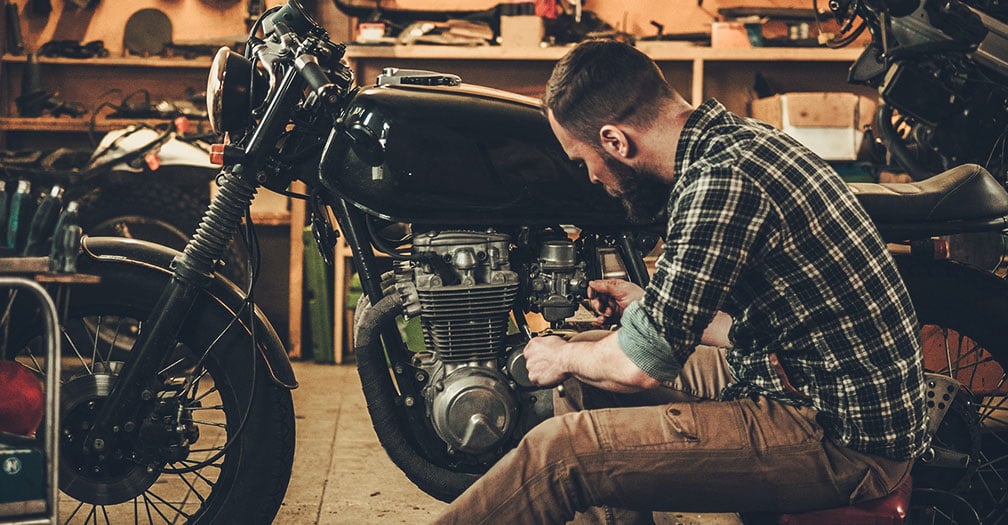 This post was updated in February 2020.
If you love working on your motorcycle but have to move things out of the way each time because your garage is crowded—this post is for you. We'll give you some ideas for your ideal home motorcycle shop.
Are you trying to make your current garage into the ideal motorcycle workshop or looking to buy one that will meet your needs? You may be wondering what a good shop space looks like—you may want layout ideas, setups suggestions, and dimension recommendations for a practical and efficient motorcycle shop at home.
You have to work within the space you have on your property, local building codes, and what you can afford. Beyond those basics, here are five more that will help you create an ideal custom motorcycle shop at your house.
1. Which is better for you: an attached or detached workshop?
If you don't have a garage at all, consider getting one. The issue is choosing which is best suited for your space, budget, and needs.
We know that all workshops need electricity, and running electricity can be easier when the workshop is attached to the house. Additionally, attached garages preserve precious backyard space. Having an attached structure allows for more space in the backyard for children, pets, and beautiful landscaping.
On the flip side, detached garages can be placed almost anywhere on your property, and they're also safer options for homeowners. Attached garages actually present a bigger security threat to you and your family because intruders can enter into your home easily through the garage. If someone breaks into your detached garage, they will have access to your high-value items that are stored there, but that is minor compared to your family's safety.
Also, choosing a detached garage over one that's attached will help those who live in the home by limiting extended exposure to carbon monoxide, gas, oil, and other potentially harmful fumes.
Permits for a detached garage are easier to obtain than permits for attached garages. Many people choose to add living space or outdoor living space to their detached garages for everyday use or for entertaining purposes.
2. Determine what size would be best for your needs.
But who says you need a garage? There are many large sheds that would be more than sufficient.
Ultimately, it doesn't matter if you prefer a garage or a shed or what size you choose; the secret is in how you utilize the space you have. That's why it's important to choose an appropriate size for your needs and to plan your layout carefully. If you have a large space, it can easily become cluttered or filled up which means you'll just need another building.
If you want space to store your motorcycle, keep tools, and do mechanical work, consider the use and placement of these things as you determine the space you need and the setup that's going to be best for your workshop.
Overhead doors

Double doors

Workbench

Shelving

Area dedicated to bikes and bike gear

Area for shop/work space

Loft storage for spare parts storage, tires, etc.

A bike lift

Ceiling height
3. Look beyond traditional door options.
There are double doors and overhead garage doors. But have you ever thought about using two overhead garage doors on either end of your building? Drive-through garages are unusual but brilliant. While they are rare, they're practical and boast many benefits. Think for a moment about how having a drive-through garage would help you.
For instance, most people have to back their car out of a garage before they can access a motorcycle, bicycles, kayaks, and more. However, having a second door provides an additional exit and entrance point which makes getting equipment, vehicles, and other large or cumbersome objects out of the garage possible without having to maneuver vehicles.
Plus, with two overhead doors, you'll gain maximum air circulation. Whether it's a smoldering hot day or you're working on something that produces smoke, exhaust, or dust, having open doors on either end of your garage will assure fresh air.
4. Make a plan for electricity needs and setup.
Whether you're going with an attached or detached garage or a backyard shed workshop, you'll need electricity.
As you plan, think about:
Creating three different circuits: one for lighting, one for regular outlets and electrical heating, and one for 220V outlets. Even if you don't currently use equipment that requires 220V, there's a good chance you will at some point in the future.

Having 100 amps of 220 power

Creating an outlet dedicated to a heating source in the winter and a cooling mechanism in the summer

Installing lighting above your workbench

Reserving an outlet for a mini fridge (what workshop is complete without snacks and beverages?)
5. Figure out how much storage you will need.
Wall space for pegboard organization is easy. It doesn't take up any precious space, and it gives you unlimited organization ability—you can hang almost anything: tools, chairs, paint brushes, hand brooms, dustpans, and so much more. Also, you can utilize wasted space with overhead storage. Store items up high so that valuable square footage is freed up. You can buy at DIY loft kit or hire someone to build a custom, built-in loft.
While there are many smart ways to take advantage of your entire space, there are many traditional options — like shelving and workbenches — that eat it up. Whether you're using store-bought shelves, building your own shelving units, or getting custom storage, you must account for the space they will take up in your workshop.
PRO TIP: As you think about a workbench, be sure to get the height right. To select a height to match your stature, use this rule of thumb: make your workbench height the distance from the floor to your first thumb knuckle, with your arms hanging relaxed at your sides. And while you're planning ahead, make sure to strategically locate your bench near an electrical outlet so that hand tools can be used.
For more great advice and insights on creating the ideal motorcycle shop, read Things Every Motorcycle Workshop Needs and Building Your Motorcycle Workshop.
We have the perfect shed package for your motorcycle shop.
Our Detached Garage Package is perfect for an at-home motorcycle shop.
It has:
Windows for natural light

A sturdy built-in workbench for projects

A loft for out-of-the-way storage

High-grade flooring

A valuable wall storage kit
If you don't want to start with a pre-determined package, but would prefer to customize your motorcycle shop from top to bottom, try our online shed configurator. You can choose everything from size and siding material to door types and storage add-ons.
Read more
It's our mission at Dakota Storage Buildings to make affordable, high-quality buildings that exceed expectations. Explore our storage buildings in person at any of our South Dakota or Minnesota display lot locations or stay at home and try out our online configurator.