​Save Garage Space With a Motorcycle Storage Shed​
by Dakota Storage Buildings, on October 04, 2017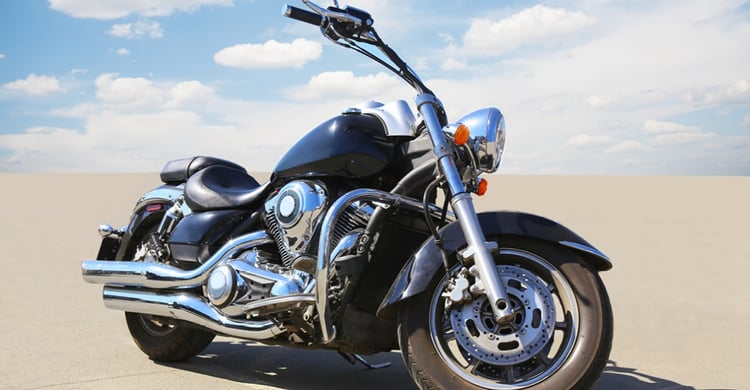 Updated on June 15, 2020.
Having a motorcycle means you either already HAVE a motorcycle storage shed or you NEED one real bad.
Everyone who owns a motorcycle and lives anywhere near us in the midwest knows about Sturgis, South Dakota.
Who are we kidding?
Everyone in the United States who owns a motorcycle knows about Sturgis.
Sturgis is home to The Sturgis Motorcycle Museum & Hall of Fame and the long-running Sturgis Motorcycle Rally.
The question for many motorcycle enthusiasts, though, isn't which rally is the most popular or which bike company is the best—but rather, what's the difference between a serious rider and a wanna-be? For some, riding is an exciting hobby. For others, it's an adrenaline rush. Some argue that there's another group—one that wishes they were serious bikers.
While there may be a lot that separates the true rider from others, there is one thing all groups have in common: in order for their motorcycle to be kept in excellent condition, it needs to be stored properly when not in use.
All bikers, whether newbies or veterans, should consider how and where their bike is stored.
Motorcycle Storage Ideas
There are several options. For instance, a bike cover like this one by Bike Shield can be a sufficient bike storage option.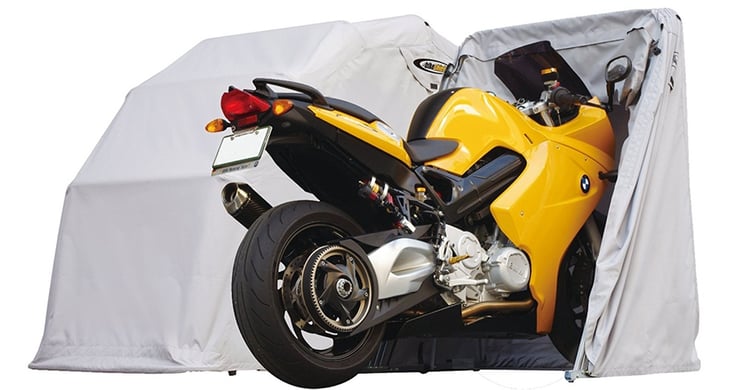 Or there's always a portable shed tent like this one by Gino Development.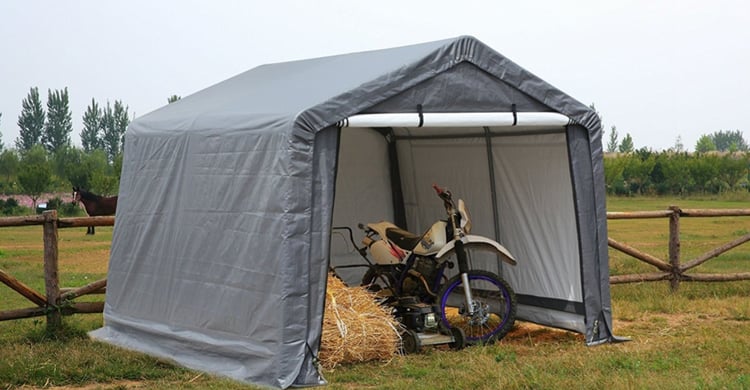 Another option is to set aside space in your garage specifically for your motorcycle.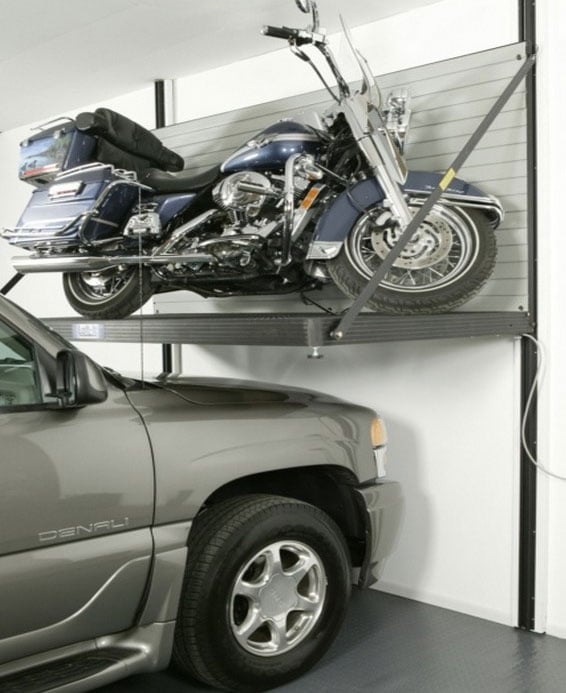 But . . . the ideal bike storage option is a shed.
Motorcycle Storage Shed
Storing your motorcycle in a storage shed protects it from harsh elements, provides reliable security, and supplies usable workspace.
We suggest customizing your own motorcycle storage shed. You can start with our suggestions here.
Size

Choose a size based on the size of your motorcycle plus the extra space you want for workspace and vehicle maintenance.

We suggest a shed that's 12x16 ft., 12x20 ft., or 16x24 ft.




Siding

There are many siding options to choose from including wood paneling, wood lap, vinyl lap, and metal.

We think our metal and lap siding options

are great options. Our

Tuff Rib steel siding from Long Creek Steel

consists of corrugated panels that are dependable, long-lasting, and economical. Our LP® SmartSide® lap siding has an overlapping framework of boards that helps to keep water away from the shed's interior and deters pests from entering.




Roofing

Shingles are a great option, but so is metal

roofing. Our metal roofing,

also by Long Creek Steel, is

high-quality steel roofing

engineered to provide superior protection and has a variety of color options.


Add-Ons

Make your storage building even more convenient and practical by adding on any of these helpful items.
> Unicaddy's VersaCaddy™ 16 Organizer Kit - This kit is a versatile storage system specifically designed to utilize the vertical spaces between 16" on center studs.
> 8x6 ft. Ramp - Adding an aluminum or wooden ramp makes getting

motorcycles in and out stress-free.
> 24x36 in. Windows - Windows

provide ventilation to your building and allow natural sunlight to come in uninhibited.
> Built-in Workbench - Whether you use it as a table or shelf, a built-in workbench provides a sturdy space to work, store vehicle maintenance supplies, and organize tools.
> Built-in Loft - Give yourself maximum room to work on your

motorcycle by getting a built-in loft. Our lofts give your building an out-of-the-way overhead storage option for your gear and other essentials.
> Contrasted Trim Package - Adding exterior trim that contrasts with the color of your shed will greatly improve the look and visual appeal of your building.
>Floor and Wall Insulation - Adding insulation to your wall and floors will prepare your building for year-round use, protecting your bike against both heat and cold.
This
is one of our sheds. It would be perfect for
both
motorcycle storage and workspace
. It has an overhead garage door, metal roof, metal siding, 4 windows (two on each side), and a con
t
r
asted
trim package.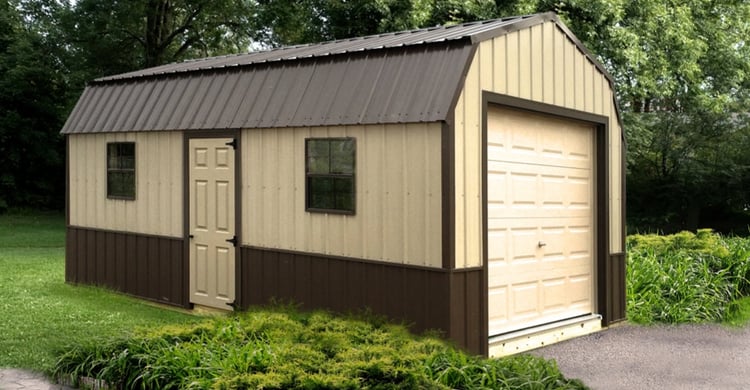 And for those who are curious, here's what our built-in workbench and loft look like: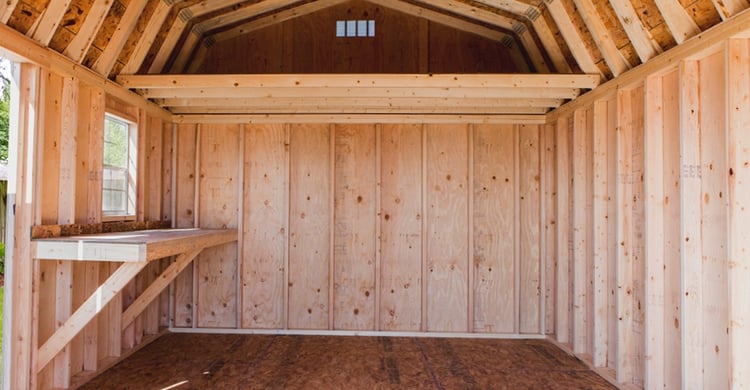 Ready for a motorcycle shed?
Is it time to buy a shed for your motorcycle, or perhaps upgrade from what you're currently using to store your bike?
Before you throw out your motorcycle cover, impractical plastic shed, or move your motorcycle from its place in the garage, take a moment to design your ideal motorcycle storage shed. At the end of the process, we'll send you an obligation-free quote.
Concerned about the price of a customized motorcycle shed? Don't worry. Anyone can afford a Dakota Storage Building!
Other articles: