A Modern Storage Shed Designed for Appealing Style and Useful Function
by Dakota Storage Buildings, on May 22, 2023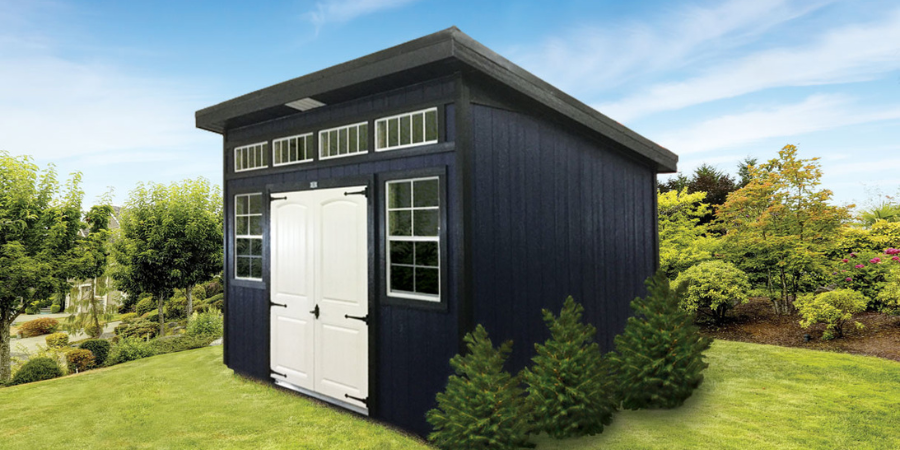 Do you need a backyard shed for added storage but are tired of the boring style options? Modern storage sheds have become super popular for their sleek design and functionality. With a modern shed, you still get all the benefits of a traditional backyard shed but with an elevated exterior. These pre-built sheds can be used in many different ways. We have seen everything from an art studio to a guest house to a home office, but the most common is still an outdoor storage solution.
Don't Settle; Get What You Need
Just because you need a functional shed to hold all your belongings does not mean you need to sacrifice style. Curb appeal can elevate your home and help turn your backyard into a fun hangout area. When a shed's exterior matches the style and feel of your home, you can continue to create an inviting space. Our modern storage sheds help you accomplish both of your needs by complementing the style of your home and creating additional storage space. The modern shed is the best option if you do not want a bulky storage shed in your backyard.
Modern Backyard Shed
The uses for a modern backyard shed are endless. While we talk a lot about the benefits of using it as a storage solution, you can get creative and make it whatever you want. Since modern sheds have the same look and feel as a home, you can turn it into a guest house, game room, or home office. Another great option is to use it as an extension of your outdoor living space. However you decide to utilize your modern backyard shed, we know that it will be a stylish, long-lasting addition to your backyard.
Features that Create Distinctive and Effective Storage Solutions
At Dakota Storage Buildings, we ensure all our standard modern storage sheds have the same sleek design and features. With a carefully designed shed and hand-picked features, you will only receive the highest quality modern storage shed. Our modern shed design can be your backyard storage solution, or it can extend your outdoor living space or patio area. The styling of our modern storage sheds gives them the feel you want, from transom windows to acorn hinges. These key features of the modern storage shed are what sets it apart from other storage solutions.
Transom Windows
One of the most notable features, and one of our favorite style choices, is the transom windows that rest along the horizontal beam above the doorframe. These windows are an additional source of light while elevating the exterior design.
Color Contrast Trim
Another style choice that makes the modern storage shed stand out is the color contrast trim. When you purchase one of these pre-built sheds from us, you get to pick not one but two colors for your shed's exterior. With a wide selection of color options, you can create a combo that compliments the rest of your home.
LP® ProStruct Flooring
While style is essential, you cannot neglect a shed's durability. Every material we choose to work with is made of the highest quality, including our floors. The LP ProStruct engineered wood flooring is an excellent option for any shed due to its moisture and warp-resistant resin technology.
Acorn Hinges
Sometimes a practical choice can also be a stylish one. All the doors on our modern storage sheds are secured with acorn hinges for increased security and style. These 12-inch black hinges make a style statement while remaining completely operational.
Fiberglass Door
Our modern storage sheds come with double fiberglass doors that require minimum maintenance, resist scratching, denting, and fading, and won't rust. Their polyurethane foam core makes them energy efficient, yet the grain texture makes it look and feel like real wood. Close the doors to keep what is inside safe and secure, or keep the doors open for an indoor-outdoor living space.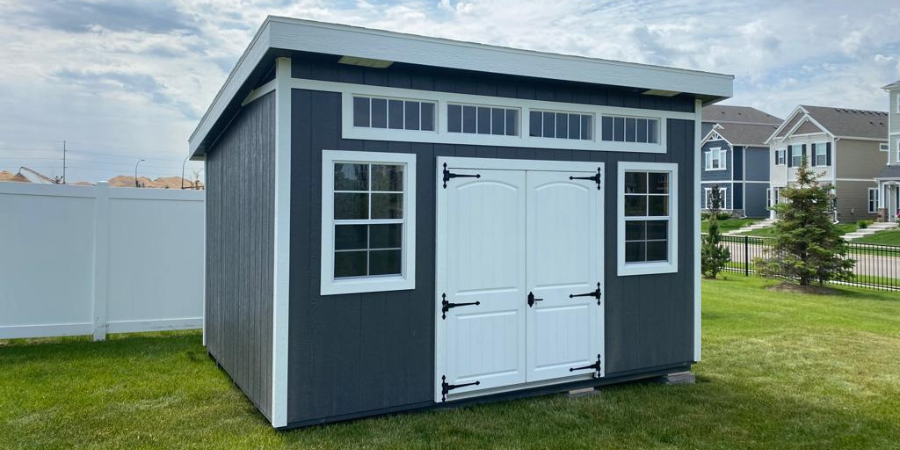 Built to Last
You need a storage solution that will hold up for years and continue to grow with you and your family. Our modern storage sheds have walls, studs, and a foundation that was carefully designed to last. If all of the important structural elements of a shed are professionally secured, then you will not have to worry about needing to replace the shed anytime soon. That is why we create the exterior and interior to withstand any situation. With wall sheathing with a durable radiant barrier that helps keep storage buildings cooler in the summer heat and exterior panels with a radiant barrier that resists flaking and peeling, your shed will last for years.
We use LP's SmartGuard® treatment to protect against rot and termites, so you do not have to worry about pests compromising the shed's structural integrity. Dakota Storage Buildings offers a state-of-the-art shed, excellent delivery service, and a customer service team who truly cares about your needs.
Why Dakota Storage Buildings
We pride ourselves in our craftsmanship. Each structure we build must meet our highest standards before we are comfortable selling it to a trusting customer. From our lumbar to the paint, we choose the best materials on the market. Our buildings directly reflect our integrity and care for the customer, so anything that falls short of excellence must be reevaluated and adjusted accordingly. Every detail is carefully crafted so our customers only receive the best product. We would never sell you a storage building that we would not buy ourselves. On top of that, we offer fully custom sheds so you can get the best fit for your needs, preferences, and budget.
A Modern Shed for Age-old Storage Problems
Our modern storage shed is undoubtedly one of the most stylish options. With its distinct roofline, attractive windows, and incredible functionality, any homeowner would benefit from having one in their backyard, where shed placement is limited. These sheds are so much more than their looks. With endless options, you can utilize these sheds in so many ways. Use it as a tried and true storage solution or get creative and make it completely your own. The modern shed is perfect if you need an outdoor storage solution or just extra living space. Shop our pre-built stock sheds today.