Advantages of a Dakota Storage Buildings Multi-dog Kennel Shed
by Dakota Storage Buildings, on April 17, 2023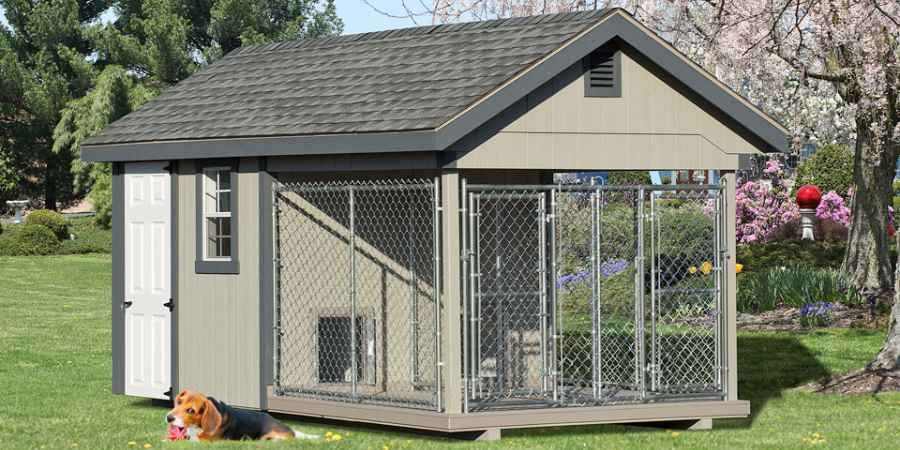 Investing in commercial dog kennels and runs may be one of the best things you can do for your dogs. Working and police dogs love to be outside. Providing them a safe space to breathe fresh air and stretch their legs can keep them stimulated and entertained while you are away. Protected outdoor kennels offer many benefits, and purchasing from a trusted manufacturer can ease your worries about the kennel's lifespan and durability.
Get Your Dogs the Space They Need
Many people assume that dogs are lonely and unhappy in outdoor kennels. However, that is not the case. Your working dogs may end up thriving in their own space. Keeping your dogs safe, happy, and healthy is the goal; an outdoor kennel can be one of the best resources to help you achieve that. If you are away from home for extended periods, a kennel provides a safe space for your dogs to use the bathroom and get fresh air. Instead of being cooped up inside all day, your dogs can enjoy vitamin C whenever they desire.
Outdoor kennels are one of the best ways to protect your dogs from outdoor hazards. Passing cars, predators, and harsh weather conditions all pose a threat. When your dogs spend their days lounging and playing in their kennel, they are kept safe from these threats. Giving them plenty of space to run around in a safe environment will keep your dogs happy and content even when you are away. Commercial dog kennels and runs allow dogs to stretch their legs and enjoy the outdoors.
Features of Dakota Storage Dog Kennels
At Dakota Storage Buildings, we hand-pick the highest quality materials to ensure your dogs have a comfortable place to stay. With our state-of-the-art features, your dogs will thrive in their own space.
Lined Walls
PVC-lined walls help keep the kennel strong and durable in any weather. The PVC panels are an alternative to traditional drywall, proving superior in strength and performance. Plus, PVC materials require minimal maintenance and have easy cleaning requirements. Simply add soap to the wall and spray any dirt or grime away. PVC walls are one of the best additions to any dog kennel due to their easy cleaning and durability.
Common Feed Room
Some kennels have feed bowls located under the fence door for each run. While this can be convenient in some situations, feeding all your dogs in one central location makes mealtime much easier. Our double dog kennels have a common feed room where all dogs can eat in one place. This helps limit the amount of mess left for you to clean up. Any food or water split while your dogs eat can be quickly cleaned with our smart floor-coated flooring.
Room Insulation
As seasons change, temperatures change with it. While dogs love cooler weather, staying warm and healthy during winter is important. Having an insulated kennel will keep your dogs safe and comfortable no matter the outside temperature. We use spray polyurethane foam to ensure every crack and crevice is insulated tightly. Adding this watertight barrier will help protect your dogs from extreme temperatures.
LP® ProStruct Flooring
Instead of plywood flooring, our dog kennels utilize LP® ProStruct Flooring as a stylish yet durable alternative. Impact-resistant and moisture-repellent flooring are essential for outdoor kennels because it's easy to clean and holds up to water, rain, and snow. This makes it the perfect material flooring solution for kennel floors, helping a kennel's floor withstand mud, water, and even your dog's nails. Regardless of accidental messes or excited dogs, with our high-quality material, you can be reassured that your kennel will last for years. Everyday wear and tear will not affect your kennel floor's overall style and appearance.
Wire Fencing
Wire fencing is our favorite way to keep your dogs safe and secure. While wood panels have a signature style, metal fencing is significantly more durable. If one of your dogs is a chewer, she can easily chew through any wood fencing you install. Metal fencing allows your dogs to see what is happening around them, eliminating the feeling of isolation while keeping them secure. If your dog's security is a top priority, metal fencing is one of the best materials you can use to keep her safe.
Get Peace of Mind
We understand that keeping your dogs safe is one of your top concerns. We consider that when we choose materials and build a new multi-dog kennel shed. Your needs and desires drive every decision we make. At Dakota, we strive to be customer-focused to give you the best buying experience possible. The Dakota Difference sets us apart from other manufacturers because we set specific promises to you, the customer. Helping you make the right purchasing decisions, valuing your opinions and needs, and respecting your time are just a few of the values we keep in mind for every customer.
The Dakota Difference guarantees that your commercial dog kennels and runs will be an investment you can trust for years. By analyzing every part of the building, we will ensure it meets the highest standards before it is ever unloaded onto your property. Plus, every building we offer comes with a Top-to-Bottom Limited Warranty. If you are not satisfied with your purchase, neither are we.
Our attention to detail and passion for quality materials will help keep your dogs safe, happy, and secure in their new kennel. The highest quality materials not only offer increased durability but it can extend the structure's lifespan. If you invest in commercial multi-dog kennels, your working dogs will have a consistent and comfortable home for years. The Dakota Difference can give you peace of mind that your purchase is built with premium materials by expert craftsmen at fair prices.
Give Your Dogs the Best Treat: A New Kennel
There is no time like the present to give our working dogs a new, comfortable home. With commercial dog kennels and runs, you can ensure your dogs are well cared for and safe even while you are away. Contact our sales team today if you are ready to take the next step in your purchasing journey. Whether you want to get a quote or just need more information about our kennels, our team will be happy to get any information you need!