Creating A Backyard Home Office Shed
by Dakota Storage Buildings, on June 01, 2016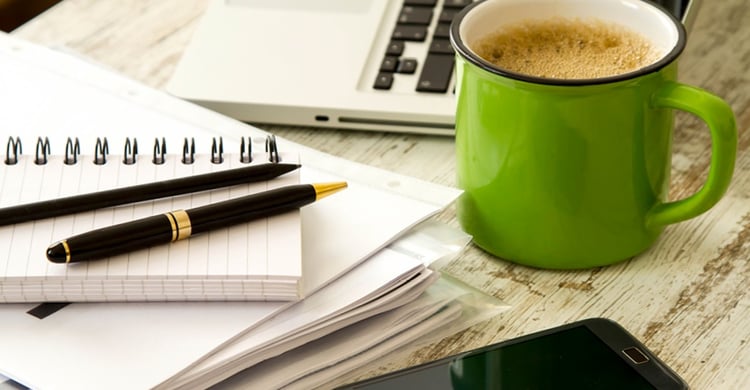 If you need a home office or more personal workspace, consider relocating.
Sure, that sounds expensive, but it doesn't need to be.
Don't buy a larger house or even add a pricey addition to your home; just convert a shed into an office! It's affordable and practical. If you own your home and you have usable land, this solution is ideal.
An office shed should be tall enough to stand up in comfortably and large enough for office furniture essentials. Giving yourself some space to move around will make the shed feel like a legitimate office. Our 8×12' and 10×12' High Barn style sheds, for instance, are perfect.
NOTE: Renovating a shed should only be done if you own it. Rent-to-own programs will not allow such modifications to their buildings while still under a rental agreement.
Whether you're ordering a shed or converting one you already have, below are broad-stroke conversion steps.
Clean and prep

Before the process can begin, your shed must be properly prepared. Meaning, if you own one, clean it out from top to bottom.Think spring cleaning.

If you're buying a shed, make sure your foundation is ready for either delivery or on-site construction.



Get power and create infrastructure

Once your structure is in place and clean, run power lines to the building for electricity and connectivity. You will need electrical outlets, WIFI, and potentially, phone and cable lines for an efficient office.

When that's done, it's time to insulate the walls, hang drywall, and paint. If you order from us, you can ask about our spray foam insulation option.

You're nearing home stretch! Finish the look by choosing flooring. A laminate option would be sensible since it's durable and resilient. Or you can get one of our buildings with LP ProStruct flooring.

Do you prefer to do these projects yourself or hire professionals?



Set up your workspace

Now comes the fun part. The move! Bring in your desk, chair, computer, dry erase board, phone, filing cabinets, and everything else that makes your work life better and more efficient. If you need something or need to replace an item, now is the time.

If you're buying a shed with us, consider ordering a built-in workbench that easily doubles as a space-saving office desk. Check out our other features and options.



Make it comfortable

If you plan to work in your office all year long, consider a portable air conditioner or a fan or two for the summer and a space heater for the winter. If you would prefer to have central heating and air in your building, this should be installed by a professional before drywall or wallboard goes up.



Make it personal

Now the finishing touches. Add blinds or curtains to the windows, hang pictures or photographs, choose a colorful rug, and create the ambiance you desire. It's these little details that will make your office feel personal.
For more reasons why sheds make great offices, check out the article "Why a shed is an ideal place to start any kind of business."
Note: Discover how small structures are regulated by the Minnesota State Building Code. The Minnesota State Building Code is the standard of construction that applies statewide for the construction of buildings (MS § 326B.121).
Ready to order your home office shed?
Browse our storage buildings and choose your favorite or fill out our online quote form and we'll take you step-by-step through the shed buying process. You'll be able to choose all the details of your shed from window type to exterior color and more. After you've submitted your quote form, one of our customer service representatives will contact you with an estimate and will be happy to answer any questions you may have.
More articles to explore:

It's our mission to make high-quality buildings that exceed your expectations. Learn more by visiting us on Facebook, Twitter, Instagram or Pinterest. Or you can do it the old-fashioned way by exploring our sheds in person at a display location near you.