Explore Quality Options: Find Perfect Chicken Coops for Sale
by Dakota Storage Buildings, on September 27, 2023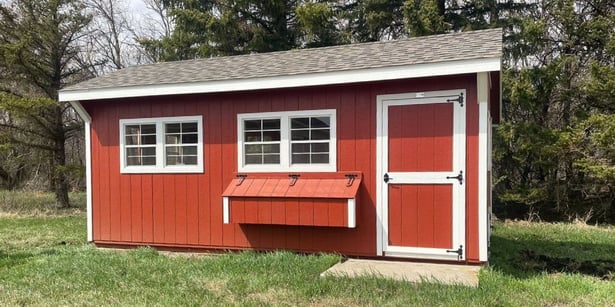 Stepping into the world of backyard chicken-keeping? The shelter you provide them is crucial to their health, happiness, and productivity. A free-range or enclosed chicken coop is not merely a shelter — it is your chickens' home and their playground. At Dakota Storage Buildings, we are deeply committed to ensuring you get the best coop for your flock. From exceptional customer service to impeccable craftsmanship in every coop we construct, we focus on quality. Our chicken coops for sale are made from the finest materials with careful thought to ensure your flock thrives. The difference is in the details; with Dakota, those details are always front and center.
Premium Materials and Features Create a High-quality Product
Every chicken keeper knows that the secret to a happy, healthy flock is the environment they are raised in. And a coop, at its core, is that environment. But what differentiates a standard coop from an exceptional one? The materials used and the features incorporated make all the difference.
Windows: Sunlight is vital for chickens, not just for their overall well-being but also for optimal egg production. Our coops are fitted with strategically placed windows, ensuring adequate natural light throughout the day. This design consideration also helps regulate the coop's temperature and provides a more pleasant atmosphere for your chickens.
Nesting Boxes: The pride of every chicken keeper is collecting fresh eggs. Our nesting boxes are designed to make this task seamless. Positioned for easy access, they eliminate the need to disturb your hens. The comfortable size and layout of these boxes ensure that hens have a cozy space to lay their eggs, which can lead to increased egg production and happier hens.
Treated Engineered Wood: The durability and longevity of a coop hinge on the materials used. Our choice of siding is resistant to moisture, preventing rot and fungi from forming. It also protects against the usual wear and tear from the flock, ensuring that your coop remains strong and intact for years, even in varying weather conditions.
Roost: Chickens instinctively seek elevated places to sleep, away from potential ground predators. Our coops incorporate roosting bars designed for the comfort of the chicken's feet, ensuring they have a natural, comfortable spot to rest, recuperate, and sleep at night.
Chicken Door: The freedom to roam and play is essential for a chicken's happiness. Our specially designed chicken doors provide easy access for your flock to wander outdoors during the day and safely return at dusk. This feature promotes exercise, foraging, and the overall well-being of the flock.
Every feature of our chicken coops for sale at Dakota Storage Buildings is a testament to our commitment to quality. We recognize the nuanced needs of backyard chickens, and our designs reflect a deep understanding of these needs, ensuring your flock thrives in the best possible environment.
Trust, Transparency, and Top-notch Craftsmanship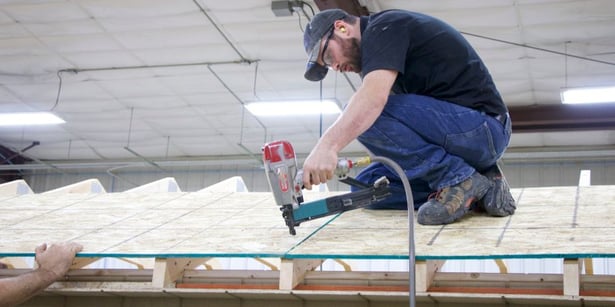 Dedication to perfection and sheer attention to detail sets one product apart. When constructing free-range or enclosed chicken coops, craftsmanship is not just about aesthetics — it directly impacts the well-being of your flock. At Dakota Storage Buildings, we pride ourselves on hiring individuals who have the skills and a passion for building. Our team comprises experienced professionals who share our values, ensuring that every coop we craft is a product of love, precision, and dedication.
Perfection is our benchmark; to achieve it, we have stringent quality control measures. Each coop undergoes a thorough inspection before it is deemed complete. This meticulous process involves checking for gaps, ensuring stability, and rectifying irregularities. Whether it is filling nail holes before painting or caulking seams to prevent water leaks, our attention to detail is unparalleled.
Trust is an integral part of any purchase, and we aim to build that trust with transparency and assurance. Despite our comprehensive quality checks, we understand that anomalies might occur. Each of our coops and kennels comes with a 5-year warranty. This signifies our confidence in our products and provides our customers with the peace of mind that they have made a long-term, secure investment.
A Coop for Every Flock: Crafting Customized Homes
The beauty of backyard chicken keeping is that every flock and every keeper is unique, with distinct requirements and desires. Dakota Storage Buildings offers a rich array of coop designs, each tailored to cater to specific needs. By understanding the nuances of each type, you can choose a coop that fits perfectly with your backyard flock.
Free-range Chicken Coops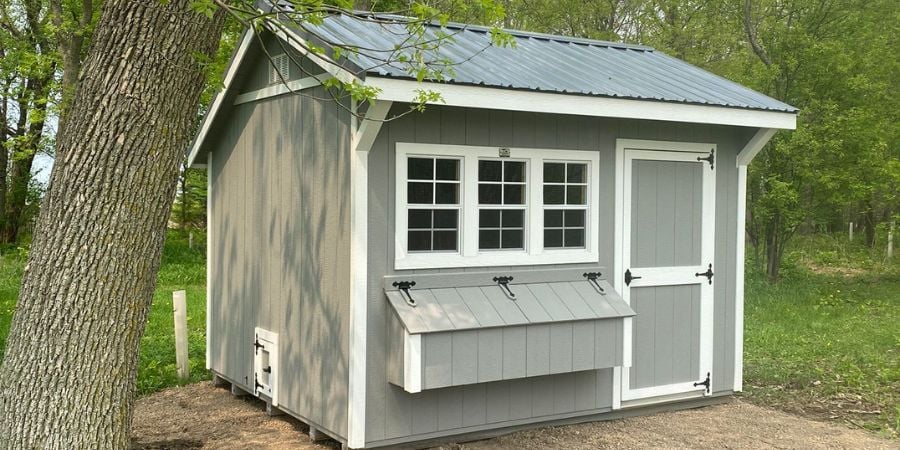 Our free-range coops embrace the natural instincts of chickens and are designed for those flocks that cherish open spaces. Perfect for owners with a secured backyard, these coops allow your chickens to forage, explore, and enjoy nature while still providing the safety and security of a sheltered haven. These easy-to-clean coops provide an optimal balance of freedom and safety.
Enclosed Chicken Coops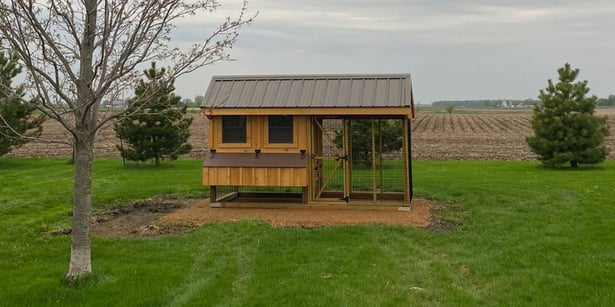 For those who seek a blend of indoor comfort and outdoor exploration, our enclosed chicken coops are the answer. Fitted with a secure fenced-in run, these coops offer your chickens the pleasure of outdoor activities while safeguarding them from potential threats. Key features like an epoxy finish on the floor and a dedicated ventilation system ensure a hygienic and airy environment, making it a haven for your flock.
Shop Pre-built
Time is of the essence, and for those eager to get started, our pre-built coops are the ideal choice. These coops encompass all our standards of quality and design. With a broad spectrum of color options and styles, you can swiftly find a coop that aligns with your aesthetic preferences and ensure your flock has a comfortable home in no time.
Configure Free-range Coop
At Dakota Storage Buildings, we value the individuality of our customers. If our existing designs do not resonate with your vision, our 3D Configurator allows you to customize your dream coop. You are in control, from selecting the colors and determining the size to adding other unique features. This customization ensures that your coop is not just another structure but a reflection of your love and commitment to your flock.
Ultimately, the type of coop you choose should mirror the lifestyle you envision for your chickens. Whether it is the free-spirited nature of free-range, the balanced appeal of enclosed coops, the readiness of pre-built models, or the personal touch of configured designs, Dakota Storage Buildings guarantees excellence in every choice.
Where Quality Meets Customer Commitment
A product is only as exceptional as the support and service that accompany it. The importance of robust customer care cannot be understated in backyard chicken keeping. At Dakota Storage Buildings, we understand this deeply and have tailored our services to support our customers better. Every coop we craft is a labor of love, integrating quality materials with unrivaled craftsmanship. When you purchase a coop with us, you are investing in a structure and a thoughtfully designed habitat that echoes our commitment to excellence.
Behind every great product is a team of dedicated professionals who breathe life into it. Our team is a unique blend of seasoned experts and enthusiastic craftsmen who share a singular goal: to make your chicken-keeping journey seamless and delightful. They are always ready to assist, advise, and guide you at every step to ensure you make informed decisions. For us, customer service is about developing lasting relationships built on trust. Whether you are a first-time chicken keeper or a seasoned enthusiast, our team is ever-ready to support you, offering solutions, advice, and insights that elevate your experience.
Transparency and honesty are the cornerstones of our company. Our pricing structure reflects the genuine value of our coops, devoid of hidden charges or last-minute surprises. We believe in offering the best without compromising on affordability, ensuring that premium quality is accessible to all. We recognize that getting your coop set up promptly is crucial. Our delivery options are designed to cater to various requirements, and we always try to work with your preferred timeline. We handle each delivery with care, ensuring that your coop reaches you in pristine condition and is ready to house your flock.
Provide a True Home for Your Chickens with Dakota
A free-range or enclosed chicken coop is not just a purchase but an investment in your flock's health, safety, and productivity. At Dakota Storage Buildings, we ensure this investment is durable, functional, and aesthetic, suiting your and your chicken's needs. We believe your coop is a testament to your dedication to your flock's well-being. Our team is always a call away, ready to guide, advise, and ensure that your coop aligns with your backyard aesthetics and resonates with your vision for your flock. As you prepare to start your chicken-keeping journey, we invite you to explore our wide selection of chicken coops for sale, reach out with questions, and let us help you find not just a coop but a home for your flock.