​Is a Vinyl Siding or Wood Siding Better?​
by Dakota Storage Buildings, on November 13, 2017

Both vinyl sheds and wood sheds are excellent options—but which siding type is best for you?
Shed siding comes in a range of materials, so deciding which one is right for you can be challenging. Your choice may depend on your budget, the look you want, or the amount of time you're willing to put into maintenance.
When deciding which material to buy, consider how you plan to use your shed and where it will be located.
For instance, if your shed will be near trees, you may want to choose wood because the paint won't fade as easily because it lives in the protective cover of trees. If your shed will be near your house that has vinyl siding, then you may want your shed to match your home's look thus choosing vinyl siding for your shed.
There are many good reasons for choosing each material.
To help you learn more, here's an overview of each. Hopefully, when you're done reading this post, you'll have a better idea which will best serve you.
Wood Shed
We offer two types of wood sheds. One has wood panel siding, and the other has wood lap siding.
LP® SmartSide® Wood Panel Siding
LP® SmartSide® Panel siding offers all the warmth and beauty of traditional vertical wood siding, along with the advantages of LP's treated wood technology. These siding panels are more durable, dimensionally stable and consistent than traditional wood materials.
Its natural cedar look is ideal for sheds in areas of high winds or seismic activity. And because it's treated with LP's SmartGuard® process, it's made to resist termites and decay.
With this type of siding, it's ideal to take the time at least once per year to perform a visual inspection, taking note of leaks, cracks, wear and any other problems that may have developed over the previous year. Here are some tips for cleaning and maintaining your engineered wood panel siding.
Depending on where you live, you may find a build-up of dust and dirt on LP® SmartSide® siding. To keep your siding looking its best, use a cloth, sponge, or soft brush and a bucket filled with a solution of mild detergent and water to wash the surface. Rinse with water from a garden hose.


Avoid using a pressure washer on LP® SmartSide® siding. High-pressure washing can cause moisture intrusion, discoloration, and damage to the paint.


Never use harsh abrasives or solvents on your siding. These can damage the surface or paint.


A solution of three parts water to one part white vinegar can be used to remove light mold and mildew stains.
For more tips, read 7 Tips for Care & Maintenance of LP® SmartSide® Siding.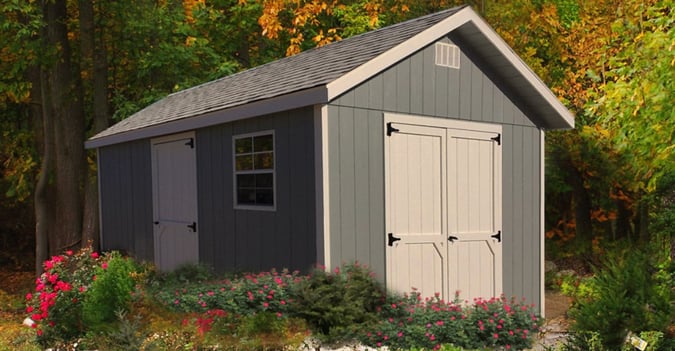 Pictured: Ranch style shed with painted wood panel siding
LP® SmartSide® Wood Lap Siding
This siding is called "lap" because of being installed in overlapping horizontal rows on the exterior of a building. This unique overlapping structure serves to protect the outer surface from the elements, adds appealing aesthetic quality that surpasses ordinary wall cladding, and offers a recessed curve that aligns the top of each plank, which allows it to fit more tightly against the wall.
We offer LP® SmartSide® lap siding because, like LP's wood panel siding, it's made of specially engineered wood. Resilient and long-lasting, this siding can withstand major weather events as well as pest invasion. You can choose the perfect color to compliment any outdoor space.
Note: The lap siding option is available on all of our styles except the Low Barn.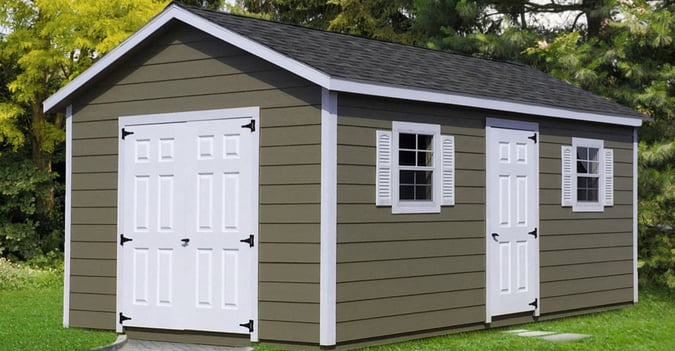 Pictured: Ranch style shed with wood lap siding
Why We Offer LP® SmartSide® Wood Siding Products
LP® SmartSide® wood products are durable because they are treated with LP's exclusive SmartGuard® process. Exterior trim and siding are often subjected to extreme temperatures, moisture, and insects. Only the SmartGuard process offers four components of protection against termites and fungal decay: an advanced formula of binders, waxes and zinc borate that's bonded with a water-resistant, and resin-saturated overlay. The result is an advanced material that offers long-term toughness in the face of harsh weather.
Vinyl Shed
GP Shadow Ridge vinyl lap siding has flat panels that overlap each other horizontally with a shiplap joint and a decorative groove between the laps. This groove improves strength, creates a narrow reveal line that adds visual interest and creates deeper shadow lines. As all lap siding, this application is also applied horizontally.
Vinyl siding storage sheds are often chosen because it's low maintenance and weather resistant. It does not need to be painted like the wood siding options listed above, but it does require annual cleaning with mild soap and water.
This siding option is not susceptible to problems associated with rotting, cracking, peeling, flaking, blistering, or insect damage. While vinyl siding shouldn't chip, if damage does occur, repairs can be costly.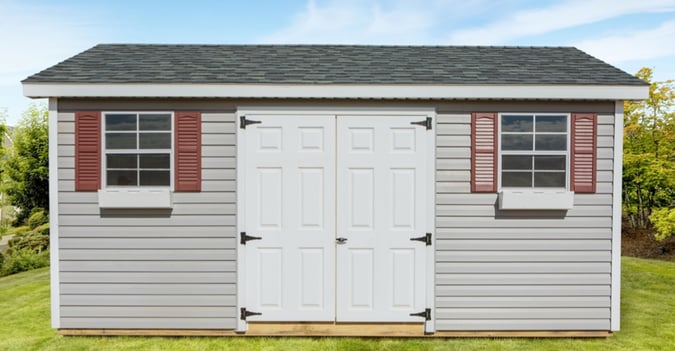 Pictured: Ranch style shed with vinyl lap siding
Wood Sheds & Vinyl Sheds for Rent
If you're living in Minnesota and your monthly budget is tight, your living condition is temporary, or you simply need a convenient short-term storage solution, renting a shed might be the best option for you. We've teamed up with a trusted rental company, AFG Rentals, to make shed renting in Minnesota a reality.
Visit our rental page to find wood and vinyl sheds available for rent near you. Our goal is to get you an affordable and high-quality storage shed as quickly as possible.
Ready to choose?
As you choose between a wood shed and vinyl shed, be aware that we build our sheds to the same standard specifications unless upgrades have been requested. They look different from the outside, but they are both made with high-quality materials and are structurally sound and secure.
Keep in mind—
Wood siding will not last long if you don't maintain it. If you do maintain it by painting it every 7-10 years, it can last a lifetime. Vinyl siding will last for decades without any paint at all. Eventually, however, it will need to be replaced—but that may not be for 50 years or more.


A wood shed is less expensive to buy up front but will require periodic top-to-bottom paint jobs. A vinyl shed may be more expensive initially, but it's less expensive to maintain over the years.
Ask yourself these questions before making a decision—
Which look do I like better—wood or vinyl?


Do I want a low maintenance siding (vinyl) or one that requires painting over the years (wood)?


What's my budget for this purchase? Is it better for me to pay more up front so that I have less maintenance later (vinyl) or would I rather pay less up front and pay for regular upkeep later (wood)?
Try our online configurator to see which siding style you like best.
More articles: