Motorsport Storage: 6 Storage Ideas for Your ATV
by Dakota Storage Buildings, on April 23, 2020

ATVs are both fun and functional. How do you store your ATV to prolong its lifespan?
If you own an ATV, good for you! These off-road vehicles are So. Much. Fun. Yet, in addition to motorsport vehicle off-roading, they can be a real powerhouse tool for you and your family.
Here are some practical uses for an ATV.
Use it as a snowplow in winter (you'll need to attach the plow, of course).
Get an ATV trailer to haul camping gear or equipment short distances.
Pull and haul out small vehicles from snowbanks with an ATV winch.
Take it on a hunting trip to haul back your game.
With the proper attachments, plow a field or mow the lawn.
An ATV can work hard and take a pounding, that's why it's essential to take good care of it, especially before storing it for several weeks or months.
Preparing an ATV for storage is similar to preparing a snowmobile. If you've never stored an ATV before, here's a handy to-do list.
Six Storage Ideas for Your ATV
Choosing where to store your vehicle is just about as important as preparing it properly for storage, so we've put together a list of ideas for you.

1. Store it in your attached garage at home.
Most ATV owners store their motorsport vehicles in a garage – often the one attached to their home. This is a good option. However, keep in mind that if you need to work on your ATV in the winter or on a rainy day, your garage may be an uncomfortable and stuffy workspace. Unless your home garage is insulated (they usually aren't) and ventilated, working on your ATV inside can be a recipe for misery during bad weather. Plus, garages – particularly those attached to homes – aren't all that large. This often means there's not enough room for cars, tools, workbench, deep freezer, and the ATV.
2. Place it in a storage rental unit.
This can be a good idea if you live in an apartment, townhome, or condo that doesn't have any on-site storage options. Storage units are likely to be climate controlled and have built-in security services and 24/7 access.
Yet the cons can outweigh the pros.
You won't be able to work on your motorsport vehicle in the storage unit.
The monthly rental fee can add up over several years.
You'll have to drive to the facility each time you want to get the ATV.
You'll have to tow the ATV to where you intend to use it.
Note: You'll more than likely have to tow it to your destination even if you store the vehicle at home. Several states don't allow ATVs on public roads. The few that do require that you make it "street legal."
3. Store it in a friend's or family member's garage or shed.
This option has all the cons of a storage unit rental (minus, perhaps, having to pay rent), with few of the pros.
You'll have to drive to and from your friend's place for your ATV.
It may not be climate-controlled.
You may not be able to access it whenever you want.
There may not be enough space to work on or tinker with your ATV.
Additionally, your friend or family member won't look after the vehicle as you would. It's not their ATV, so they simply don't care as much about it as you do. It's merely human nature.
4. Cover it with a tarp, move it to a secure place in your yard, and leave it alone.
When you cover your ATV securely with a tarp, you forget about the mess and damage caused by dirt, rain, mud, dust, wind… and bird excrement. However, when it's merely covered by a tarp, there's always a chance of theft, even if you secure it with a strong chain to a very sturdy fixture.
5. Build a shed from a DIY shed kit.
This is a better option than leaving your ATV outside in the elements, yet there are some critical issues of which you should be aware.
These sheds tend to deteriorate a lot faster than quality, custom-built sheds.
You can't customize the shed to your specific needs.
If you're not an experienced DIY-er, you may find building a shed from a kit to be harder than you expect.
6. Purchasing a pre-built, semi-customizable, or custom shed.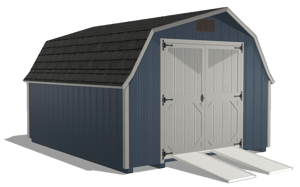 Of all of our motorsport storage ideas, possibly the most cost-effective and long-term solution is investing in a detached shed or garage.
At Dakota Storage Buildings, we offer pre-built sheds, semi-customizable shed packages, and custom sheds. With our online configurator tool, you can design your ideal ATV storage shed or garage. All of our buildings are created to protect your vehicle, guaranteed.
If you choose to buy a custom-made ATV storage shed, you can create a storage building that has enough space for storage and work. Store whatever you need, whether it be tools, gear, accessories, etc. and enjoy peace of mind that your motorsport vehicle will stay safe from the elements no matter what Mother Nature may decide to throw your way.
We're More Than a Shed & Garage Manufacturer
We're all about helping you organize and safeguard your possessions by building the best storage solutions for the things you own. We also aim to make the purchase process as easy as possible.
And that's one reason why we've created the ShedView 3D Configurator, which lets you "build" your perfect ATV storage shed to your exact specifications and budget.
Make sure your ATV is stored securely and safely by customizing your perfect ATV shed — that way you'll be able to enjoy it for years to come.