Take Advantage of a Quality Pre-built Chicken Coop or Build My Own?
by Dakota Storage Buildings, on June 21, 2023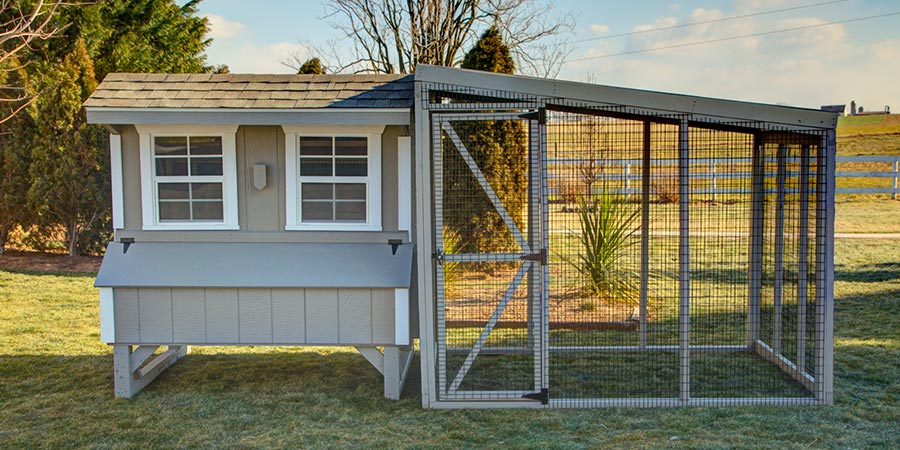 When you decide to raise backyard chickens, one of the first tasks on your to-do list to help you prepare is getting a quality enclosed chicken coop. Coops serve as a home for your flock and are one of the best solutions to keep your chickens safe, healthy, and happy throughout their life. Since these structures play such an essential role in the life of your hens, you must take the time to choose a coop that is best for your needs. One of the first decisions you will need to make is if you will capitalize on a quality pre-built coop or try to build one on your own. While both options can be tempting, we will look at the pros and cons of each so you can find the coop that best fits your needs.
So You're Ready for a Chicken Coop?
Coops play a pivotal role in your chickens' lives, and many prefer this option over chicken pens. By sheltering them from harsh weather elements and predators, coops can have a lasting impact on the health and happiness of your chickens. Investing in a coop built from the finest materials can be one of your best decisions, whether a pre-built coop or one you construct yourself. Finding a coop with all the necessary features can decrease the work you need to do to properly care for your flock while giving them a luxury living space. If you want a coop that meets your expectations but wonder if building or buying is the better option, consider these factors.
Should I Buy or Build?
The debate between pre-built and do-it-yourself coops will ultimately come down to preference. While we cannot choose for you, we believe a quality pre-built chicken coop can have many benefits, making it the superior option. A pre-built coop will likely last years longer than an alternative option, saving you time and effort. However, there may be better choices for some chicken owners. For example, you may be a skilled handyman who loves a DIY project. While you read this article and conduct more research to determine which option is right for you, remember your unique situation to find the chicken coop that will best fit your flock.
Building an Enclosed Coop.
Building an enclosed chicken coop is widely considered by most chicken owners when they first start. However, before you jump the gun and start building your own, you must weigh both the pros and cons. A DIY chicken coop may be a great solution for some, but it only fits some situations. Here are some of the most intriguing benefits of building your chicken coop and some of its downfalls.
Pros of Building a Coop.
One of the most appealing aspects of building your coop is how much you can save. A tight budget tends to lean towards building your own because you are able to fully choose the materials you work with, allowing you to pick something that does not break your bank account. If you already own the necessary equipment and tools, you can reduce the overall cost of the coop as well.
Another reason we see soon-to-be chicken owners choose to build their own coop is not necessarily due to budget but because they view it as a fun project. Building a coop can be right up your alley. If you love crafting things and spend a lot of time in your workshop, the time it will take to build a coop may be worth it. It can be an enjoyable and rewarding pastime for those with construction experience.
Building your own coop means that you can fully customize it to fit your flock and backyard perfectly. No matter what is on your enclosed chicken coop wishlist, building your own means you can check off all the boxes and create something unique. Creating a coop can be just like creating a house; start with a floor plan and customize the space in a way that works best for you.
Cons of Building a Coop.
While building a coop may have a small price tag, it will have a high cost in other areas. For starters, low-cost materials are inexpensive for a reason. When you choose to build a coop solely to save money, you will find that the coop will not last, and you will have to make repairs or replace the coop more often than you would like. This can cost you hundreds or thousands of dollars in the long run.
Plus, you may have a different selection of materials than a company that sells pre-built coops. When your material options are limited, you may have something that needs to live up to your quality and style standards. This coop will be a permanent fixture in your backyard for the foreseeable future, so naturally, you want it to look nice. Low-quality materials will have fewer color options or features to resist mold and mildew.
You could be compromising on quality and style, but building your own coop can cost you precious time. When you choose to DIY a chicken coop, it will be labor intensive, and you may find that you bit off more than you can chew. You can spend weeks working on this project, from researching to ensuring your coop is the proper size and has all the necessary features to cutting parts and assembling the structure.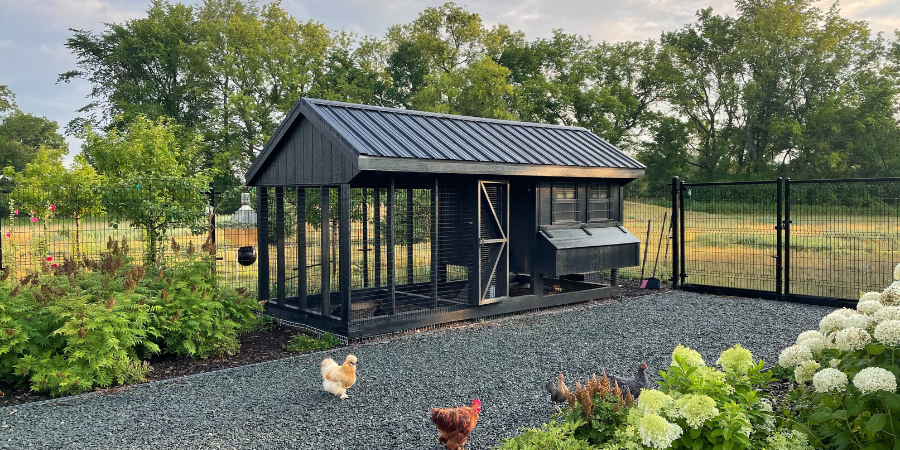 Buying an Enclosed Coop.
Buying an enclosed chicken coop can be an easy, hassle-free solution for anyone needing more time or wanting to build one themselves. While this option has a higher upfront cost than building one yourself, it will last you for years. With manufacturer warranties, you will never have to worry or lift a finger if something happens to your coop. Let's look at some pros and cons you may experience if you purchase a pre-built chicken coop.
Pros of Buying a Coop.
If you find a trustworthy manufacturer, you can be reassured that the coop will only be made from the highest quality materials. A coop keeps your flock safe from wind, rain, snow, and predators, so having a sturdy, impenetrable coop can be reassuring. High-quality materials can last for years before showing signs of wear and tear. When your materials are built to last, you can spend less time on repairs and more time with your chickens.
While a pre-built coop may not be fully customizable, there are countless options, so you will be sure to find one that fits your needs and style while having all of the necessary features. For example, at Dakota Storage, we offer free-range and enclosed chicken coops, multiple styles and sizes, and numerous sleek color options. With so many options, a pre-built coop can get pretty close to being fully customizable.
One of the most appealing reasons to buy a pre-built coop is its ease on the purchaser. You can buy a coop without leaving the comfort of your home. With online shopping, finding a coop you like has become easier, purchasing it and delivering it to your backyard. For those who like to see it before they sign the dotted line, many manufacturers have showrooms where you can inspect the quality and craftsmanship. Once you have found one you like, you can relax until it arrives.
Cons of Buying a Coop.
We briefly touched on this earlier, but with a pre-built coop, there are small sacrifices you may have to make. Since a coop is pre-built, there may be some details that you will have that come pre-installed. Only some manufacturers will have the exact color for the coop of your dreams. That is why we have various pre-built options at Dakota Storage to find what you are looking for. Your flock will want a safe, secure space to call home in the long run.
Save Yourself Time and Money.
A pre-built coop has proven to be the superior option for many families time and time again. The amount of time and energy it saves can be well worth the little extra cost. Plus, when you do the math, a DIY coop can cost the same amount, if not more, in the long run. During the years that you use your pre-built coop without any major issues, you could end up having to replace parts of a DIY coop multiple times. Getting a quality pre-built coop gives you money and time back while investing in the best home for your flock.
Quality Pre-built Coops at Your Fingertips.
If you have decided that a pre-built coop is the best option for you, it's time to start looking for your flock's dream home. With so many options to choose from, it may be hard to know where to begin. Start by calculating the size you need, and the rest will fall into place. At Dakota Storage, we have numerous quality pre-built coops that you can view with a click of a button. If you are ready to buy, or even if you are just browsing, we have tons of options. Choose the best pre-built coop for your flock today!