Best Backyard Chicken Coops to Raise Chickens
by Dakota Storage Buildings, on January 25, 2023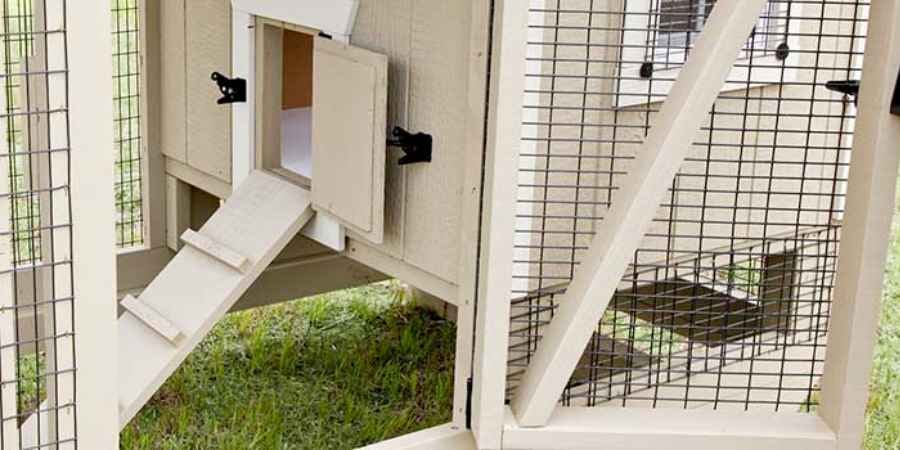 Raising chickens can be a fun adventure for you and your family. Not only will your hens lay delicious eggs, but they can also be energetic pets. Whether you have a whole flock or one chicken, you are bound to have a great time taking care of your flock. Before you commit to raising chickens, you will need to make sure you are educated and prepared for everything that comes with it. Today, let's look at the best backyard chicken coops so you can find the best one for your flock.
The Basics
While there are a number of important elements to consider when you are purchasing a backyard chicken coop, two of the most important are the size of the coop and its safety features.
Space
Before you can determine how much space you will need inside the coop, you will need to know how many chickens you want to raise. The amount of space needed greatly depends on the breed and number of chickens. Oftentimes, coops that are too small can lead to behavioral problems in your flock while coops that are too large can make it hard for the flock to keep warm. However, the standard rule is 4 square feet per free-range chicken and 10 square feet for each chicken in an enclosed coop. Inside a coop, you will need to make sure that there are plenty of nesting boxes for you hens to lay eggs and space to roost at night. Though the run is not included in the recommended space, it is necessary to provide adequate outdoor space for your flock. Your chickens will need space to stretch their wings and run around. The run should be around 8 square feet for each chicken.
Safety
When raising chickens, safety should always be your top priority. While you want your chickens to have freedom to go outside, the coop should serve as a safe oasis. Predators may be around at night and your chickens should be able to sleep peacefully in their coop. To ensure that your flock is kept safe, make sure that your coop has the proper security features. Doors are a necessity and locks are helpful to keep predators out of the coop. Without installing locks, predators may still find a way into the coop.

Style of Coop
When browsing the different styles of coops, you will likely notice that there are numerous options for you to choose from. From portable coops to chicken houses, the options are endless. Here are some of the most popular choices.
DIY Coop
A DIY coop is one of the most basic options for anyone new to raising chickens. You can either purchase a coop kit and assemble it yourself, or completely build it yourself. This option is significantly cheaper than a pre-built coop but it will end up costing you time and money on the necessary tools to complete the project. Building a coop can be very difficult if you are not familiar with this type of work. Having an elegant-looking chicken coop is something you could be missing when building yourself while costing you time and labor. You can choose the materials, size, and style so it will be unique to your flock.
Portable Coops
If you like having flexibility and need to temporarily relocate your chickens, a portable coop would be the best fit for you. These are often made from treated wood and are a great short-term option for any flock. While it is nice to have the ability to move your coop to a shady spot in the backyard, these coops are not as durable as other options. Often they are going to be very light in weight, this could be an issue due to weather and overall quality, and no one wants to be chasing down a coop after a windy day. Since they are easy to transfer, they must be lightweight. These will not serve well as a long-term coop but may be a great short-term option.
Plastic Coops
For a family who needs a cost-friendly yet durable coop. The plastic exterior has UV-blocking pigments that will keep your coop free from cracking and fading over time. These coops are typically free-range and can be easily transported since they are lightweight. On top of that, plastic coops are super easy to clean. If you are considering a plastic coop, keep in mind that these coops typically do not come with a run. Plastic can be unaesthetically pleasing to your yard, along with having to purchase a fenced-in area for your chickens to roam.
Wooden Coops
Free-range wooden coops are very similar to their plastic competitors. However, wooden coops typically come with extra features like the run, nesting boxes, and roost built in for your convenience, while adding better material quality compared to a plastic coop. The wood used for coops is likely treated so it is able to withstand weather conditions for years to come. These are known to be a more expensive option compared to the plastic option, but its durability and longevity is unmatched. The combined coop and run will ensure your chickens are protected from predators and harsh weather conditions.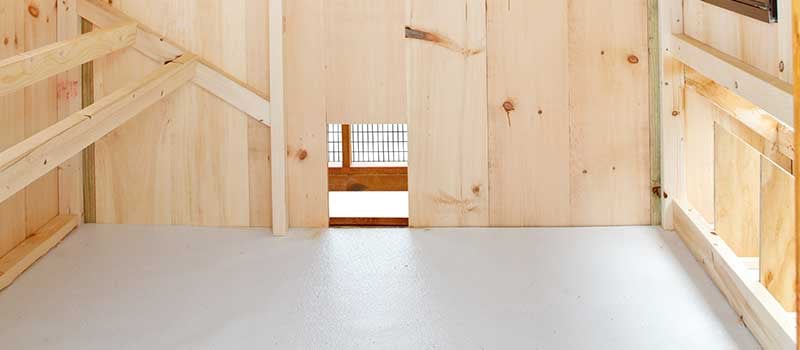 Extra Features
While every backyard chicken coop will need to have the necessary outdoor space for the chickens to roam, nesting boxes for laying eggs, and a roost for sleeping, there are other features that you may want to include in your coop. While these are not mandatory, they can be greatly beneficial and convenient.
Flooring
If you want to ensure that your coop is high-quality, consider getting built-in scratch-proof flooring. This durable flooring makes your coop easy to clean and will resist decay and warping. You could even add insulation to ensure that your coop stays warm in colder months. Having durable flooring is one of the best decisions you can make to guarantee your coop lasts for years.
Roofing
Your chicken coop's roof should have the same qualities as your home's roof. A durable and weather-resistant roof will keep your flock safe from outside elements. Typically, a coop can pair well with any normal roofing materials, from asphalt shingles to galvanized steel roofing. It is necessary for a coop to have a high-quality roof to protect your flock and help maintain the indoor temperature.
Find What's Best for Your Flock
No matter which style of backyard chicken coop you choose for your flock, it is important to make sure that they are well cared for. If you are wanting a durable, long-lasting, easy-to-use coop look no further than our best-fit chicken coop guide to find out what fits your flock's needs. Ensuring your chickens have adequate housing will encourage a happy and healthy flock. If you want to learn more about what first-time chicken owners should know, check out our Best-fit Coop Guide here.