​Create The Ultimate BBQ Shelter or Grill Shed
by Dakota Storage Buildings, on September 19, 2017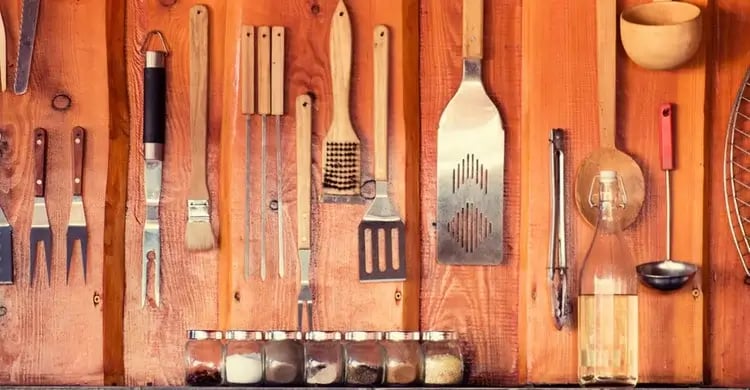 This post was updated in February 2020.
Typically a BBQ shelter is
just large enough to accommodate a grill or smoker, but imagine a

structure that could do that—and so much more.

A simple Pinterest search will produce a ton of ideas for BBQ shelter designs and ideas. You'll find ones that are built from scratch and others that are modifications of another structure.

This is an example of a BBQ shelter that you'd find on Pinterest: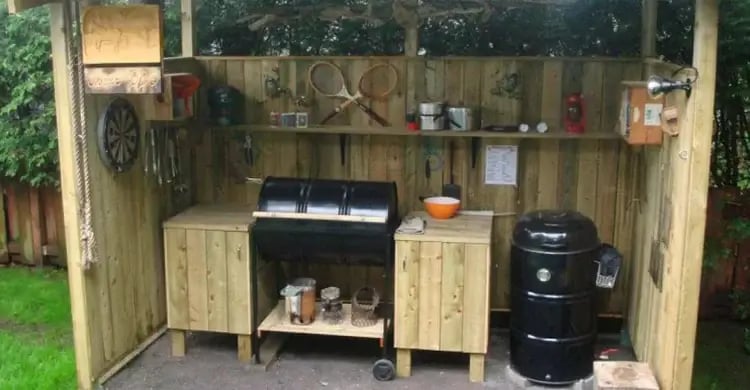 Imagine for a moment, though, a BBQ shelter that's customized to your specific needs and has space for entertaining.
If you added a roof extension to a garage, you'd have a perfect BBQ shelter and entertaining area.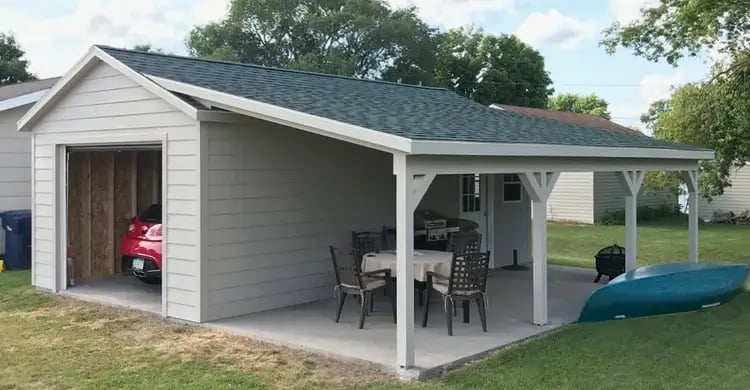 The combination of the BBQ shelter ideas found on Pinterest and the garage with a roof extension shown above would result in the ULTIMATE BBQ SHELTER.
To make the ultimate BBQ shelter, you'd need to think about how much space you'd like, what you'd hope to store inside, and how you'd like it to look.
First, look at space.
There are a few key things to consider as your mind map your ideal BBQ shelter.
Think about the fire and smoke. While a big part of the cookout experience is the smoke, you need to be careful with it. Smoke from your grill or smoker contains carbon monoxide, Polycyclic Aromatic Hydrocarbons (PAH), and other dangerous substances.

As much as we all love the

smell of food on the grill, it's best to make sure the

smoke has a pathway

away from your guests. Grilling in closed spaces and without airflow is hazardous and dangerous. So,

know

your fire type (gas, charcoal, etc.) how to control it,

and ways to extinguish it quickly.

For more cookout safety tips, read Top 10 Safety Tips for Barbecue and Grilling.


Make sure there's seating for your guests. If you're thinking about getting a BBQ shelter, the chances are good that you like to make meals for your friends. If this is the case, make sure you have

enough space for entertaining your guests. Do you have room for

a table set and comfortable seating?


Consider storage options. You'll want to keep your BBQ supplies and fuel in a safe but

convenient

spot. In the garage photo above, you'll see a door that leads from the BBQ shelter (or patio portion)

of

the building to the inside of the garage. This provides easy access to storage options, supplies, and

even a fridge if desired. You might as well keep a fridge nearby so that you don't have to run back and forth to the

house, plus it'll keep drinks cold.


Visualize the f

l

o

o

r

i

n

g.

Do you want your BBQ shelter to be located on grass, pavers, gravel, or cement? When you ask yourself this question, think about how rain, wind, or bad weather may effect your flooring and your guests. Mud is not usually crowd-pleasing.


Anticipate lighting.

You'll likely want electrical outlets in or near your BBQ shelter. It'll help on overcast days and during evening hours.
Next, figure out what goes inside.
What goes in the ultimate BBQ shelter? Here's a list of items that would be AWESOME to have at arms reach.
Grill

Smoker
Fire extinguisher
Tongs
Grill Pan
Skewers
Grill Basket

Cleaning tools

Thermometer
Knives
Flipper/Spatula/Turner (whatever you call it!)
Meat Fork
Dining table
Dining chairs
Additional

seating for quests

Ceiling fan
Shelving (for anything really—e.g., a place to lay out eating supplies, put food when it's done cooking, etc.)
Add your own items to this list; the opportunities are endless!
Last, define the appearance.
Make the space uniquely yours. Aesthetics go along way in making a place feel comfortable and welcoming.
Adding any of these items will add character to your BBQ shelter and entertaining area.
Seat c

ushions

Area rug
Outdoor wall art
Waterproof dartboard
Plants
A swing
Sofa
Outdoor movie screen
Water garden or fountain
For more ideas, visit our Outdoor Living Pinterest board.
Where to go from here.
Perhaps you want a simple, straight-forward BBQ shelter. If that's the case, you can find plans and designs for a typical BBQ shelter by searching Pinterest. However, if you want something MORE, consider the practicality and convenience of a garage with a roof extension and cement foundation.
Before moving forward with an Ultimate BBQ shelter, give James, our Sales Representative, a call at (888) 832-6889 or shoot him an email. He'll gladly help you determine that best building style and size for your BBQ shed project — he'll even give you a no-obligation quote.
If you'd like to design your own grilling shed or BBQ shelter (whatever you prefer to call it) and get a quote, try out our online configurator.
Read more: