Outdoor Storage Solutions For Firewood
by Dakota Storage Buildings, on July 11, 2017

Do you have an indoor fireplace, wood stove, or outdoor fire pit? If so, how do you store your firewood?
If you don't already have a dry and termite-free place to store your firewood, this post is a great place to start as you look for the best storage solution.
Gathering enough wood to keep the wood burning furnace roaring or the backyard bonfire at its peak is a process that takes either money to purchase pre-chopped wood, or the resource, time, and energy it takes to chop the wood yourself. In both cases, it's important to store your firewood properly so that your money or hard work doesn't get lost in one snow storm or substantial rainfall.
Wood needs to be kept dry, off of the ground, away from pests, and in a place that's easy to access.
If you're looking for an outdoor firewood storage solution, you can build a wood storage shed from scratch, assemble a kit, or buy an outdoor storage building.
Figure Out How Much Space You Need
How much wood do you like to keep on hand—1 or more cords? Your answer will help to determine which firewood storage solution is right for you.
A 1/2 face cord of firewood measures 4'x'4'x16", a face cord measures 8'x4'x16", and a full cord is 8'x4'x4' or 128 cubic feet. See the image below for a visual reference.


*Find this photo and other firewood storage information at northlineexpress.com.
Keep these space requirements in mind as you decide which storage option is best for you.
Finding The Best Solution
Knowing how much firewood you plan to store will help you determine how large your storage solution needs to be—from there you can decide if you want to build or buy.
DIY firewood storage design plans - You can find DIY plans and ideas on Pinterest, on wikiHow, or through a video search on Google.
The DYI project shown here can be found at Instructables.com—best of all, this design doesn't require tools!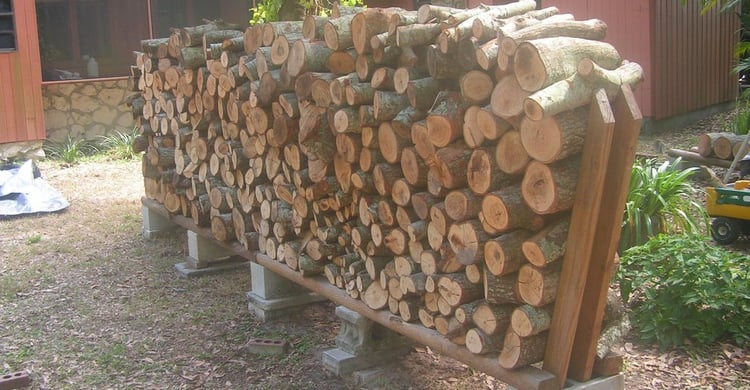 Firewood storage kits and units - If you don't mind the work, you can buy a firewood storage unit or kit to assemble.
This galvanized wood shed kit from northerntool.com can hold 2/3 cord.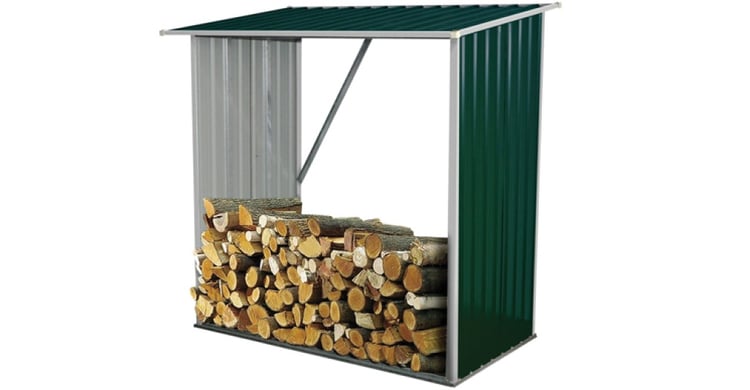 And this 1/2 cord firewood storage unit—and others like it—can be found at firewoodracks.com.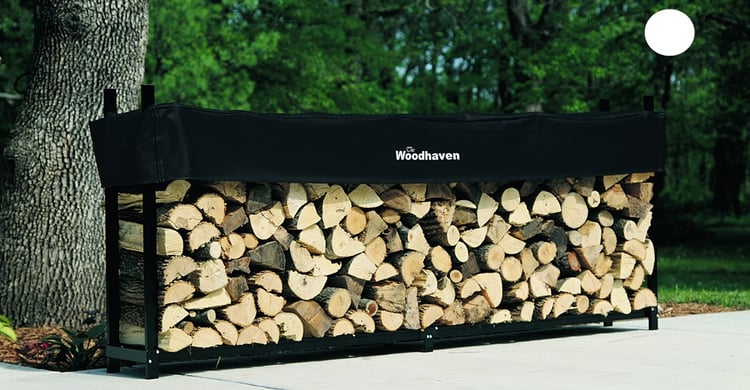 In both cases—don't forget to buy a cover!
Tip: If you don't need to store much wood—just enough for a fire pit during the summer—you could use a outdoor deck storage box.
Backyard shed - If you don't have enough time or the handiness to build or assemble your own firewood shed, consider buying a shed that can be delivered to your property or assembled on-site by professionals. Also, if you want more than a small wood storage shed can offer—like more useable storage space—a larger shed would be practical.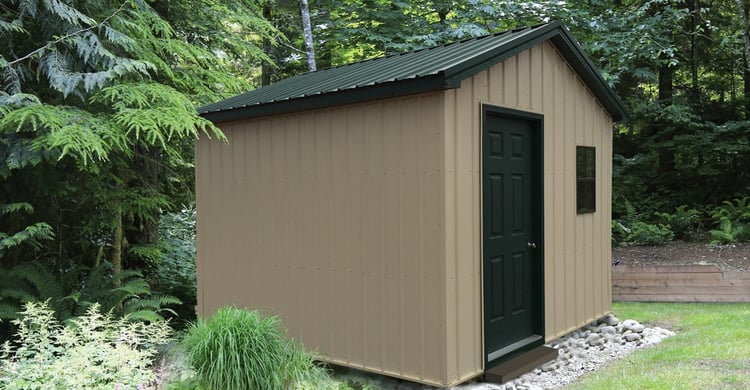 Note: Want to learn how to stack your firewood properly? Check out these tips.
Consider A Shed From Dakota Storage Buildings
We have several different shed styles and sizes that can meet your firewood storage needs. From a8'x14' metal Ranch shed (that size can hold 4 cords of firewood) with a ramp and set of double doors to larger, more spacious sheds that can double as workspace or additional storage like our 10'x14' lap Ranch shed or 12'x14' vinyl deluxe shed.
To learn more about our storage options, you can—
---

More reading:
Connect with us on Facebook, Twitter, Instagram, or Pinterest.