Create the Ultimate Man Shed with Features Designed for Modern Man Caves
by Dakota Storage Buildings, on June 14, 2023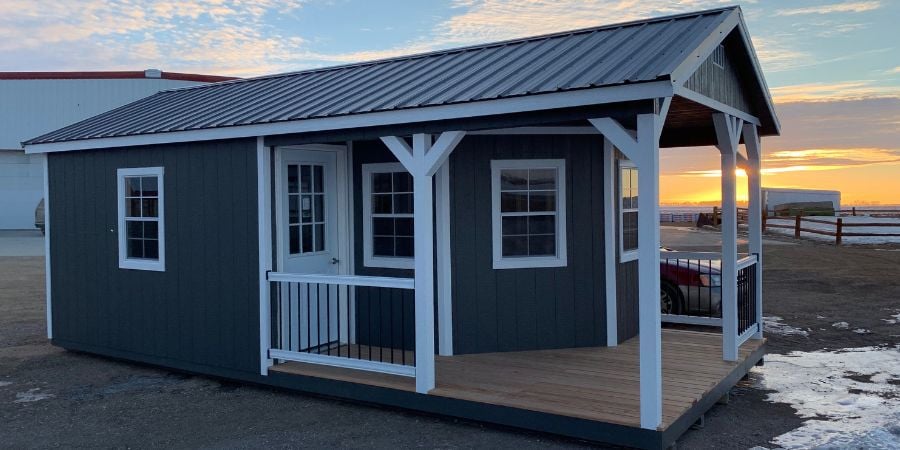 As our homes become increasingly busy and multi-functional, balancing family time and personal downtime is essential. While the idea of a man cave within the family home can be appealing, it often presents logistical and practical challenges. Space constraints, noise, and the need for privacy can make it difficult to create the perfect man cave within the household.

Enter the man cave shed — a place to indulge in your hobbies, watch your favorite sports, or simply kick back with your friends. The man cave shed is the perfect solution for those who crave a personal retreat without encroaching on the family living space.
Escape to an Oasis
Needing an escape is a good thing. When you need to take time for yourself, it can be therapeutic and enhance your happiness. You can relax and feel at home by creating a designated space away from the hustle and bustle of the main living area. A game night with the boys, watching the next biggest game, or simply reading a new book by your favorite author can be even more enjoyable in the comfort of a man shed. Those simple activities can be a pivotal way you recharge after a long day. The bigger, the better, but you will be thankful for any size of personal space.
Features with a Huge Impact
With a custom shed, hand-picking features from the very beginning helps ensure that the shed is the perfect fit for you. Even the seemingly boring elements can significantly impact the shed's comfort. We know that even the little things can enhance a shed, so we prioritize choosing the best materials on the market. Our team makes these decisions, so you do not have to worry about quality and durability. Instead, you can focus on the fun elements that make the shed feel like an oasis.
All Dakota Storage custom sheds have three high-quality flooring materials for you. The LP® ProStruct Flooring with SmartFinish® is an attractive option that gives your shed a professional look. This premium flooring has no knots or voids, giving it a sleek finish. This treated wood can resist fungal decay, termite damage, and warping. Another option is the Huber PerformMAX® Flooring. This engineered wood flooring utilizes moisture and warp-resistant resin technology to provide exceptional strength. The Huber PerformMAX® Flooring option can endure weight, weather, and everyday use while giving your shed a stylish matte finish. The final flooring option for custom sheds is pressure-treated plywood flooring. This standard exterior-grade option can resist rot and decay for a lifetime. Its enhanced durability helps enhance the floor's performance.
We offer four siding options for the shed's exterior to increase curb appeal while creating a safe and protective shell. The LP SmartSide Lap Siding and Panel Siding are engineered wood options that can protect against hail and wind. The SmartGuard® process has four protection components, strengthening your shed's exterior. The CertainTeed® Mainstreet™ Dutch Lap Vinyl Siding is firm fitting, so your siding stays in place during winds up to 160 mph. Plus, this low-maintenance option utilizes state-of-the-art formulations to produce vibrant, fade-resistant colors. The Long Creek Steel's Tuff Rib Siding is indestructible and lasts up to 60 years. Whether you choose wood panels, wood lap, vinyl, or steel siding, you will have state-of-the-art siding and abundant color options.
One last element that you must remember is insulation. If you spend extended periods in your man cave, you will want to ensure he is comfortable every season. We utilize spray foam insulation to insulate walls and floors. It creates a watertight seal that protects against extreme temperatures. Adding this feature to your custom shed will seal every crack, creating a comfortable, protected space.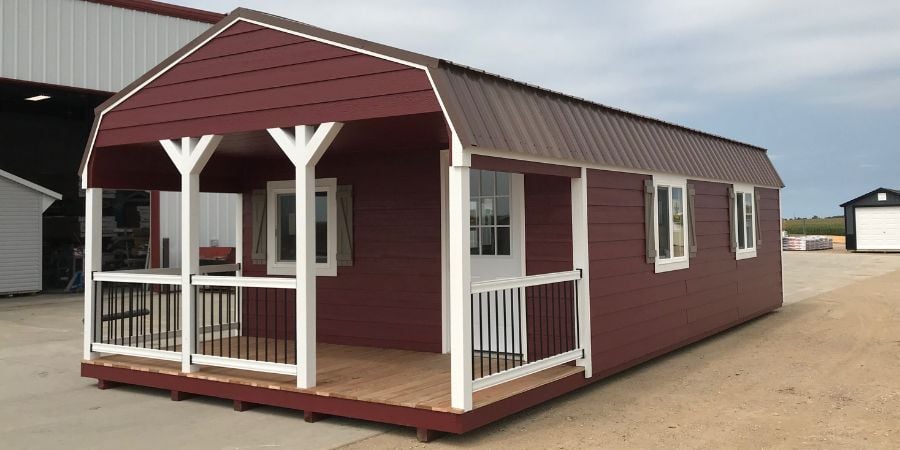 Designed How You Want It
Everyone is different, so creating a cave unique to your hobbies and interests is crucial. You can begin making the space feel like home with a custom shed. However, once the shed is delivered and ready to be used, there are still some features that you should consider adding to make it the ultimate getaway. Remember to create a space that is unique to your interests.
If you are a huge movie buff and always want to stay updated on the latest blockbusters, adding a large TV, a comfy couch or recliner, and maybe even a popcorn cart could make it feel like a movie theater in your very own backyard. This same setup could also work for a sports fan or video gamer. With a snack station specific to the theme, you will have a tremendous backyard-watching experience.
Meanwhile, some men are rejuvenated by completing projects. If you like working on cars or building something new, a workshop could be a perfect man shed. With a workbench and organizational solutions for your tools, you can get out of the garage and into a space all your own.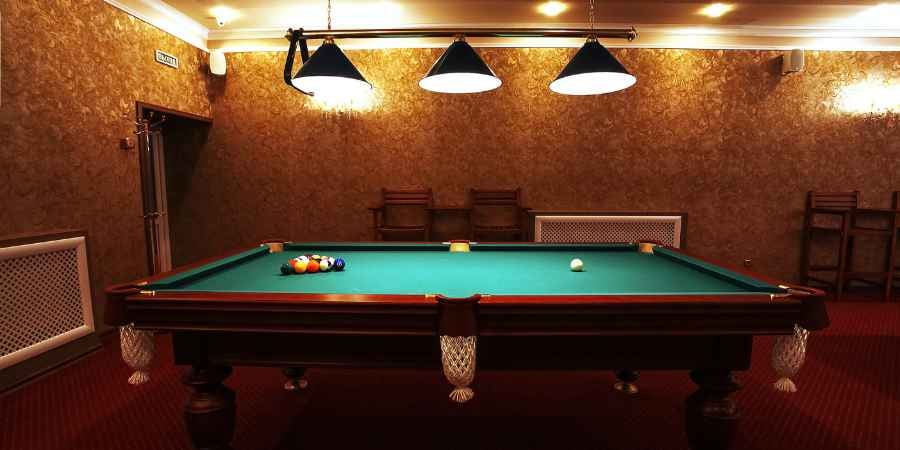 Our Sheds Are Fit for Any Style You Can Dream Of
At Dakota Storage Buildings, we want to help you create a space that meets your needs, even the fun ones! Turning a backyard shed into a man cave can be an exciting and unique experience. With our custom shed-building process, you can determine every aspect of your structure. From size to materials to colors, no matter your preferences, we have an option that can create the perfect oasis. You get to make all the fun decisions and choose additional features while we work hard to build a shed that will last for years to come. Then, when we deliver the shed, it is exactly how you want it.
Customize Your Shed To Fit Your Style
You can get the ultimate man cave with just a few clicks. Our shed builder makes the process easy and quick so you can get your man shed as soon as possible. By choosing every element of the shed, you will see a 3D model of your finished design, so you will know exactly what it will look like once it is delivered. No matter your preferences, we have a style that will make your man cave shed stand out. Start customizing your man shed today with our custom shed builder!