Homestead Animals: What to Look for in Chicken Coops & Outdoor Dog Kennels
by Dakota Storage Buildings, on June 11, 2020

Follow these three steps to find an affordable, high-quality structure to protect your animals.
Backyard chickens, working dogs, and hunting dogs make several Top Homestead Animals lists, so you're in good company if you're looking to build a chicken coop or outdoor dog kennel.
Whether you're looking for a place for chickens to lay delicious fresh eggs, or a shelter for Fido to rest after a hard day's work, choosing the best outdoor structure for your needs is pretty simple once you know what to look for in a quality structure.
Continue reading to discover three basic steps to follow when deciding where to house your homestead animals.
1. Get your bearings.
Depending on where you are in the decision-making process, there are several questions you'll want to consider before acquiring homestead animals or building a new shelter.
For example, if you're fairly new to homesteading, you'll want to become fully aware of the pros and cons of raising chickens, including any local ordinances on chicken coops — especially if you live within city limits. And don't forget researching the fun stuff too, like what chicken breeds are available and tasty egg recipes to make with your fresh hen eggs!

While limitations on owning dogs are uncommon, you'll want to check for guidelines regarding outdoor dog kennels or restrictions on building permits before getting too attached to specific plans. And speaking of getting attached, if you're thinking of heading to the local shelter to get a new pooch, there are several things to consider before bringing a furry friend home.
2. Make a list of your needs.
Once you're fully informed and ready to move ahead with purchasing a structure, it's a good idea to get a wish list going. That way, when you start shopping around, it will be easier to compare apples to apples and find what you're looking for more quickly. Here are some questions to consider:
What size structure do you need for your homestead animals?
Consider how many nesting boxes you'll need for your chicken coop, or whether you want a single or double outdoor dog kennel.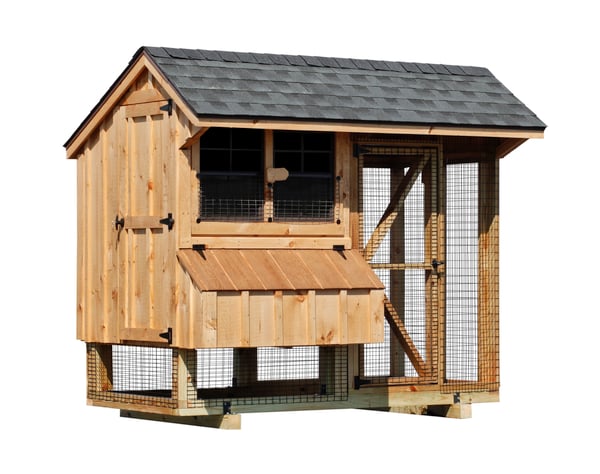 Popular chicken coop sizes include:
6x8 Chicken Coop: 4x6 Coop, 4x6 Run, 4 Nesting Boxes
6x10 Chicken Coop: 4x6 Coop, 6x6 Run, 4 Nesting Boxes
6x12 Chicken Coop: 6x6 Coop, 6x6 Run, 6 Nesting Boxes
7x12 Chicken Coop: 6x7 Coop, 6x7 Run, 6 Nesting Boxes
8x12 Chicken Coop: 6x8 Coop, 6x8 Run, 6 Nesting Boxes
7x14 Chicken Coop: 4x7 Coop, 7x10 run, 6 Nesting Boxes
7x16 Chicken Coop: 6x7 Coop, 7x10 Run, 6 Nesting Boxes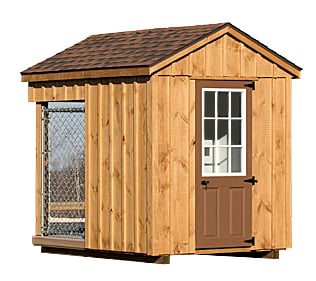 Popular outdoor dog kennel sizes include:
8x12 Outdoor Dog Kennel: One 4x8 Insulated Room, 8x8 Run
8x14 Outdoor Dog Kennel: One 4x6 Insulated Room, 4x6 Feed Room, 8x8 Run
8x14 Outdoor Dog Kennel: Two 4x6 Insulated Room, Two 4x8 Runs
8x16 Outdoor Dog Kennel: Two 4x4 Insulated Rooms, 8x4 Feed Room, Two 4x8 Runs
What features do you want in a chicken coop or outdoor dog kennel?
Do you want your chickens to roost in chic luxury and your dogs to sleep like canine kings? Even if you're just looking for basic comfort and style, there are several features you may want to consider.
Run space – You'll probably want some outdoor run space that allows your homestead animals to move around freely while enjoying the sunlight and fresh air.
Roofing with heat shielding – Sheathing is important to block radiant heat and help maintain interior temperature.
Quality flooring – Ideal flooring for both coops and kennels is durable, warp-resistant, and moisture-resistant.
Fencing – Sturdy chain-link fencing works great for outdoor dog kennels, and strong, galvanized wire is ideal for chicken coops.
Sleeping area – Chickens like to sleep up off the ground, so a roost is essential. For dogs, an insulated room and door help to maintain comfortable sleeping temperatures.
Style – Decide what custom features you might like, such as windows, doors, paint, trim, and style choices.

What are your quality standards?
If you're like most people, you're looking for value in your purchases – the best quality for a fair price. To meet this goal, you'll want to make sure that the manufacturer you choose for your chicken coop or outdoor dog kennel uses premium materials, offers high-quality craftsmanship, and makes it affordable to customize the structure to meet your needs.
Exterior – Look for durable, weather-resistant materials, including high-quality lumber, roofing, siding, doors, paint, hardware, deck material, fencing, and more.
Interior – Make sure the interior is designed with the comfort of your homestead animals in mind. Chicken coops should include a sturdy roost and a dedicated nesting space. Outdoor dog kennels should include easy-to-clean, insulated rooms that provide comfortable, water- and wind-proof shelter.
Warranty – Ideally, your coop and kennel should come with a 5-year warranty.

3. Purchase & Setup
Now that you have a good idea of what to look for, Dakota Storage Buildings has made the rest of the process easy for anyone looking to shelter homestead animals in South Dakota and Minnesota. We offer a full collection of high-quality, well-constructed chicken coops and outdoor dog kennels to meet your needs and style preference.
Download our catalog to learn more about our options or shop our coops and kennels online.
While coops and kennels may not require the same foundation as a heavy load-bearing shed, consider laying a level stone foundation.
Dakota Storage Buildings genuinely cares about you and your homestead animals, and we strive to offer the best outdoor shelter solutions. We've done everything we can to make your purchasing process as easy as possible and to answer any questions you might have.
So, take a look around. We hope you find the perfect homestead animal shelter that meets your needs and budget — and makes your hens happy and dogs delighted.