Dormers, VersaCaddy Organizer Kit, and LP SmartSide Panels
by Dakota Storage Buildings, on April 05, 2017

These add-on options are perfect for your new storage building!
It's spring! Are you feeling the itch to get outside and conquer outdoor projects? Perhaps you're dreading your "to-do list" because your first priority is either organizing your backyard shed or—what may feel worse—starting the shed shopping processes. If the latter is the case for you, don't let shopping for a new storage building stress you out.
To ease yourself into the shopping experience, take a few moments to read through our Ultimate Storage Building Buying Guide then skim this post to discover our newest options—one might catch your eye.
Trust us, once you find a storage building that meets your needs and fits your budget, you'll be glad to replace the old one.
As you shop, think about how these new products could enhance your storage building.
Dormers
A dormer is a roof structure, often containing one or more windows, that projects vertically beyond the plane of a pitched roof. Dormers are commonly used to increase the usable space in a loft and to create window openings in a roof plane.
When you order one of our Deluxe style sheds, you have the option of adding a two or three window dormer which will bring exterior beauty and improved interior lighting. If your shed will be placed in tight quarters with another building or near trees where it may be difficult for natural light to reach the windows, having a dormer will provide an alternative way for the sunshine to filter into the building.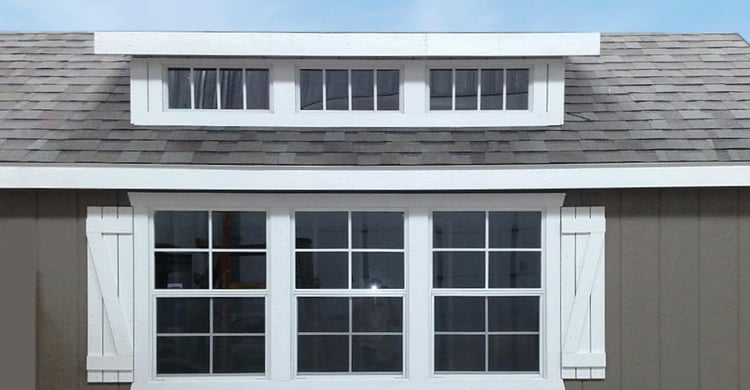 VersaCaddy Organizer Kit
It can be a challenge to organize the inside of a shed or garage. We know that. That's why we're offering the VersaCaddy™ 16 Organizer Kit as an add-on when purchasing any of our storage buildings. With this kit, you can place each piece where it will best fit your needs.
UniCaddy, the parent company of VersaCaddy, is known for providing practical and affordable organization options for storage buildings. The VersaCaddy™ 16 Organizer Kit is a complete and versatile storage system specifically designed to utilize the vertical space between 16" on center studs—maximizing the storage space inside sheds and garages. Each component is made of durable materials that can withstand heat, cold, and corrosion.
If you're looking for an easy-to-assemble storage solution, this is it!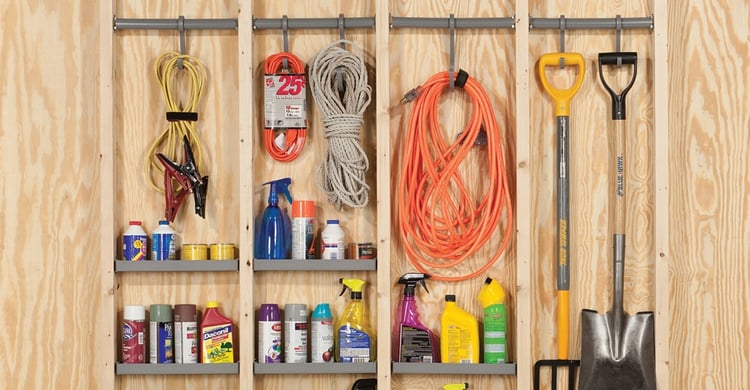 LP SmartSide Panel With Smart Finish
We've been using LP Building Products in the creation of our sheds for a long time. For instance, LP SmartSide Siding (see our color options!) is the standard on all of our Painted storage buildings, and LP SmartSide Trim and Lap Siding is standard on our Lap storage buildings. We love these products and so do our customers.
Now, another add-on we're happy to offer for our Painted sheds and garages is LP SmartSide Panel with Smart Finish. If you want the inside of your shed to look just as nice as the outside, this is a great option. It's a durable overlay that gives interior walls a clean appearance. Because these panels are treated with SmartGuard® treatment, they're also protected from rot and termites.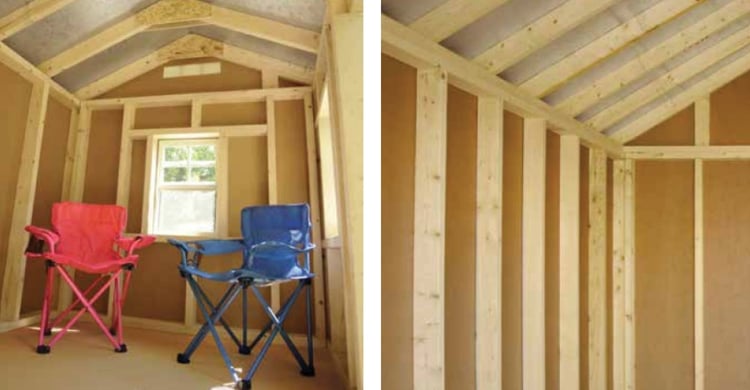 These three new options—dormers, the VersaCaddy Organizer Kit, and LP SmartSide Paneling—are great additions to our already extensive list of features and add-ons.
If you want, try customizing your own storage building and get a no-obligation quote. You'll be able to choose the size and siding type of your shed or garage, pick colors, select add-ons, and more. If you prefer, you can request a copy of our newest catalog by emailing James, our Sales Manager, at sales@dakotastorage.com.
---
Read more: