Shed Makeover: How To Make Your Shed Look Better
by Dakota Storage Buildings, on November 25, 2021

Is it time to spruce up your backyard shed to get more use out of it?
Maybe you don't think about your backyard shed very often except for those times when you notice the eyesore in the back of your yard. Or when you contemplate doing a project in your shed, but there's just not enough space for anything but storage.
Maybe it's time to spruce up your backyard shed so that it looks better and blends with the rest of your fabulous yard. And, while you're at it, why not make it more functional? A makeover could transform your shed into an attractive building that has more purpose than just storage.
What can you do to help your shed fit your backyard aesthetic? You can paint, add shutters and flower boxes, improve the landscaping around it, and maybe even hang some outdoor lights. As for the interior, why not run electricity, upgrade your interior lighting, add a workbench, or even a loft?
In this article, you'll find some helpful ideas to get you started. Stop feeling frustrated by your shabby, outdated shed. Create a plan to spruce it up and choose a weekend to conquer it. It's time to get more of your backyard shed!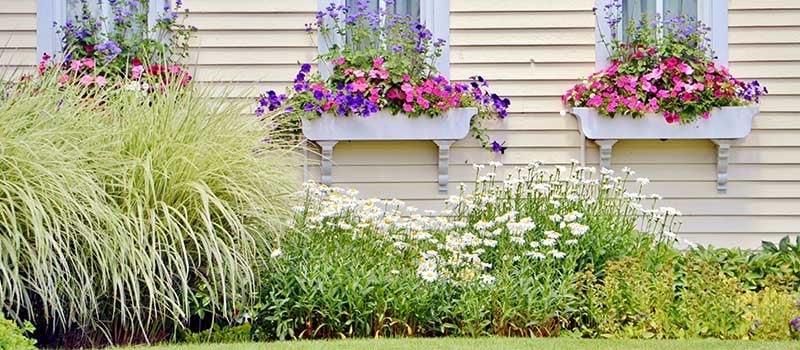 Spruce Up the Outside
Sometimes all it takes is a fresh coat of paint and a few decorative trimmings to breathe new life into an old shed. Choose a couple of ideas from our list below or come up with your own creative, budget-friendly ways to add color and pizzaz.
Paint
If you have wood siding, it's good to repaint it regularly. Painting your shed's wood siding not only protects it but can make it look new. Bright colors will bring vibrancy to your backyard. More neutral shades such as olive green will make your shed less prominent and help it blend in. If you paint it a dark color, such as black or deep blue, it will seem further away, helping to make a smaller yard feel bigger. We use and recommend Sherwin-Williams SuperPaint® Exterior Acrylic Latex Paint and PPG TrueFinish AQUACRON™ waterborne liquid primers and topcoats.
Window Shutters/Window Boxes
If your shed has windows, simply adding window shutters or window boxes can immediately improve its visual appeal. Consider choosing colors that contrast your shed siding for a pop of color. For window boxes specifically, decide if you want lots of colors and textures, low-maintenance plants, or vegetation that will help keep pests away from your shed. Here's a quick list of plants that are known for their insect-repelling properties:
Lavender
Basil
Thyme
Mint
Lemongrass
Alliums
Chrysanthemums
Petunias
Landscaping
While you shouldn't have much vegetation around the perimeter of your shed (it can attract and encourage mice and other pests to nest here), landscaping done right can make your shed look great and help incorporate it into your backyard. There's no need for your shed to feel like an afterthought. Here are some landscaping ideas, from simple to more involved.
Lay mulch.

Laying mulching

will add instant visual appeal. In addition to adding a manicured look to your yard, mulch helps to suppress weeds. You can find bags of mulch at home centers, but for the best selection, check your local nursery or landscape supplier. Once the mulch is laid, it will require little to no maintenance throughout the year.
Plant annuals. If you want to add a pop of color to your yard but don't want delicate plants that need daily attention, consider a hardy plant like

annuals

. Select the colors you like, plant them either in front of your shed or in pots around your shed, then enjoy their beauty all season long.
Create a pathway. If you've added mulch and annuals, but you're looking for something more, creating a stone, gravel, wood chip, or brick pathway from your house to your shed could be the perfect finishing touch. This process can be simple or complex, depending on the amount of money and labor you're willing to invest. Check out these simple pathway ideas from Country Living. For more ideas, visit our

Shed Landscaping Ideas

and Outdoor Living Pinterest boards.
Outdoor Lighting
Adding outdoor lighting to your shed can accomplish a couple of things. First, it can illuminate the perimeter for security purposes; second, it can create a warm ambiance that may compliment your patio, fire pit, or other outdoor living areas. Here are some lighting options to consider.
Walkway and path lights. You can illuminate an outdoor path or walkway for guests or extend your outdoor living space physically as well as visually. The best lights for this job shine a gentle glow downward toward your feet, providing direction without distracting glare. Options include solar-powered, battery-powered, and professional landscape lighting.
String lights. These can be used outdoors and indoors. Commercial-grade and standard outdoor string lights boast many uses, bulb shapes and colors, and strand lengths. In this use case, it's best to use the lights that are made for outdoor use. Because they have their heavy-duty wire and are weatherproof, they'll hold up better over time. String them up from tree to tree, post to post, or structure to structure — or if you prefer, run them up tree trunks or along the perimeter of a fence.
Security lights/floodlights. Security and floodlights with timers and motion-detection lights that illuminate your yard make it less of a target for crimes like vandalism or burglary. All lights used for security should be mounted higher than other lights to cover a large area. And remember, any light fixture mounted outside must be designed for outdoor use, typically with a rating like WP for weatherproof or WR for weather resistant.
While updating a shed on the outside will make it look better and help it fit your backyard ambiance, imagine how great it would be if it were also more functional. There are ways you can update the inside of your shed, too, making it more practical and valuable.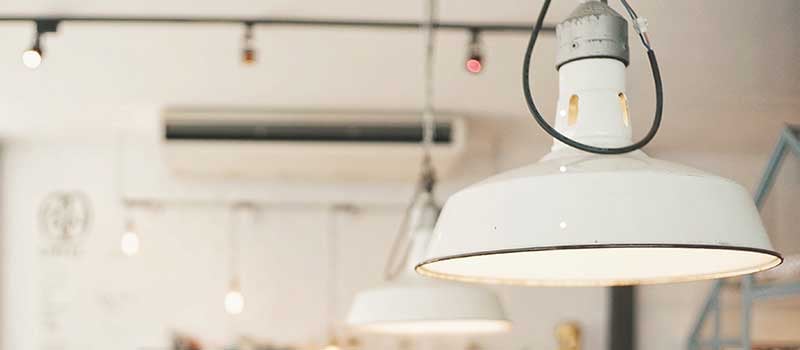 Update the Inside
From running electricity and updating indoor lighting to adding a workbench and a storage loft, there are many things you can do to make the most of your shed's interior space.
Run Electricity
If you don't already have electricity in your shed, adding it would be a significant upgrade. It would allow you to install light fixtures, use corded tools, and more. To provide a dedicated circuit to the shed, hire an electrician to make the connection in your main electrical panel. Otherwise, you can connect to an existing circuit if it has enough capacity and the box has enough volume for the additional wires.
Update Interior Lighting
Natural light is best, but realistically, it's sometimes not enough. On a sunny day, it's great, but at night or on overcast days, it just doesn't cut it. So, having artificial lighting in your workshop is ideal. Types of artificial lighting vary, but here are a few options.
Fluorescent overhead fixtures.

Fluorescent overhead fixtures are generally a good choice for overhead lighting. Fluorescent fixtures are inexpensive, easy to install, energy-efficient, and effective in lighting an entire workshop building.




Track lighting.

Track lighting is another good choice. An advantage of track lights is that individual lights can be redirected into different areas of a workshop as needed.
Solar lights. This option produces low but dependable lighting. Plus, they can continue working even during power outages. Even better, this is a wireless lighting source that's easy for anyone to install. Setting up solar lights can be as simple as mounting them to a workbench, wall post, or ceiling.
String lights. There are differences between commercial-grade and standard outdoor string lights. Both boast many uses, bulb shapes and colors, and strand lengths, but generally speaking, commercial-grade string lights are more expensive than standard ones because they have a heavy-duty wire and are weatherproof. While string lights require a source of electricity, they're easy to hang. String them across your shed from one end to the other for wall-to-wall lighting.
Ceiling lights and wall sconces. Ceiling lights are, of course, the traditional way of lighting any room. Types of ceiling lights vary, and most require a source of electricity — but in almost every case, they should be installed by a professional or someone with experience. Another option that would work nicely is wall sconces, but again they require electricity. Energy-saving options can be found at hardware and home improvements stores.
Battery-operated LED lights. This is an ideal option. You can fill a shed with sufficient light quickly and easily using a battery-powered LED light fixture. No electrical outlet is needed, and no professional installation experience is required. Many are powered by lithium-ion, lithium coin, AAA, AA, C, or D batteries.
Add a Workbench
Adding a workbench gives you a dedicated space to work on projects or fix things. No good shed is without one. Whether you build one yourself or buy a pre-fab version, it should have a thick top and stout legs, plenty of surface space, and be compatible with your height. The ideal workbench height should be the distance from the floor to your first thumb knuckle, with your arms hanging relaxed at your sides.
Build a Loft
Shed lofts provide storage in often unused or under-utilized space. This helps to make storage organization easier and more effective. You can either hang an overhead storage rack, create a DIY loft, or hire a handyperson to build one for you. But, the benefits of having one are many. For instance, a loft can:
Increase storage capacity. Take advantage of all of your space — don't just store your things on the floor or shelves when you can use what's traditionally wasted space.
Free up floor space. Free up floor space, plus get seasonal and occasionally used items out of the way when you don't need them but within reach when you do.
Keep pests away. Keep things away from rodents and other ground-dwelling pests by storing items up in the loft instead of down on the floor.
Do You Need Replacement Instead of a Makeover?
You may have had high hopes for your shed's ability to be revived. But, after reading this post and considering your shed's current state, you might feel that these updates couldn't save your shed. If that's the case, it might be time to consider a replacement. It might be a scary idea since a brand new shed is more expensive than cosmetic changes, but buying a new shed gives you a clean slate — an opportunity for you to get exactly what you want.
Take our Backyard Shed XL as an example. It's big enough to store all your storage items and lawn equipment and has room left over for work space. With a built-in loft for out-of-the-way storage, a sturdy built-in workbench, and a wall storage kit, you'll have more storage space than you ever imagined.
With windows for natural light, attractive window shutters, low-maintenance siding, and attractive color contrast trim, your shed will match the rest of your backyard.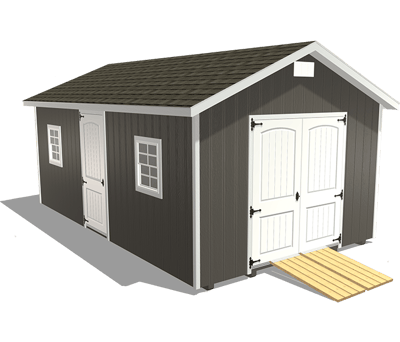 ​​Backyard Shed XL specifics:
Built-in workbench

Built-in storage loft

Warp and mold-resistant flooring

Sturdy wood ramp

Radiant heat barrier walls

Insulated windows for natural light

Attractive window shutters

Beautiful low-maintenance siding

Stylish color contrast trim
You can even customize this shed's size, siding color, and more to make it exactly what you want. When you use our online shed configurator tool, you can save as many variations as you'd like and get a quote estimate for each. So, when you're ready to buy, all you need to do is check out. It's that easy!
Learn more about our Backyard Shed XL and other shed options that have built-in storage.
More reading: