Upgrade Your Home: Increase Your Storage Space With an Outdoor Shed
by Dakota Storage Buildings, on August 07, 2023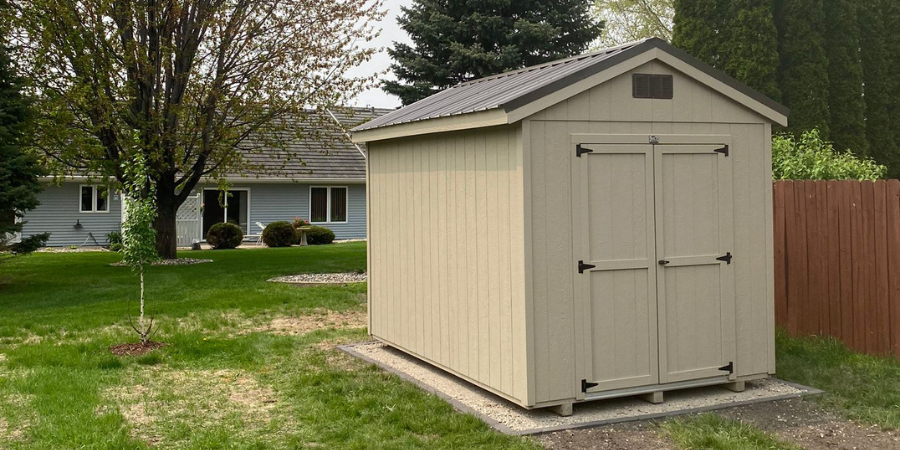 Living in a world of constant consumption, our belongings can begin to invade our personal space, making our homes feel cluttered and congested. Some storage solutions can only provide limited relief since they utilize the same living space we desire to declutter. An outdoor storage shed is an extension of your home while providing additional storage for those extra belongings that take up space inside your home.
It could be garden equipment, recreational gear, or even those boxes of holiday decorations that seem perpetually in the way. When you buy a shed, there is a wealth of factors to consider, such as its size, the materials it is made from, its design and aesthetics, and what you plan to use it for. Each of these factors can significantly impact not only the upfront cost of your shed but its longevity and usefulness over time.
Investing in an Outdoor Storage Shed
An outdoor storage shed is much more than a storage solution; it is a versatile, valuable addition to your property that can significantly enhance your living experience. With time, our homes inevitably accumulate various objects, from gardening tools and outdoor sports equipment to seasonal decorations and hobby materials. These items can take over our garages, basements, and closets, leading to disorganization and clutter. An outdoor storage shed offers a secure, accessible, and organized space for these belongings, keeping them out of your home but within easy reach.
An outdoor storage shed creates a home for your belongings and reclaims your living space. Moving infrequently used items out of your home and into a shed can free up space in your closets and garage. This means more room for the things you use daily, reducing clutter and making your home feel more spacious and organized.
Outdoor storage sheds also can potentially increase your home's value. A well-built, aesthetically pleasing shed enhances your property's exterior and provides an additional functional feature that potential homebuyers often look for. It suggests that the property has ample storage facilities, a definite advantage in real estate.
Understanding Different Types of Outdoor Storage Sheds
When it comes to outdoor storage sheds, there are numerous options available, each designed with particular needs in mind. This means you can find a shed tailored to your storage requirements and the aesthetic of your home and yard. The types of outdoor sheds can be differentiated based on size, structure, materials used, and, most importantly, the purpose they serve.
Garden Sheds: These are perhaps the most common type of sheds. As the name suggests, garden sheds are primarily designed to house gardening equipment, tools, plant pots, and seeds. They typically feature shelves and racks for tool storage, and some may also have built-in workbenches for potting plants or performing minor repairs.
Tool Sheds: Tool sheds are designed to store various hand tools, power tools, and hardware, providing an organized, accessible, and safe space for all your home repair and maintenance necessities.
Multi-purpose Sheds: Multi-purpose sheds are a perfect solution for homeowners requiring a flexible space. They can be tailored to accommodate storage, work, and relaxation needs.
Bike Sheds: For some, storing bikes can often be a hassle. Bike sheds are specially designed to securely store bicycles or motorcycles, keeping them safe from the elements and out of the way.
An outdoor storage shed is a versatile addition to your home. While its primary purpose may be storage, with a little creativity, it can serve many other functions. From a quiet retreat for reading or yoga to a bustling center of family activity complete with games and hobby supplies, the potential uses for your shed are only limited by your imagination.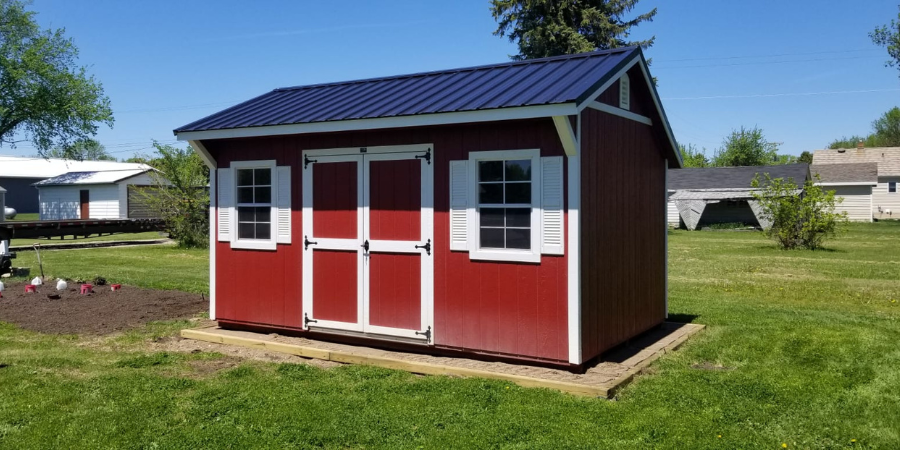 Essential Factors To Consider When Buying an Outdoor Storage Shed
Investing in an outdoor storage shed is a decision that requires careful thought and consideration. This purchase will significantly impact not only the overall aesthetics of your property but also its functionality. Here are some key factors to consider to make a well-informed decision.
Design an Aesthetic: The first factor is how a storage shed will meet your needs. The intended use will influence your shed's size, design, and internal layout. Once you have determined your needs, the next step is to decide on the size of the shed. A rule of thumb is to opt for a shed that is slightly bigger than what you currently need so it can last for years. The shed's style should complement your home's overall aesthetic and not look out of place in your backyard.
Climate Applicable Features: Your local weather conditions play a vital role when you buy a shed. For regions with heavy snowfall, roofs that slope down from the center to the sides, known as gable roofs, are ideal as they allow snow to slide off easily. Metal sheds might not be the best choice for those in hot and humid climates as they can turn into ovens. Understanding how different materials affect routine maintenance when picking out a shed. While aesthetically pleasing, wood sheds require regular maintenance to prevent rot and insect damage. Metal or plastic sheds, on the other hand, are more durable and require less maintenance but may not have the same charm or customization options.
Sizes, Codes, and Permits: Before installing a shed, checking your local building codes is crucial. These can vary from city to city and influence your shed's size, type, and location. You may also need a permit before building the shed; some local codes require a permit if the shed is over a specific size. Last but not least, your budget is integral to your decision. Sheds come in various price ranges, with costs increasing with size and the quality of materials. Determine a budget early in the process and stick to it, but remember — sometimes it is worth paying a little more for a shed that will last longer and meet your needs better.
Installation and Maintenance Tips for Your Outdoor Storage Shed
Setting up your outdoor storage shed correctly and maintaining it properly over time are two crucial aspects that will determine the longevity of your shed. Here is how you can ensure your shed remains a useful addition to your home for years.
Preparation and Installation: The first step in the installation process is preparing the site where your shed will be located. The area should be level and has good drainage to avoid water accumulation that can damage your shed. Some homeowners pour a concrete foundation for stability, while others prefer pavers or gravel beds. This largely depends on the size and type of your shed. Many shed manufacturers will either deliver and install the shed for you or they will provide a step-by-step guide for a DIY assembly.
Maintenance and Care: Once your shed is installed, regular maintenance will ensure it stays in good condition for a long time. For wooden sheds, this may include periodic staining or painting to protect the wood from weather and insects. Metal sheds can benefit from an occasional coat of rust-resistant paint. Plastic sheds, while relatively maintenance-free, should still be checked for cracks or damage from extreme weather.
Regular Cleaning: Like any other home part, your shed will benefit from regular cleaning. Not only will it keep your shed looking nice and clean, but it will ensure your shed lasts for years. Clean the exterior and interior of your shed yearly to ensure that it is not damaged by rust and rot or rot.
Beyond Storage: How Else To Use Outdoor Storage Shed
Outdoor sheds, while primarily used for storage, can be so much more than that. The versatility of a shed makes it a valuable asset to any homeowner. A large shed can become an ideal workshop for all kinds of projects. A shed provides a dedicated space for hobbies like woodworking, pottery, or car repair. Equipping your shed with a sturdy workbench, proper lighting, and ample storage for tools can make it a haven for your creativity and productivity.
Many people work from home and need a quiet and dedicated workspace. Turning your shed into a home office can give you the privacy and peace to focus on your work. You must ensure it is weatherproofed, insulated, and has power for heating, cooling, and electrical equipment. Another option is to turn a shed into a playhouse for your kids or grandkids. It is a great way to keep toys out of the house and gives the kids space.
If you have a green thumb, why not convert your shed into a garden room or a greenhouse? It can provide the perfect environment for seed propagation or growing plants that need protection from harsh weather. Landscaping around your shed can boost its aesthetic and create a fun activity for you and your family.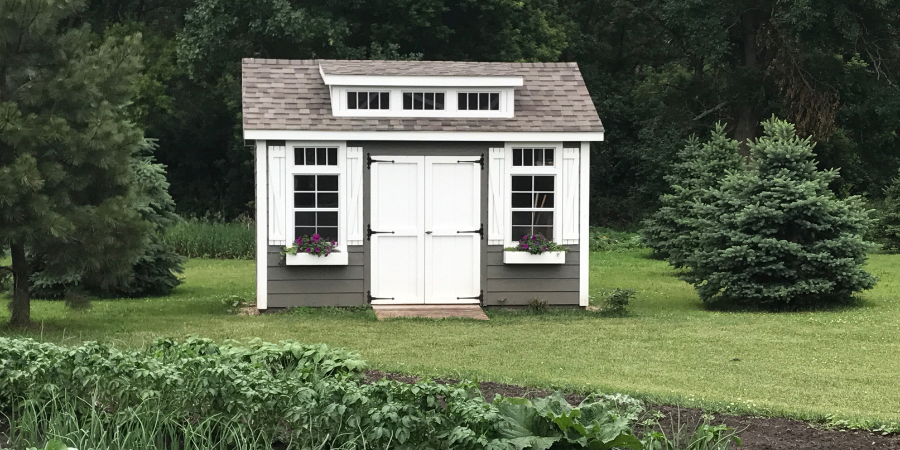 How To Find a Good Outdoor Storage Shed Builder
A reliable, skilled builder can make the process smoother and more enjoyable, ultimately delivering a high-quality product. If a builder has years of experience, it often translates into honed skills and knowledge about various types of sheds and materials. An experienced builder should also be able to guide you in selecting the shed type and materials that best fit your needs and budget. Customer reviews can give you insights into their customer service, quality of work, and reliability.
The shed's quality will always directly influence its durability and maintenance needs. A good builder will utilize the highest quality materials that stand the test of time. Plus, they should be able to offer various customization options to cater to your specific needs and taste. This could include different sizes, styles, colors, and additional features like windows, shelves, or ramps.
A reputable builder will stand by their product and offer a warranty. Make sure you understand what the warranty covers and for how long. Some builders offer financing options, which can be beneficial if you are on a tight budget. Also, inquire about the delivery and installation process. Will they handle the transportation and set-up of the shed, or will you need to arrange it? These factors can point you in the right direction to find the best shed builder in your area.
Stepping Into a Clutter-free Future
An outdoor shed brings order, organization, and a whole new element of functionality to your home. Whether by reducing clutter in your home, creating a dedicated workspace, or transforming it into a unique haven for your hobbies, a shed truly adds a new dimension to your outdoor space. This investment into your home is not just about providing storage; it is about extending your living space and creating a dedicated spot for what you love doing. Our detailed guide, Shed Buying Workbook, can be a valuable resource for when you buy a shed. Download your free copy today to begin your future with an outdoor shed.