Shelving for a Shed: An Essential Upgrade for Organization
by Dakota Storage Buildings, on June 05, 2023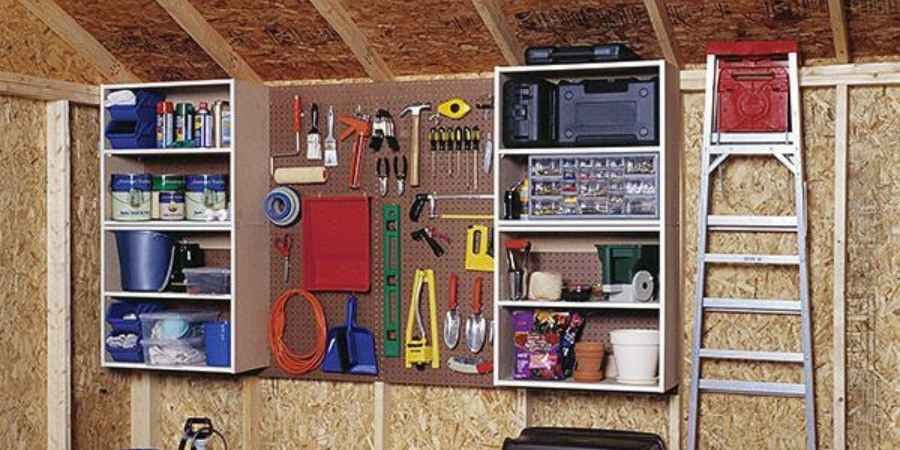 If you're like most people, your storage shed probably contains a collection of random household items, from old tools to holiday decorations. Keeping these items organized and easily accessible can be a real challenge, but this is where the beauty of storage shed shelving comes in. Installing shelves in your storage shed is an essential upgrade for better organization and maximizing storage space where you need it the most.
Get Organized with Storage Shed Shelving
Your storage shed may feel cluttered and chaotic when you can only use available floor space. Shelving solutions allow you to clean up that floor space and move items up and off the floor to a more organized and visually appealing layout to accommodate your belongings better. With shelving, your chaotic storage shed is transformed into an organized, easy-to-access home for your stored items. In this blog, we will dive into the process and options for installing shelving into your storage shed and the benefits that make this essential upgrade such a game-changer for your overall organization.
First Things First: Preparing for Storage Shelving
The first step in shelving is to look at your storage shed. Consider the size of the space, the types of items you want to store, and how you would like to access them. We recommend starting by taking precise measurements. Once you understand your space's dimensions, you'll better understand what type of shelving might make the most sense for the space you are working with. This will ensure you can make the best decision with your time, space, and, arguably most important, your money.
It's Only Up From Here: The Benefits of Shelving
One of the most significant benefits of shelving is that it allows you to stack items vertically and take advantage of vertical space that may otherwise go wasted. This can free up a lot of space on the floor of your shed, giving you more room to work or store other items. With the proper shelving setup, you can easily keep your things in a way that allows you to access them quickly and efficiently.
Another significant benefit of vertical storage solutions is that you can organize items into smaller containers and stack them on the shelving rather than having items across the floor or lumped together in much larger storage bins. Shelving encourages an overall higher level of organization, making the process easier and faster when you grab something you need. Incorporating shelves also allows you to move items that may have once been stored in your home to the new shelving in your storage shed. For example, books, toys, or other small things that you may not have wanted to store on the floor of your storage shed will have a more protected place to live on elevated shelving and clear up space in your home.
Lastly, shelving can provide more workspace in your storage shed. If you need to work on projects, organize items before storing them, or complete repairs, having a clear work surface in your storage shed can be a real game-changer.
Should You D-I-Y or B-U-Y Your Storage Shelving?
Regarding shelving, you have two main options: buy or DIY. Plenty of pre-made options are available for purchase if you need more time to build your shelves. These can be made from various materials, such as metal or wood, and they come in multiple sizes and styles to fit your needs. Luckily there are a wide variety of pre-made shelving options, and they can be customized more than you think to fit your specific space and needs. Although this is the less labor-intensive option of the two, you may also find that purchasing your storage shed shelving may be more expensive and potentially more challenging to get precisely what you are looking for in terms of dimensions, materials, and a reasonable price point.
If you're more of a DIY enthusiast, building your shelves can be a fun and rewarding project. This allows you to customize your frames to fit your specific needs and the dimensions of your shed. With some planning and basic woodworking skills, you can create sturdy, attractive shelves that will last years. This option can be as inexpensive or costly as you choose to make it, but we recommend only tackling your shelving if you have experience or are willing to work to learn. Consider the total cost of materials, tools, and any education you may need to assemble your shelving if you consider building them yourself.
Level Up Your Storage Shed With Shelving
Once your shelves are installed, take a moment to admire your hard work. You will be shocked at how much more organized and efficient your storage shed is with the addition of shelving. Use this newfound organization to tackle projects and store items with ease. From gardening tools to home decor to holiday lights, your stored items will be easier to access, quicker to find, and less stressful when you invest time in shelving for your storage shed.
Shelving is essential for anyone looking to get the most out of their storage shed, whether you buy or build your own. The benefits of having organized shelves are enormous, and it's one of those projects you will thank yourself for repeatedly over the years to come. So why wait? Start planning your shelving project today and take your storage solutions to the next level.
Looking to buy a shed of your own? This is your sign to take advantage of the storage and organization opportunities by adding a custom storage building into your backyard. Learn more about which shed best fits your needs with our handy Shed Buying Workbook.