What to Know When Considering Small Storage Sheds
by Dakota Storage Buildings, on January 24, 2023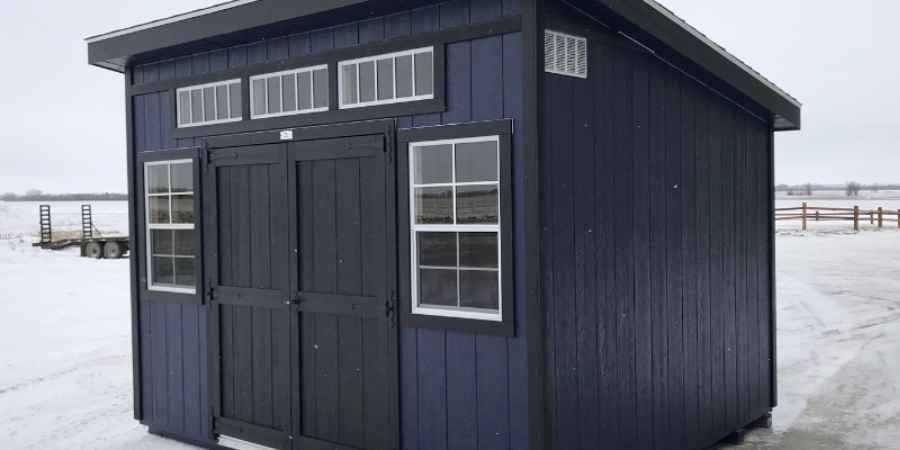 Small storage sheds are perfect for families who are looking for a place to store smaller items without sacrificing their yard space. It can provide a safe space for the belongings that you do not have space for in your home or garage. Investing in a shed can boost your home's curb appeal all while providing a solution to your storage problem. However, when you begin looking for the perfect storage shed, it can be hard to know which one will best fit your needs. Let's look into why you should purchase a small storage shed and what factors you should consider.
Why Should You Get a Backyard Shed?
While a storage shed may seem to be a simple structure, they are much more than that. They can be utilized in numerous different ways and can be a valuable addition to any home. Whatever your reason, whether you are using it to help organize your extra stuff or if you are wanting a little backyard oasis, a backyard shed may be perfect for you!
Extra Storage
The reasons to invest in outdoor storage sheds are plentiful. No matter if there is one person in your household or more, it is easy to accumulate extra stuff. From sports equipment to gardening tools, to hand-me-down clothes, your closets could be overflowing with things that do not quite have a home. If you need extra space to live or somewhere to store things, an outdoor shed would be the perfect solution.
Extra Space
While many may think that an outdoor shed can only be used for storage, that is not necessarily the case. Sheds provide extra space that you can customize to meet your individual needs. Man caves and she-sheds have become a popular way for people to customize their shed to serve as a backyard retreat. They can also be used as a yoga room, playroom, or craft room. When you need a little extra space, turning your shed into a designated room to meet your needs is a great option.
Materials: Wood vs. Vinyl
Wood siding options are often viewed as the go-to option for all shed siding. Engineered wood panels have become a popular alternative to traditional wood due to its ability to offer greater durability and longevity. It gives any shed or outdoor structure an elevated look and comes in multiple colors to choose from. Typically, engineered wood comes with a protective coating that strengthens the material and keeps it safe from harsh weather and termites. Its ability to withstand airborne debris, hail damage and gusts of wind is attractive to many homeowners.
Vinyl siding is a low-maintenance option that does not require as much upkeep as wood panels. It normally comes with features that ensure a firm fitting to keep the siding in place over the years. Vinyl siding appeals to families who like the appearance of traditional wood but not the maintenance it requires. By having a wood grain design and fade protection, it can give the same look at a fraction of the upkeep.
Finding the Perfect Size
The good news is that storage sheds can fit in any backyard – even for those who live in a compact neighborhood. Sheds can be as small as 8 feet by 10 feet or 8 feet by 12 feet and assembled on-site. While some families may benefit from a large shed, that is not always the case. Sometimes less is more. If you have a smaller backyard and want to keep some of the grass space, or if you only need a small shed to serve one specific purpose, then a large shed would not be the best choice for you.
When looking into storage shed plans and sizes, it is important to consider any zoning codes your local government may have about storage units. Typically, a good rule of thumb to consider is if the unit is larger than a small garden. If it is, you will likely need to get a permit for the shed. By choosing small storage sheds, you may not have to worry about zoning laws and get to bypass that step altogether.
Maximizing a Small Space
When you move all of your stuff into a shed, it can be overwhelming. You may not realize how much you have accumulated over the years or you may not know how to best organize your stuff. Here are our top three tips for maximizing the space in small storage sheds.
Declutter First
Before you move all of your storage items into your new shed, make sure you declutter. Especially if you are purchasing a smaller shed. While a shed offers valuable storage space no matter the size, you want to keep in mind that you will add new items to the shed in the years to come. If you fill it to the brim as soon as it is installed in your backyard, there will not be any space for future use. Consider going through your items and determine what you would like to keep, throw away, and donate.
Organization is Key
After you have decluttered your belongings, it can be wise to come up with an organization game plan. Any small items can easily be categorized and stored accordingly. Using bins, jars, boxes, and other organizational items will make the space appear less cluttered and well-kept. By organizing the little things in your storage shed, they will be easier to find and clear up space for larger items.
Install Wall Storage
If you only use the space on the ground to store your items, you are missing out on valuable overhead and wall space. This step can benefit from early planning. When looking into storage shed options, you will need to keep in mind what you are planning to keep in the shed. For example, if you are planning to keep lawn equipment and gardening supplies in the unit, you may want to consider wall racks to hang tools. Or, if you are going to store hand-me-downs in your shed, think about installing bookcases or an overhead storage kit.
The Only Guide You'll Need
At the end of the day, we know there is much to consider when deciding on which storage shed you should purchase. From size to usefulness, it can be intimidating. If you have decided to invest in a small storage shed but need more guidance on which kind you should get, check out our Shed Buying Workbook. It was created to help you think through all the small details and be confident in your decision. Download it for free here!