Transform Your Garden: Embrace the Benefit of Garden Sheds and Storage
by Dakota Storage Buildings, on September 18, 2023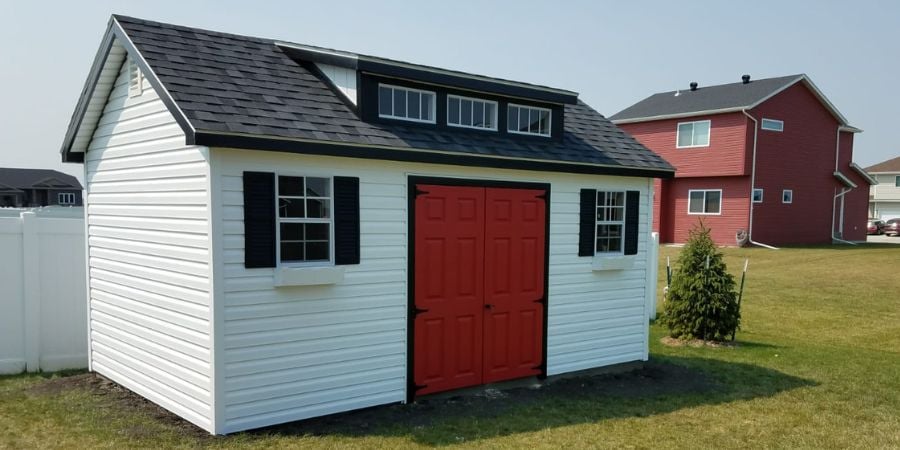 As a dedicated gardener, your love for the outdoors and nurturing a beautiful landscape is more than just a pastime. Every plant, flower, and patch of grass represents a moment of hard work, a keen eye for beauty, and a love for nature. But what about the storage and tools that you need for your hobby or storage shed plans? These elements should be an extension of the comfort and beauty you find in gardening. A storage shed that not only looks aesthetically pleasing but also offers functionality exactly tailored to your needs is what every gardener deserves.
Garden Shed Features to Enhance Your Gardening Experience
As every gardener knows, maintaining a beautiful outdoor space requires more than just a green thumb. It also calls for a variety of tools, equipment, and materials that must be readily accessible yet safely stored. This is where the features of your garden shed come into play. A well-equipped garden shed can greatly enhance your gardening experience, making it more efficient, organized, and enjoyable. Let's explore some of the most common and useful garden shed features that can elevate your gardening experience to a new level.
Sturdy Workbench
A well-placed, sturdy workbench can be the heart of a garden shed. This highly versatile area offers a comfortable space for various tasks that bring a garden to life. Having a dedicated area for potting helps keep your gardening organized and neat. With a workbench, you can work comfortably while standing, helping prevent backaches associated with bending over. Frequently used tools can be stored conveniently on the workbench for easy access. Arranging them neatly can help ensure you know exactly where everything is when needed.
A workbench provides a clean, dedicated space for you to cut and gather your blooms carefully. It can be the ideal space for making bouquets or floral arrangements. Your workbench can also double as a drying station for herbs and flowers. You can lay your plants on the bench, allowing them to dry naturally in the air in your storage shed. Some plants may need a little more protection or are more suited to indoor conditions. A workbench can be an excellent location for these plants, especially with ample light from the shed windows.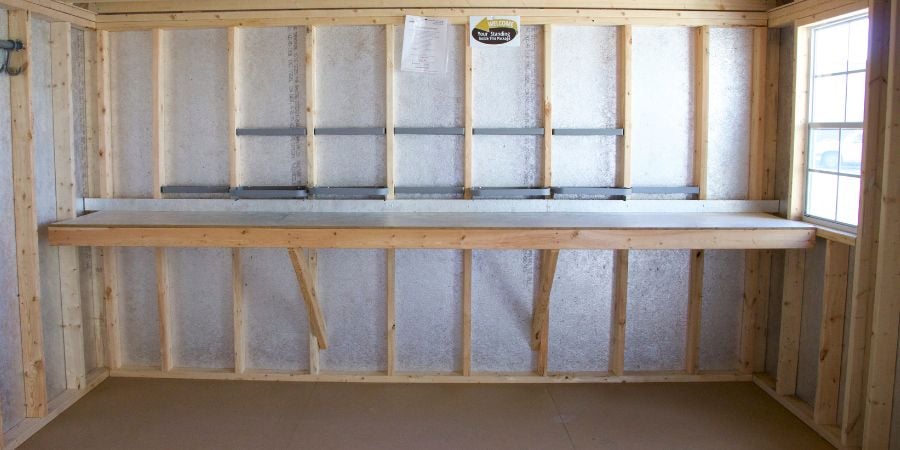 Organizational Shelves
Built-in shelving can maximize the space within a garden shed and helps keep all your tools, materials, and extras organized. You can safely store extra bags of soil, seeds, fertilizers, and other materials with well-planned shelving. Proper organization can help you quickly find what you need, saving you precious time during your gardening activities. From small hand tools to larger equipment, shelves offer an organized space for every tool. By arranging your tools neatly, you can prevent damage, easily find what you need, and make the most of your gardening time. Extra pots can be bulky and difficult to store. Dedicated pot shelving helps keep them safe and out of the way when not in use, but also easy to access when needed.
Large Windows
Windows in a garden shed do more than just let in light. They can create an environment that fosters growth and provides picturesque views of your garden. Plants need light to thrive. With well-placed windows, your garden shed can become a mini greenhouse for some plants, especially those requiring controlled conditions. Garden shed windows also give you a unique perspective of your garden. They allow you to enjoy the view of your outdoor space while working on your gardening tasks.
Durable Ramps
A quality ramp makes moving heavier items in and out of your storage shed a breeze. With sturdy aluminum ramps, you can move large equipment, transport heavy pots, or store dollies and wheelbarrows. Heavy garden machinery like lawnmowers can be challenging to move in and out of the shed. A ramp makes this task easier and safer. If you have large potted plants that need to be moved into the shed for protection from harsh weather, a ramp will simplify the task and protect your back from strain. A dolly or wheelbarrow is invaluable for tasks that require moving a large number of items or heavy loads. You can wheel these directly into your shed with a ramp, making for efficient storage.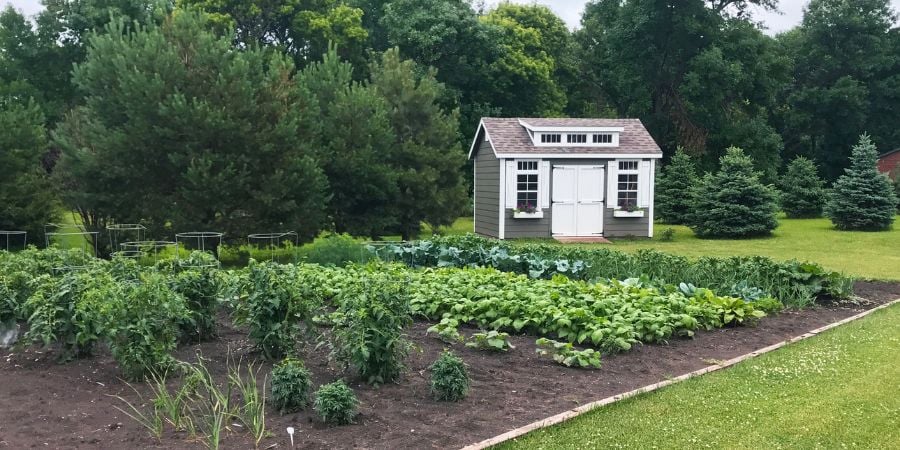 What to Look For in a High-quality Garden Shed
When selecting garden sheds, settling for 'good enough' just will not cut it. As an integral part of your gardening journey, your storage shed should meet, if not exceed, all your needs — from providing robust protection for your tools to enhancing the overall aesthetics of your garden. But what distinguishes a high-quality garden shed from the rest? It is all in the details. The materials used, the craftsmanship involved, and the design elements incorporated all play an essential role in creating a high-quality shed. Here are some key features to look for when selecting a garden shed that is not only built to last but also caters to your unique gardening requirements and taste.
Durable Flooring
Choosing flooring material in your storage shed is crucial to its durability and functionality. Opt for pressure-treated flooring that can withstand the wear and tear of heavy tools and gardening tasks.
Durability: The 16-on-center pressure-treated flooring is a standard for high-quality sheds because it can withstand the elements. It is treated to resist rot, decay, and termites, ensuring the long life of your shed.
Weight Support: Garden sheds often need to support the weight of heavy equipment such as lawnmowers, power tools, and large pots. Look for flooring with a heavy-duty tongue and groove installation, known for its interlocking strength and ability to handle heavy weights without warping or bending.
Study Structure and Weather-tight Enclosure
Protecting your gardening tools and supplies from the elements is crucial, and this largely depends on the quality of your shed's walls and roof.
Sturdy Walls: Look for large garden sheds with 16-on-center studs made from high-grade euro lumber, known for their superior strength and durability. These walls should be free from splits or wain, ensuring a solid construction that can withstand adverse weather conditions.
Roof and Wall Sheathing: Oriented Strand Board (OSB) sheathing is an excellent option due to its structural strength and moisture-resisting properties. OSB sheathing comprises layered strands of wood in specific orientations, creating a strong and rigid panel that can bear heavy loads.
High-quality Roofing: Consider a storage shed with a durable roofing option, such as asphalt shingles, metal roofing, or wooden shingles. Each has pros and cons, but all are designed for long-lasting weather resistance and protection.
Aesthetically Pleasing Exterior
The aesthetic appeal of your garden shed is just as important as its functionality. It should blend seamlessly with your garden and reflect your style.
Color Options: Look for storage sheds that offer a wide array of color options. You should be free to choose a color that complements your home and garden, making the shed a cohesive part of your property's landscape.
Trim Choices: Trim is like the jewelry of your garden shed — it adds a finishing touch that can greatly enhance the structure's look. Consider sheds that offer various trim options, from simple, understated styles to more elaborate, ornamental ones.
Secure and Accessible Doors
The door of your garden shed is crucial for providing easy and convenient access to your tools and equipment.
Door Styles: Different door styles might be beneficial depending on the size and type of equipment you need to store. Prehung doors are convenient and easy to use, while double doors offer wider access to larger items.
Ramp Options: A sturdy ramp is essential for heavy equipment or wheelbarrow access. Look for storage sheds that offer ramp options that can safely support the weight of your heaviest tools or machines.
The purchase of a garden shed is an investment in your gardening hobby. By considering these key factors — from structural strength to aesthetic appeal — you can ensure your garden shed serves you well for many years, making your gardening experience more enjoyable and productive.
Nurture Your Gardening Hobby with Dakota's Customizable Garden Sheds
Your garden shed should be an extension of your garden oasis, designed with your specific gardening needs in mind. From the dedicated beginner to the seasoned expert, every gardener deserves a well-equipped, visually pleasing, and sturdy garden shed. Dakota's Garden Sheds, with its extensive range of features and customizable options, is built exactly for this. To learn more about our garden shed options and see if they fit you, download our free guide, 6 Reasons Our Garden Shed Is Right for You. Let's create a beautiful space that complements your garden, nurtures your hobby, and brings joy to your gardening experience.