Why Every Gardener Loves Our Extra Large Garden Shed
by Dakota Storage Buildings, on October 04, 2019

An extra-large garden shed is perfect for storing garden supplies, but it also has room for workspace and starter plants.
You can go almost anywhere to buy a backyard garden shed — Costco, Lowes, Walmart, or even Amazon. You can spend hours researching to find the right shed for your needs. Or you could look for shed packages that are intended to meet specific needs. If you're looking for a garden shed for your backyard, look no further.

Our Extra-Large Garden Shed Meets Gardeners Needs
Our Garden Shed XL is a backyard shed that meets the same need as our standard Garden Shed — it's just larger and comes with a few more features including a second door and built-in loft. This shed is ideal for storing lawn & garden equipment and so much more.
This high-quality garden shed package is designed for gardening hobbyist. It includes the square footage and features that are ideal for backyard lawn and garden fanatics.
Store lawn equipment, gardening tools, garden supplies, large pots, bags of soil, hand tools, and all of your other gardening gear in a secure and dry place. This shed package even comes with a built-in workbench to gives you tabletop space, and a loft that's great for out-of-the-way storage.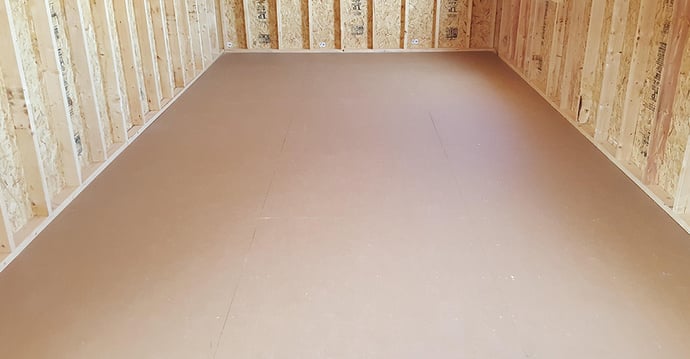 Because the flooring is LP ProStruct® flooring with SmartFinish, it will not warp or mold when it gets wet — which happens plenty when you're working with plants. The ramp, which clips in tightly, makes for safe and convenient access.
Plus, the low-maintenance siding, color contrast trim, and window shutters complete the look of this charming backyard garden shed. This shed will blend effortlessly into any backyard.
Garden Shed XL specifics:
✓ Designed for gardening hobbyists
✓ Roofline choice (Ranch Gable, Classic Gable, or High Barn)
✓ Extra room for all gardening gear and necessities
✓ Built-in workbench
✓ Built-in loft storage
✓ Flooring that won't warp or mold when wet
✓ Sturdy aluminum ramp for easy and convenient access
✓ High-quality, low-maintenance wood paneling or wood lap siding
✓ Attractive color contrast trim and window shutters

4 Reasons Why Gardners Love Our Garden Shed XL
We offer quality products that come with a 6-year top-to-bottom limited warranty. Our staff delivers above-and-beyond customer service because we care deeply about exceeding our customers' expectations. We make purchasing a premium garden shed easy — we offer three convenient payment options and we always price honestly.
If access to your backyard is narrow or tight, or perhaps placement presents a challenge, we can build your shed on site.

While there are many great reasons to love our extra-large garden shed, the top four reasons why customers choose to buy their backyard garden shed from us are:
It's perfect for gardening tools and garden-related projects.
It's big enough to also hold lawn & garden equipment.
It's high-quality and affordable.
It's a great buying experience.
To get the full scoop on each of these reasons, read 4 Reasons to Buy a Dakota Storage Garden Shed Package.
Before You Buy Your Garden Shed
As you research options and before you buy your garden shed, consider these things. From building permits and laying a level foundation to choosing the right siding color and deciding on add-ons, there's a lot to think about when shed shopping.
Zoning and permits. Remember to check with your township about zoning and building permits. It's better to know this information before making a significant purchase.


Level foundation. Before getting started, understand the importance of laying a solid shed foundation. Many choose Class 5 gravel or concrete as their shed base material.


Siding styles. Determine which siding style is best for you. LP's wood paneling and wood lap siding options are available for our Garden Shed XL — they're both, attractive, durable, and easy to clean.


Color options. Think about which siding and trim colors will look nice in your backyard or as a complement to your house color.


Natural lighting. If you're planning to work inside your garden shed or grow starter plans, make sure the interior can get plenty of natural light. Depending on gardening needs, wall-to-wall windows, skylights, dormers, or just a few window types you add to your Garden Shed XL package.


See a shed model. Always see an example shed up close before purchasing. At Dakota Storage Buildings, we invite you to visit one of our display locations in South Dakota or Minnesota to experience our built well, built tough sheds. The sheds at each site are open to walk through, snap pictures, and pick up literature about our sheds and products.


Use a 3-D tool online. Use online shed configurator to customize your Garden Shed XL. Our configurator is super easy to use. You can zoom, rotate, and switch colors at a click of the mouse! You can swap out windows (or add more!), move doors, and change the shingles all with your computer, tablet or phone.

If you want to start from scratch and build your own garden shed, you can do that, too! While we created the Garden Shed XL package to make the buying process easy, if you'd prefer upgrades and add-ons, go for it. Find the right garden shed should be fun, not laborious or boring.
Ready to customize your Garden Shed XL package? Start by clicking the button below. Have fun!
We care about helping you organize your life, assisting you as you look for the best solution for your needs, and making the purchasing process as easy as possible. If you have questions about our Garden Shed XL package, please contact our team.
More reading: