Why Settle for Less? Custom-built Sheds for Homeowners Who Want It All
by Dakota Storage Buildings, on October 18, 2023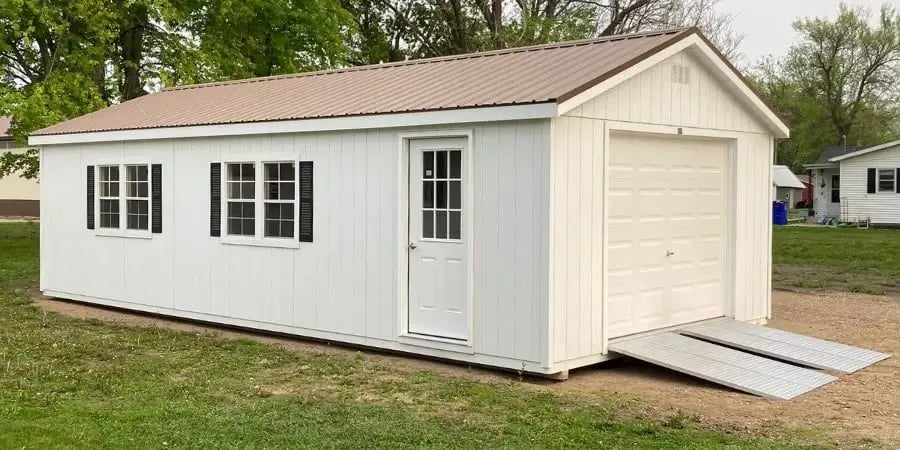 If you're one of the many who finds themselves scrolling endlessly through storage shed options that don't quite "fit," you're not alone. Many want a personalized space that complements their lifestyle and home aesthetics, whether it is for storing gardening tools, sports equipment or even creating a peaceful retreat from the main house. What if we told you that you could be the architect of your dream space, able to add windows here, a workbench there, and even decide the color palette that speaks to you? Our innovative 3D Configurator Tool allows you to customize each element to suit your exact needs. Your custom-built shed can be delivered right to your location as you designed it. Take the time to watch the videos throughout this blog; they offer invaluable insights into what you can achieve with a custom shed from Dakota Storage Buildings.
Introducing Our User-friendly 3D Configurator Tool
You may have been dreaming about your ideal storage shed or garage for quite some time now. You have pictured how it should look, from the type of roof to the window placement. However, despite all the visualization and perhaps even some shopping, the cookie-cutter, prebuilt options just have not done justice to the vivid image you have in mind. This is where our 3D Configurator Tool steps in, a game-changer in the realm of custom-built sheds and garages. With this technology, you are no longer confined to what is on the lot. Instead, you can craft your storage shed or garage from scratch.
Operating the tool is simple. With user-friendly drag-and-drop features, you can add or remove elements seamlessly. Rotate your design to view it from various angles, ensuring it is exactly how you want it to be. Confused between a metal roof and shingles? Toggle between the options to see how each impacts the overall look. You can even play around with updated colors and finishes in real-time so you can see how your choices come together cohesively. With our 3D Configurator Tool, every click brings you closer to your dream shed or garage, making every element of it truly 'yours.'
Don't Compromise: Choose a Storage Solution You'll Love
Maybe you find a almost perfect shed but lacks that essential feature, like a workbench or an extra window for more natural light. Or perhaps you stumble upon a model that would work well, but the aesthetics are not to your taste, clashing with your home's architectural style. In either case, you face a tough decision: Do you compromise on your needs and wants or continue your search?
We believe you should not have to settle for 'good enough' when it comes to something as significant and long-term as a storage shed or garage. Investing in a storage solution is not just about creating extra space; it is about enhancing your lifestyle. Whether you need custom-built sheds for your overflowing hobbies that are currently cramped into your basement, protective space for your treasured vehicle, boat, or ATV, or a place to declutter your attic or garage, every aspect should align with your specific needs and style.
Being discerning about your choices is not a sign of being overly picky; it is a reflection of understanding your needs and how you envision utilizing the space. In fact, your attention to detail could save you money in the long run. Investing in a custom shed tailored to your exact requirements eliminates the need for future modifications or, worse, having to shop for another shed down the line when the first one falls short. This is why Dakota Storage Buildings is committed to ensuring that you do not just like your shed or garage — you love it. You will be investing in a structure that satisfies your immediate storage needs and blends effortlessly with your lifestyle and aesthetics.
Easy-to-use 3D Tool to Build the Perfect Shed, Coop, Kennel, or Garage
If you have ever been involved in any form of home improvement or design project, you know that even the smallest decisions can be daunting. What might look good on paper does not always translate well into reality. Traditional design methods, be it pencil and paper or even some computer programs, leave too much room for guesswork and misinterpretation. This is where our 3D Configurator Tool stands out. Designed to be user-friendly yet incredibly comprehensive, this tool allows you to micromanage every aspect of your custom build shed, garage, coop, or kennel. And the best part? You don't have to be tech-savvy to use it!
You can easily choose, place, or swap out elements like windows, doors, and roofs with straightforward actions. Not sure about a certain design feature? Just click to add or remove it and see the impact instantly. Zoom in to view intricate details or zoom out to see the entire structure. Rotate your design 360 degrees to visualize how it would look from any angle in your yard or plot. You can even change the scenery to see your design in different settings. The 3D Configurator Tool erases the guesswork and ensures that what you get delivered to your doorstep is nothing short of your dream storage solution.
Choose the Perfect Shed Style for Your Needs
Modern Backyard Shed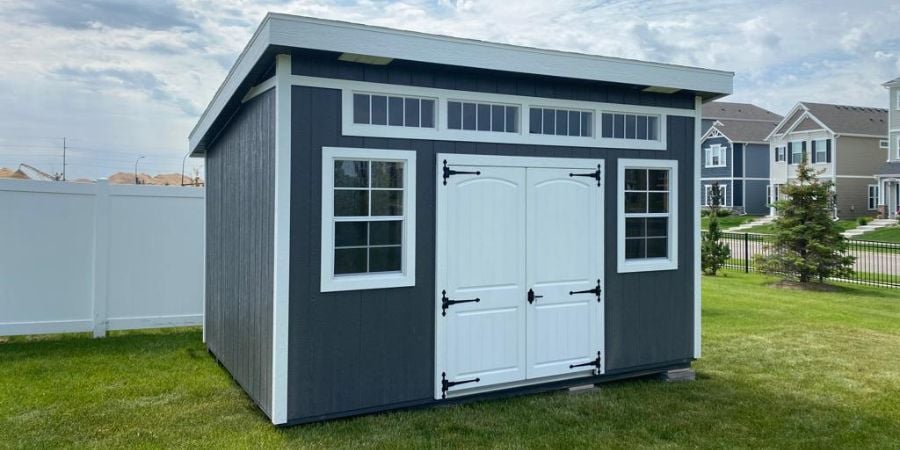 The modern backyard shed is for those who crave clean lines, minimalist design, and functional space. This shed can seamlessly extend your home's living space, giving you an additional area that is just as aesthetically pleasing as useful. Imagine a sleek exterior that can blend in or stand out in your backyard, depending on your color and material choices. It is the perfect setting for storing your gardening tools and creating a tranquil reading nook or an art studio.
Cabin Shed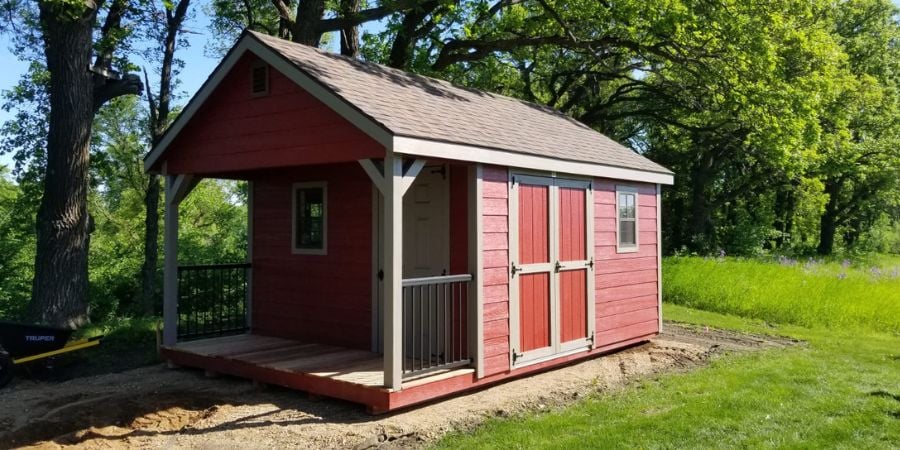 The cabin shed offers a rustic appeal that is hard to resist, especially if you are an outdoor enthusiast. While this can be a place to throw in your fishing gear or hunting supplies, it can be so much more. Picture a shed with a small front porch, wood paneling, and enough room to serve as a guest house, a lakeside cabin, or even a hunting lodge. You are not just buying storage; you are buying a getaway right in your backyard.
Man Cave Shed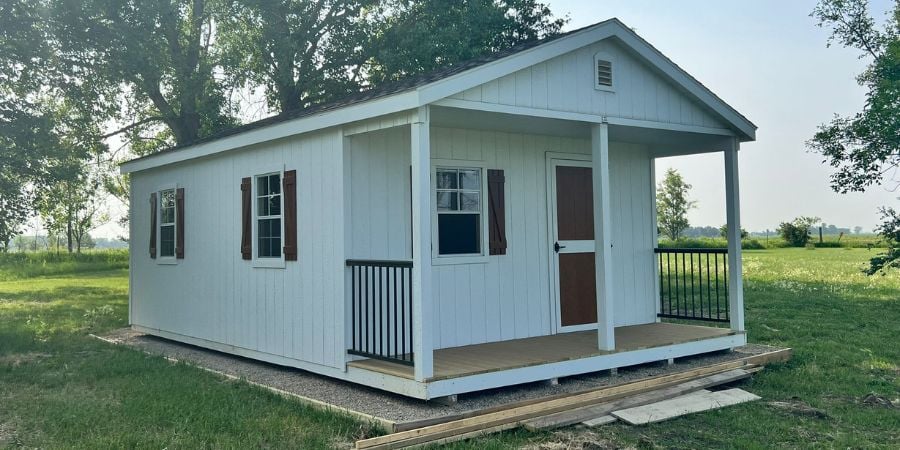 Men like to have their own space, and what better than a custom shed turned into a man cave? Here, you can escape daily life's hustle and bustle and immerse yourself in your hobbies. Whether it is a place to watch the big game, set up your dream workshop, or even display your treasured memorabilia, our Man Cave shed style offers the customization to make it uniquely yours.
Farmhouse Shed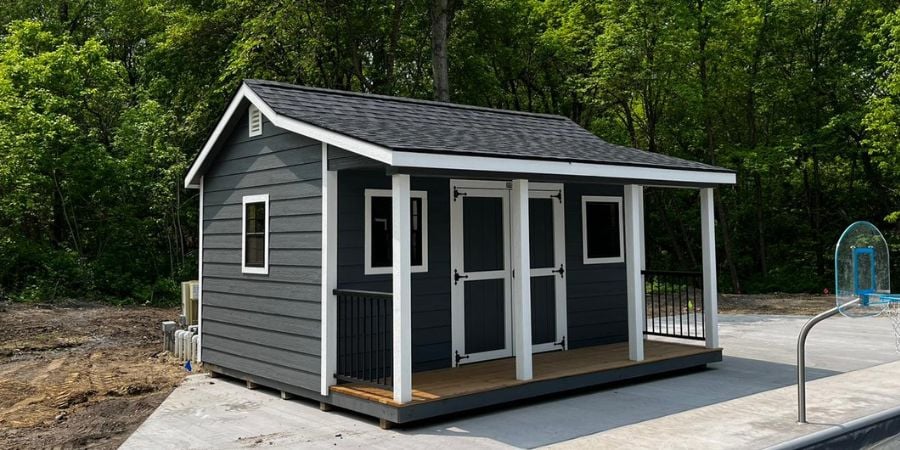 Imagine a cozy structure, complete with board and batten siding, a pitched roof, and a charming front porch with room for a rocking chair or two. This is our Farmhouse Shed, and it is perfect for those who want their shed to feel like an extension of their home. It offers ample indoor storage and workspace, but with the additional charm of a covered front porch, it can also serve as the perfect outdoor space.
Custom Shed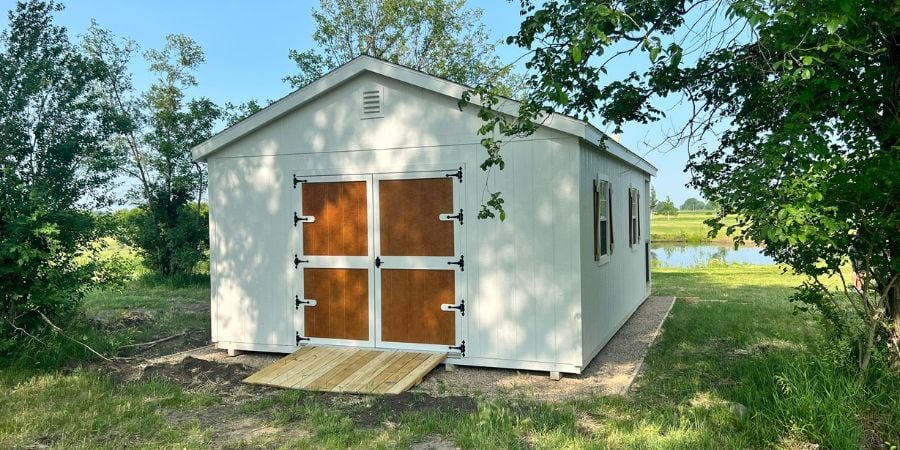 With our 3D Configurator Tool, the sky is the limit when it comes to designing your custom-built sheds. You can start with a blank canvas and add windows where you want them, doors where you need them, and a roof that speaks to you. Want a combination of the Modern and Farmhouse styles? You can do that. Want to create a hybrid of a Man Cave and a Cabin? Go right ahead. This is your dream translated into wood and nails.
Garden Shed & Garden Shed XL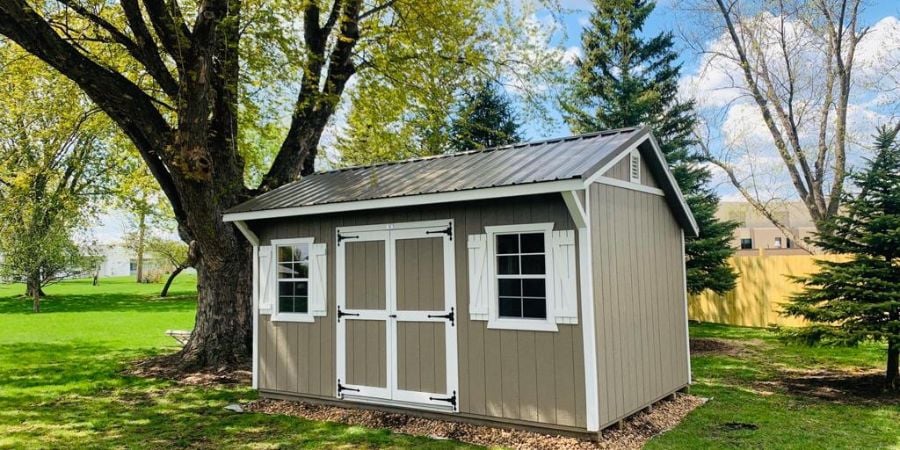 For those who find solace in tending to their gardens, our Garden Shed and Garden Shed XL options offer just the space you need. These are perfect solutions for gardeners looking for either a small-to-medium or a large-to-extra-large space. Imagine a shed outfitted with shelves and hooks for all your garden tools, pots, and fertilizers, plus ample space for your potting needs. Add skylights or windows to make garden sheds a plant paradise all year long.
Backyard Shed & Backyard Shed XL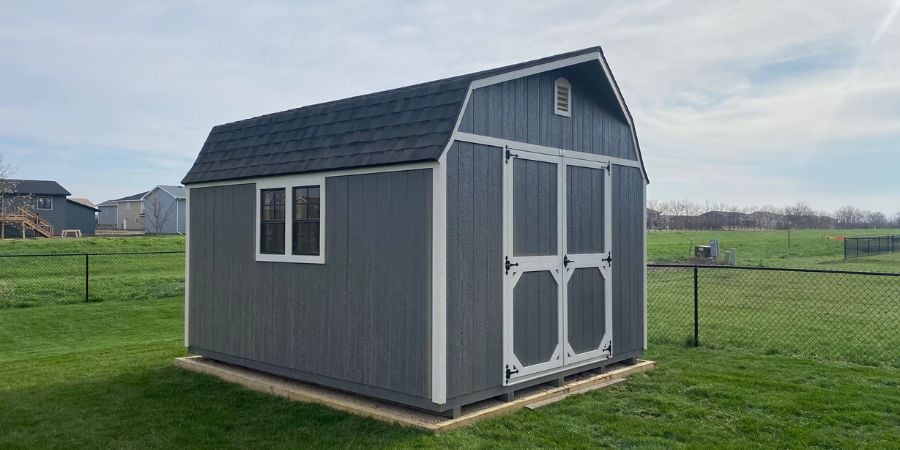 These options are all about versatility. They are the multitaskers of the shed world, designed to serve as both a storage solution and a multipurpose workshop. The Backyard Shed and its XL counterpart can easily transform into hobby studios, project rooms, or even home gyms. Configure it to meet your needs.
Basic Backyard Shed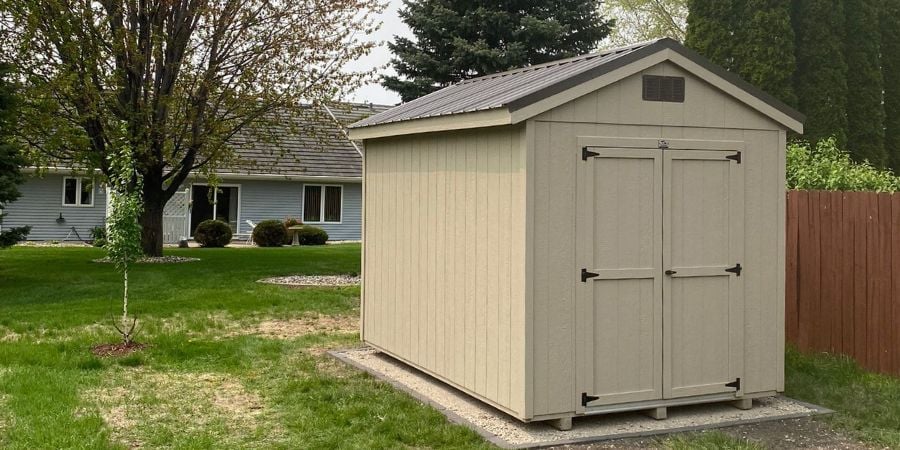 Last but not least, the Basic Backyard Shed offers a simple yet effective solution for those who want no frills, just function. It answers the age-old storage problems without burning a hole in your wallet. Think of it as a blank canvas that you can either keep minimalistic or deck out over time as your storage needs grow.
The Finishing Touches: Custom Features to Complete Your Dream Shed
When it comes to designing your dream shed, the basic structure is just the tip of the iceberg. There is a whole array of additional features that can elevate your shed from a simple storage space to a multifunctional sanctuary. From aesthetics to functionality, each feature has its own role to play in creating your ideal haven. Here is a deeper dive into the elements you can customize.
Coloring: Choosing the right color for your shed is crucial for several reasons. Aesthetically, the right hue can make your shed stand out or blend in with the surrounding environment. We have partnered with Sherwin Williams to offer you a broad spectrum of high-quality, durable paints that withstand the elements while looking fabulous. Whether you want a classic barn red, a modern gray, or a vibrant blue, our range has something for every taste and style.
Windows: Windows do more than just let in natural light; they also add to the aesthetic appeal of your shed. Depending on the purpose of your shed — whether it is a cozy reading corner, a man cave, or a gardening space — the type and placement of windows can make all the difference. The size and style are also customizable, from quaint and traditional to sleek and modern.
Doors: The door serves as both an entry point and a significant design feature. If you plan to store large items like ATVs, lawnmowers, or even a car, then a wide double door might be your best bet. If security is your main concern, you can opt for steel doors with enhanced locking mechanisms. The possibilities are endless.
Flooring: Your flooring choice can greatly influence the functionality of your shed. Do you need heavy-duty flooring to withstand heavy machinery? Perhaps you are interested in insulated flooring for a man cave or hobby room? Our flooring options can meet your functional requirements while offering your desired aesthetic.
Workbenches: Workbenches are not just for workshops. These versatile additions can serve as potting benches, hobby stations, or even a snack station for when you are watching the big game.
What Sets Dakota Storage Buildings Apart
Choosing where to purchase your custom sheds or storage buildings is just as important as deciding what goes into it. Here at Dakota Storage Buildings, we prioritize not just the quality of our products but also the quality of your experience. When you choose us, you are not just buying a shed but becoming part of a community that values trust, customization, and impeccable service. Here are some promises we make to each of our customers.
Exceeding Your Expectations
We are deeply committed to ensuring you make the best purchase decisions. For us, it's about going beyond merely meeting your expectations. We only offer products that we'd confidently buy for ourselves or suggest to our loved ones. Our meticulous attention to detail ensures that you feel as content and assured with your purchase as we do.
Customer-centric Approach
To us, customer experience is paramount. We treasure your needs and opinions, working tirelessly to ensure that you feel valued and appreciated throughout the buying process. Your voice is not just heard; it is integral to how we do business. Whether you are here for a straightforward backyard shed or a custom-built shed, your needs drive our craftsmanship and service.
Problem-solving Partnerships
No two storage problems are alike. We recognize that you come to us with unique needs and challenges, from needing a safe space for your vintage car to dreaming of a backyard art studio. Our team works hand-in-hand with you, leveraging our expertise to guide you toward the perfect storage solution.
Seamless Shopping Experience
We believe shopping should be a pleasure, not a chore. That is why we continually refine our processes to make them as seamless as possible. From the moment you first interact with us — whether online, on the phone, or in person — right through to delivery and installation, we aim to make the process smooth, transparent, and enjoyable.
Easy Delivery Process
Your time is precious, and so are your plans and expectations. That is why we commit to timely deliveries and installations, but it does not stop there. We keep you in the loop at every stage of the process, from initial consultation to the final walkthrough, ensuring there are no surprises.
Building Your Dream Shed is Just a Few Clicks Away
Now, you understand how our state-of-the-art 3D Configurator Tool can help you design the shed of your dreams — no more settling for generic, one-size-fits-all solutions that do not serve your specific needs or taste. Instead, you now have the tools and options to design a custom-built shed tailored to the paint's color and the flooring type. We are here to bring your dream to life, from the first click in our 3D Configurator Tool to the moment your fully customized shed is delivered to your doorstep. Start using our 3D Configurator to build your dream custom shed today! Your perfect storage solution is just a few clicks away.