Your Ideal Storage Solution is a Click Away: Custom Sheds for Sale
by Dakota Storage Buildings, on September 25, 2023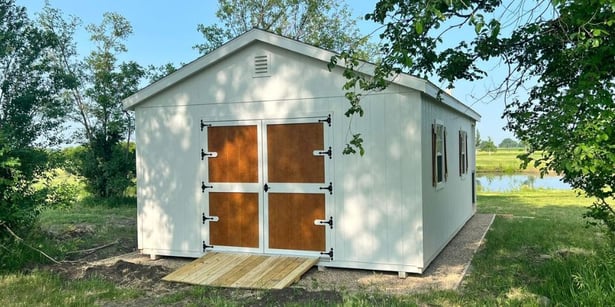 With almost every home, there comes a time when space seems to shrink, and the need for additional storage becomes essential. With countless options for backyard storage sheds available, it is easy to feel overwhelmed or like you have to compromise style for functionality. At Dakota, we are more than just a shed provider; we are your partner in transforming your backyard space. We believe that adding a shed is not just about storage; it is an extension of your home, a reflection of your style, and a solution that should adapt to your unique needs. At Dakota, we have worked tirelessly to ensure every individual need is met without compromise. From expertly pre-designed, ready-to-deliver sheds that cater to a spectrum of common needs to personalized custom sheds that mold to your exact specifications, we are dedicated to making sure you find custom sheds for sale that perfectly fit your needs.
Practicality to Luxury: Crafting Perfect Spaces with Dakota
The spaces we create in our backyards reflect our entertainment needs, aspirations, and dreams. An essential aspect of this backyard story revolves around storage and functionality. Rather than offering generic solutions, we have designed numerous styles of custom sheds and buildings to cater to every aspect of your backyard needs. From those seeking practicality to those who desire a touch of luxury, we have designed an array of options that could be the perfect fit for you.
Sheds
Utility Sheds: Sometimes, a homeowner needs straightforward, no-frills storage. Our Utility Sheds are more than just basic structures plunked down in a backyard. Instead, they are simplistic without compromising on quality. Designed for those who want reliable storage without any excesses, they are ideal for those who want a streamlined, functional space. Our Utility Sheds are perfect for securely storing tools, seasonal items, and other essentials without overwhelming your outdoor space.
Standard Sheds: Everyday life comes with its assortment of items, some of which can clutter our homes if not given a proper place. Dakota's Standard Sheds serve as an extension of your home. They are a protective space for your bikes, storage bins, gardening supplies, and yard equipment. Designed to complement your home's aesthetics, these sheds don't just solve storage problems; they enhance your backyard's look. Think of them as practical yet stylish additions to your outdoor space.
Specialty Sheds: For those who believe a custom shed can be more than just a storage unit, our Specialty Sheds are the perfect fit. These are not just buildings; they are spaces crafted with intent. Need a quiet place to work from home? The shed can be your home office. Looking for a place to let your creativity run wild? The backyard studio shed is an artist's oasis. Want to create a retreat in your backyard? We have charming Farmhouse Sheds, Cabin Sheds, and Man Cave Sheds for you to choose from. Every specialty shed has unique features catering to particular use-case scenarios, ensuring your backyard extends your living space rather than just housing it.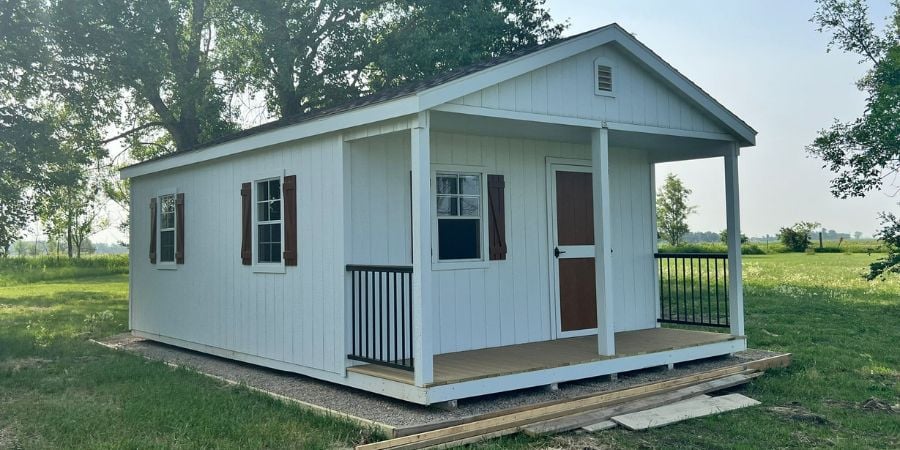 Garages
Standard Garages: A vehicle is not just a mode of transport; it is an investment. Our Standard Garages understand that and offer a safe place to store your cars, sizable equipment, or machinery. Dakota's standard offerings, the Home Garage & Farm Garage, do not just offer storage; they provide protection, ensuring your vehicles and equipment remain safe from the elements and wear.
Specialty Garages: For some, a garage is about providing your classic car with the luxury it deserves or crafting a workshop that is not just about utility but also about style. Our Specialty Garages, like the Luxury Garage & Detached Garage, cater to those specific needs. They are not just garages; they are experiences. With unique features and unparalleled craftsmanship, these garages are designed for those who demand a touch more from their spaces.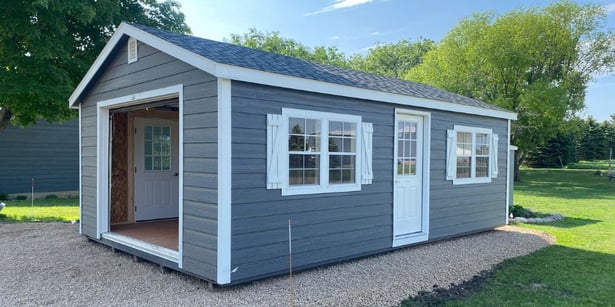 Beyond One-size-fits-all: Customize Your Shed
Every homeowner is unique, and so are their needs and preferences. Because of this, Dakota created an expansive customization platform that ensures you can design your shed exactly how you want. We want to help your vision come to life.
A Spectrum of Customizations
Roofline: The silhouette of your shed is instrumental in defining its character. Whether you prefer a classic A-frame, a modern flat design, or anything in between, you can choose from numerous roofline options to fit your style.
Size: Whether you have a compact urban yard or a suburban land, the size of your custom shed should be a perfect fit. Scale it from cozy storage spaces to expansive workshops to suit your requirements.
Siding: The siding of your shed adds protection, texture, and personality. Choose from traditional wood panels or durable vinyl to achieve the desired look and function.
Roofing: Our range of roofing materials and styles cater to both aesthetics and protection. They come in numerous color options and materials while being extremely durable.
Colors and Trim: A custom shed can be a seamless extension of your home or a delightful contrast. With a color palette spanning from classic neutrals to vibrant hues combined with trims, you can ensure your shed looks exactly how you want.
Door, Window, and Exterior Options: The details elevate a design. Choose from an array of door styles, window shapes, and other exterior elements for functionality and to complement the design narrative.
Flooring and Interior: Inside matters as much as the outside. Whether you need a robust floor for heavy machinery, insulated walls for a home office, or simple shelves for garden tools, Dakota ensures your shed's interior aligns with the purpose of your custom shed.
Additional Features: The smaller elements often infuse life into a space. Whether it is a sturdy workbench, a quaint flower box by the window, a dedicated space for hanging tools, or intuitive shelving, we offer those finishing touches that make your shed uniquely yours.
Electrify Your Experience
Ever thought of your shed as a powered-up space? Dakota makes it possible with our electrical package. With our electrical solution, you do not have to wait for dawn. Efficient, well-placed lighting ensures that you can work under optimal conditions, no matter the hour. Whether it is for illuminating late-night projects, powering up tools, or creating a cozy ambiance with lights, we are ready to bring your custom shed to life.
Real-time Visualization with Our Configurator Tool
We believe seeing is believing. With Dakota's state-of-the-art 3D Configurator Tool, you're not left to imagine the end product. As you pick, choose, tweak, and modify, our tool offers real-time visualization of your shed. Witness your dreams transition into reality, making the design process both engaging and reassuring.
Personalized Sheds with Dakota's 3D Configurator
Why settle for generic when you can personalize? With Dakota, our custom sheds for sale can be tailor-made to fit your vision. Our expertly designed sheds serve as a starting point — from there, you can customize the shed exactly how you want. With flexible payment options, your dream custom shed is more attainable than ever. Ready to see your dream shed come to life? Dive into our 3D configurator tool today and take the first step toward your backyard transformation. Let us help you craft a space that resonates with both your style and functionality needs. Try out our 3D configurator tool today!