Enclosed Dog Runs: How to Keep Your Dogs Comfortable Outdoors
by Dakota Storage Buildings, on March 20, 2023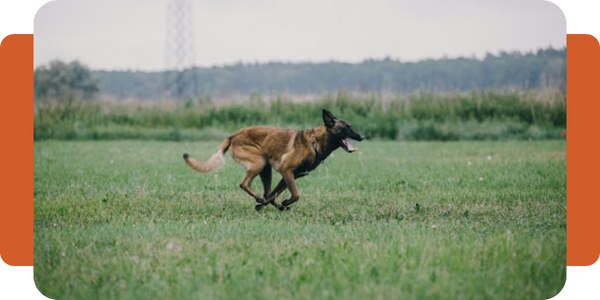 There is nothing a working dog loves more than the great outdoors. Sure, they're a man's best friend, but they want to be outside for as long as possible. She can never get enough. Her love for being outdoors can end up benefiting your work schedule. Instead of keeping her inside all day, letting her spend the day outside is ideal. However, if you want the best life for your dog, you know that a simple pen will not cut it. Your dog works hard, so they deserve to be comfortable and happy during her off time. If you want to ensure your working dog has everything they need for time outside, consider investing in a large dog kennel!
Keep Your Dog Comfortable With an Enclosed Dog Run
Do you know the feeling of getting home after a long work day? You just want to relax on the couch and chill for a few minutes. A large dog kennel can serve the same purpose as your working dog. After a long day on the job, they can return to her kennel. These outdoor structures can be an oasis for your working dog. It can be a relaxing getaway when they are not working, almost like a vacation home. Every hard worker deserves a comfortable space they can retreat to. When you supply your dog with an outdoor kennel, you recognize their hard work and reward them with space.
Choosing a large dog kennel with an enclosed dog run allows them to "go" as needed and safely spend time outside. The fresh air alone is a reason to let your dog stay in their kennel for extended periods. If your dog has a heavier coat, it will be comfortable outside, even in the colder months. Adding blankets and bedding can ensure your dog remains warm while giving her a cozy resting place. The bare floor of the kennel can be tough; why not spend a little extra to make sure they can relax and rest in her kennel?
Improve Your Dog's Safety
We understand that your dog's health and happiness are one of your top priorities. Your working dog is happiest when they spend most of its time outside. With an outdoor kennel, you can give her the time outdoors they desire while keeping her safe and well cared for. The last thing you would want is for your dog to escape somehow. Investing in a secure kennel and enclosed dog runs will keep your worries at bay and is crucial for a safe home for your dog. Choosing a kennel with a locking mechanism will ensure your dog cannot escape. Most large dog kennels are made of high-quality materials that are chew-proof – preventing your dog from chewing their way out. If you are still worried about your dog, consider adding an extra security method.
Prioritize the Essentials
The kennel you choose for your dog is crucial. Not all large dog kennels are the same size or made from the same materials. When you are looking for the perfect outdoor kennel, you need to consider the size. Measuring your dog's height, length, and body width can provide a great framework to reference. At a minimum, you will need to add 9 inches to the height of your dog and 18 inches to the length. This will ensure that your working dog is not cramped in their kennel but instead have plenty of space to move around inside the kennel. When in doubt, having too much space is better than purchasing an outdoor kennel that is too small for your dog.
The location of the kennel is also an important factor to consider. After the size, the second largest factor for many dog owners is where it will look best in their backyard. While the overall aesthetic of your backyard is important, you do want to keep in mind any crevices in your yard that could collect water. The enclosed dog run can get messy if water pools and enters into the fenced-in space for your dog. You want to install the kennel away from those areas and under shade so the sun is not blazing down on your dog all day.
Insulation and ventilation are other important factors to factor into your kennel choice. While some dogs have heavy coats, temperatures can still be frigid during winter. Having insulation will add another layer of warmth to your dog's kennel. Ventilation is important for your dog's health. As air can circulate, it will ensure good air quality and help prevent respiratory illnesses.
Materials Matter When it Comes to High-quality
Large dog kennels that use high-quality materials will cost more, but the investment is worth it when it comes to ensuring your dog's home is safe and secure. Weather-resistant features will help keep your dog safe in most weather conditions. Leak-proof roofs and sturdy walls will ensure your dog stays secure and dry during rainy weather. Wood flooring should be treated so it resists warping and repels water. Enclosed dog runs will need to be secured with a chain link fence. When the materials that make up your kennel are guaranteed to last for years, you will not have to worry about your dog's safety.
Choosing the Right Home for Your Dog
No matter how long you intend to keep your dog in her kennel, picking, an option that will keep your dog happy and healthy is important. With so many options on the market, it is hard to know where to begin in the hunt for a kennel. Our free guide walks you through all the necessary factors to consider and dog kennel essentials to help you find the perfect home for your dog. If you are trying to find the best large dog kennel, download Evaluating the Best-fit Outdoor Dog Kennel for Your Dog today!