Ideas for Decorating Your Garage This Christmas
by Dakota Storage Buildings, on December 07, 2018

There are only a few weeks remaining before Christmas! Have you set up your

outdoor Christmas decorations yet

?
'Tis the season of sparkly lights and colorful ornaments.
Whether you're the type that starts celebrating Christmas the day after Thanksgiving, or the kind that prefers to wait until December is in full swing, it's unmistakably a season that brings joy and cheer.
From Christmas party checklists and gift lists to Christmas tree lights and extension cords for inflatable lawn decor, there's a lot to think about. When decorating your home for the holidays, don't overlook a tremendous opportunity—a blank canvas waiting for a holiday makeover—your garage door.
A garage door covers almost one-third of your house's exterior. Make the most of that space with a Christmas decoration masterpiece.
As you read through our ideas and brainstorm others, remember that Christmas lights and decorations should not interfere with your garage door or its use. The last thing you want to add to your holiday expense list is a new garage door or track repairs.
Here are a few other things to keep in mind:
Don't hang lights or garland in the way of the door, its tracks, or any mechanical element.

If you use your garage door on a regular basis, measure and place decorations in such a way that they won't interfere with your door's ability to go up and down.
Use paint-friendly adhesives or decorations that won't destroy the surface of the door or its trim.
Now onto some garage door Christmas decor ideas.
These ideas vary in price and application, but they're all worth considering—especially if you're excited about the idea of making the most of your garage's blank canvas.
Garage Door Wrap
This example is a waterproof and fade-proof 7'x16' Nativity Scene Garage Door Banner sold on Amazon. It covers the entire door, but it's not a decal. Instead, it comes with special hooks that don't require drilling but allow you to hang (and rehang for reuse) the banner easily and safely year after year.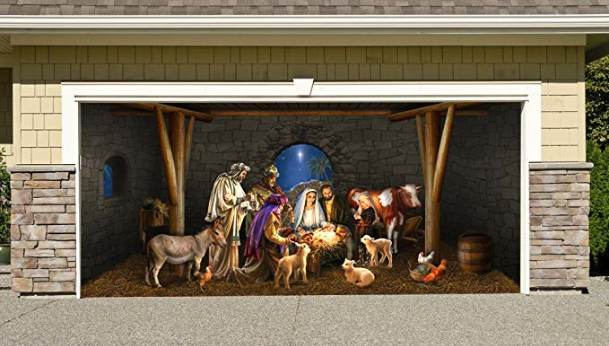 Explore Pinterest for some more great Christmas decals perfect for garage doors.
Christmas Stickers or Decals
When you check the packaging details for vinyl holiday decals, in many cases, you will find that many are suitable for not only indoor use but also windows and outside doors including garages. One note of caution: many decal stickers are removable but not reusable—so when you give the product a once-over, keep an eye out for usage details, too.
This Large Holiday Christmas Ornaments Decal, sold on Amazon, is perfect for any light colored garage. Each ball is 22" and comes in a set of three. Keep size in mind as you look at designs.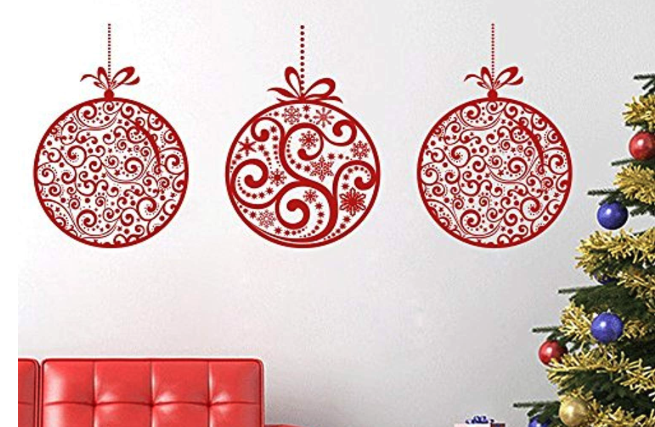 Before moving on to the next ideas, we have one more point worthy of note—and this goes for anything ordered online—if you choose to place an order through a website, always check the Deliver By date before purchasing. Unless you're planning ahead, most people no longer have a need for Christmas garage decor on December 28.
Bows, Garland, & Lights Over Garage Doors
Houzz highlights some of the ways Light Up Your Holidays, a holiday lighting installation and decorating company, makes properties look not only festive but impressive.
Here the design team draped garland and lights above the garage doors and seamlessly continued the theme through the rest of the house's exterior. They added a pop of color with red Christmas bows, perfectly bringing together the window wreaths and other front yard decorations.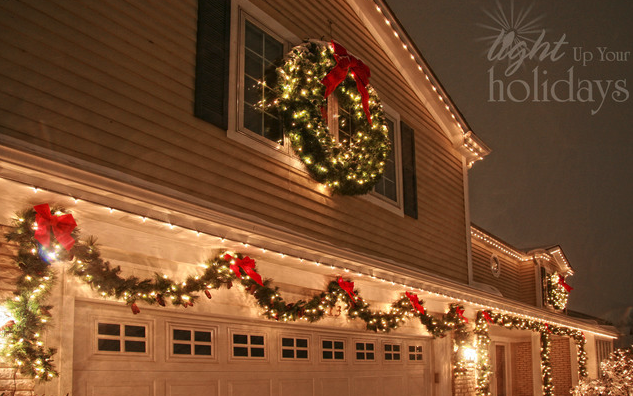 This is an excellent option because it's beautiful and bright, but doesn't interfere with the use or function of the garage door.
If you're using lights to frame your garage door, avoid using nails or staples to fasten the lights to the trim. Metal fasteners can damage the insulation around the wiring, turning your beautiful display into a fire hazard. Instead, try to use clips or hooks to hold everything in place. Avoid nailing anything into the actual panels of your garage door, too. This can damage the door and compromise its integrity.
Christmas Lights Projected on Garage Doors
Projecting lights onto a house isn't a new concept, but it's becoming an increasingly trendy way to decorate without the hassle of putting up and taking down lights.
This is an excellent option for people who rent or who want a great look for little effort. The only downside is that you most likely won't see it during the day, and you may find that you need to spend a little more money for a good projector than you would for a 200-strand of outdoor Christmas lights.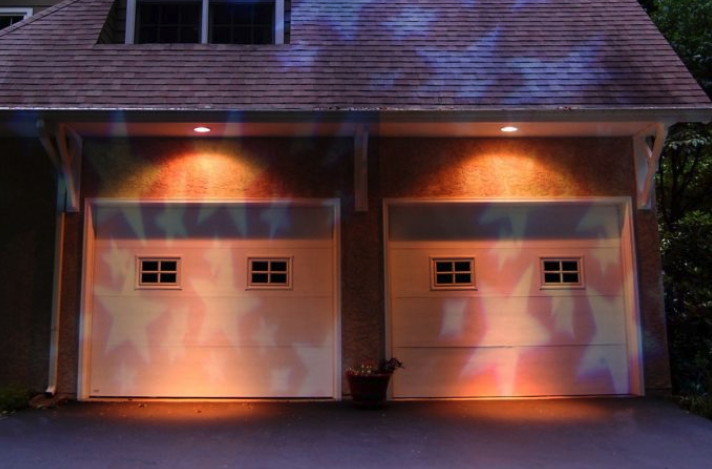 Blair has another great option for those wanting to use a projector this year. Their Light Flurries Projector Set features a rotating mirror ball that sits in a weather-resistant cabinet, reflecting light from an LED spotlight. Once in place, you can dial to your preferred snowfall speed. It's easy to use and makes your garage just as festive as the rest of your house.
Other Christmas-related Garage Thoughts
These are just a few ideas. A quick Google, Amazon, or Pinterest search will show you many more. As you decide on your garage's Christmas decor, remember to keep safety and functionality in mind, always read product packages thoroughly before purchasing, and double-check the delivery date.
One last thought: Before Christmas is over and it's time to take down all those beautiful decorations, we recommend that you start thinking about your storage plan.
Consider freeing up your in-home living space by storing seasonal decorations in your garage or a backyard shed. From your artificial tree to boxes filled with ornaments, garland, and lights, a storage building can keep everything dry, safe, and protected. Discover six practical ways to organize and store Christmas decorations in your shed and best practices for keeping your storage building organized.
If you don't already have a shed or garage, but the idea of having one interests you, explore our garage and shed packages (don't miss our Everyday Garage package!)—one of them might be exactly what you're looking for. It's never too early to start window shopping!
Read more
Christmas-related posts
We make affordable, high-quality buildings that exceed expectations. Explore our storage buildings in person at any of our South Dakota or Minnesota display lot locations or stay at home and try out our online configurator.