Give the Gift of an Office Shed This Christmas!
by Dakota Storage Buildings, on December 18, 2017

Anyone who works from home all of the time — or just occasionally — could benefit from an office shed.
This is a GREAT Christmas gift idea for the person in your life that could use some personal space to work. Whether they need a home office for running a business, the occasional telecommute, or simply a nook for paying bills and organizing a schedule, help them by thinking beyond a folding metal desk and TV tray. If the one you love works remotely on a regular basis, they deserve more than a makeshift workspace, right?
There are many reasons why having a home office can be practical and beneficial.
If you don't have a room in your house that you can convert into an office, consider using a shed as a backyard office. It offers a quiet space that can be wholly dedicated to whatever work needs to be done.
If this is the route you choose to pursue, think about what shed style would be best, where the office shed should be located within property boundaries, and ways to set it up so that it serves both professional and comfort needs.
Office Shed Style
An office shed should be tall enough to move around in comfortably and large enough for office furniture essentials such as a desk, file cabinets, a bookshelf, and office chairs. Our High Barn style sheds, for instance, are the perfect style and are available in a variety of sizes.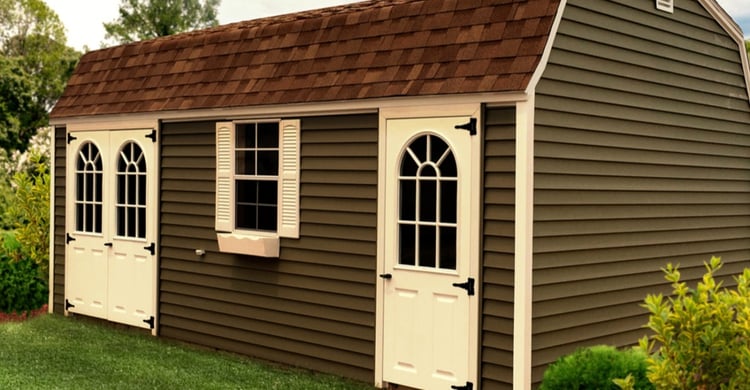 Whether you're buying a shed for your backyard office or you're converting the one you already have in place, there are steps you can take to transform your space into a shed office.
Office Shed Location
Find out if a building permit is needed before you buy an office shed. You can do this by contacting your local municipality, county government, or city business officials. Most buildings require permits, especially for residents in a town or city where there are often restrictions on size, color, or placement of a building. There may be unexpected building limitations listed, and you don't want to miss them.
Note: A building should NOT sit on top of buried power lines or other utilities. If you're in South Dakota like we are, consider calling South Dakota 811 to locate underground utilities before you decide on a storage shed location or visiting their web portal for faster processing of requests.
Learn more about shed placement.
Home Office Setup Ideas
Before ordering your shed, there are some internal elements to consider: Will the desk you want fit in your office shed? How many windows would you like to have? What type of accents would make your office more appealing — flower boxes, a landscaped pathway from your home to your office, etc. Think about these things as you ponder what you'd like the office shed to be like inside and outside.
Trim Package -

You may know what style you'd like your shed to be and you may have even selected the building material you like best — wood lap, wood paneling, vinyl, or metal. While you're at it, think about the possibility of color

contrast trim. Our color contrast

trim package can give your office the pop of color that it needs to stand out from other, ordinary sheds. We have a range of colors

from which to choose for your backyard office space.


Window Shutters & Flower Boxes - Adding window shutters and flower boxes also boosts the external appeal of your office. If you don't want to keep up with flowers or plants in flowers boxes, adding shutters — at the least — will help to communicate that your shed is more than just a storage building — it's a place for working and business.


Windows - How much natural light do you want to flood into your office? Based on that answer, you can choose the number of windows, size of windows, and in some cases, placement of windows. We also offer doors with windows. Bring on the warmth and light that comes with sunlight!


Desk -

There are thousands of desk types to choose from — including

creative desk designs

that will satisfy any need.

If you'd prefer to save space and money, we offer a built-in workbench that can double as a sturdy table-top workspace. Have one

or several

built into your dream home office for a spacious corner desk.


Insulation -

Many custom sheds can have spray foam added to the walls and floor to insulate from the cold and

heat.

Our spray foam floor insulation is 2-inches thick and fills every crack and crevice creating a watertight membrane of protection against the heat and cold. Keep your office comfortable all year long with these

heating tips

and

cooling tips.


Flooring - Even if you want to cover your floor with carpet, laminate flooring, or rugs, it's best to have a strong floor beneath. To maximize the structural longevity of our sheds, we use

ProStruct® flooring with SmartFinish

. This premium flooring has no knots or voids, which creates a sleek and beautiful appearance. Its durability is due to its patented Treated Wood Strand Technology

that is made to resist pests, decay, warping, splitting, and cracking.
As you plan your home office design layout think about how much embellishment you want. As you consider these things for your backyard office, make sure these add-ons reflect your personality or company brand. You can keep things simple or you can dig deeper to uncover more ideas such as office decor and organization.
More Home Office Shed Plans
For ten tips that will help you create a practical at-home office, read 10 Tips for Designing Your Home Office by HGTV.com.
Additionally, our home office ideas on Pinterest includes how to run power to your shed, tips for organizing cords under your office desk, popular office chairs, and more.
Find your ideal office shed — browse our Image Gallery or customize our Home Expansion Package to suit your needs.
Note: Discover how small structures are regulated by the Minnesota State Building Code. The Minnesota State Building Code is the standard of construction that applies statewide for the construction of buildings (MS § 326B.121).
Read more