Maximizing Your Space With an 8x10 Storage Shed
by Dakota Storage Buildings, on August 28, 2023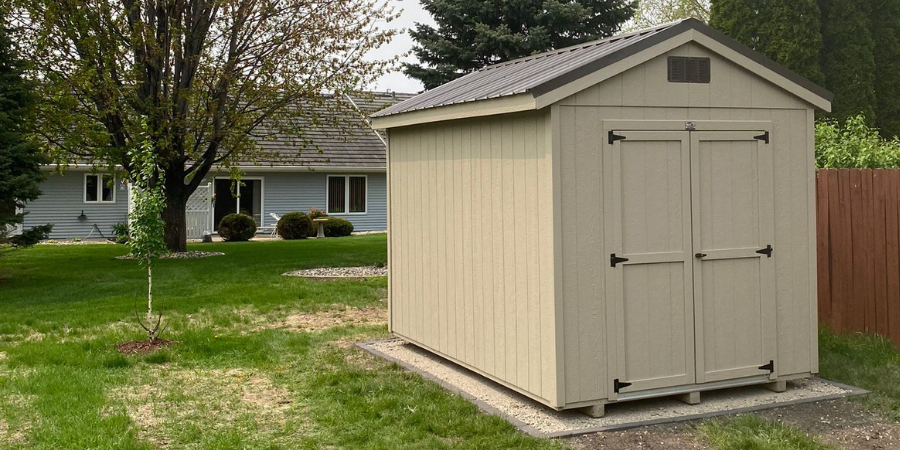 Every inch of your outdoor space is valuable and can be utilized to enhance your quality of life. If you find your stuff scattered around, you likely need a solution to organize and protect your items. An 8x10 storage shed is compact for a small backyard yet spacious enough to hold all your items efficiently. This humble structure can be the solution to all your storage needs. But here is the catch — not all storage sheds are created equal. Whether you choose between prebuilt sheds vs custom sheds is a great way to find the differences in what you want. While both are great, you will want to create your storage shed when you want to customize it. The perfect storage shed seamlessly blends functionality with aesthetics, durability with convenience, and value with quality. A custom shed from Dakota Storage Buildings is not just a building; it is a carefully crafted space solution that will guarantee customer satisfaction.
Maximizing Your Shed Space: From Clutter to Organization
It is a common mistake to view a storage shed as just a place to throw in your stuff. This approach can lead to a cluttered and disorganized mess. Instead, think of your storage shed as a second home for your belongings, where each item has its designated spot. Your primary goal should be optimizing the use of available space. This starts with developing a storage plan. Think about what you intend to store — lawn equipment, gardening tools, outdoor furniture, or sports gear — and visualize how these items can be organized. This initial step will save you a lot of reorganizing down the line.
Next, consider installing shelving. Shelves are a practical and cost-effective way to utilize your custom shed's vertical space. They are perfect for storing medium-sized items like paint cans, storage bins, or gardening pots. Depending on your needs, you can opt for wall-mounted shelves, free-standing units, or even corner shelves to make the most of every square foot. The use of a pegboard can also help free up valuable floor space. These versatile panels can be installed on the shed walls to hang tools, garden equipment, or even bicycles. A pegboard allows for easy access to your items, saving you the trouble of rummaging through a pile of tools to find that one screwdriver.
Stackable storage bins are another way to maximize your shed's capacity. They come in all shapes and sizes and can accommodate a variety of items, from small tools and screws to larger items like gardening soil bags. DIY jars and containers are a great solution for smaller accessories and hardware. These handy organizers can store nails, screws, seeds, and other small items easily lost amidst larger tools. Labeling each jar creates a mini inventory system that's both practical and visually appealing.
Finally, don't forget about the space above your head. Overhead and hanging storage can hold items that are not frequently needed, like seasonal decorations or spare tires. Installing overhead racks frees up precious floor space for items you need more frequently. With a bit of planning and the right strategies, you can maximize your storage and create a functional, organized, and easy-to-navigate space.
Partner With Dakota To Get a Custom Shed
A storage shed should withstand the elements, protect your possessions, and maintain its aesthetic appeal over time. At Dakota, we never compromise on the quality of materials used in our sheds. We use fiberglass doors, known for their excellent strength-to-weight ratio. Unlike traditional wooden doors, fiberglass doors resist the ravages of weather, including warping, rotting, and rusting. Our doors provide security for your stored items and add a modern touch to the shed's appearance.
The shed's flooring is another critical component. We use LP ProStruct Flooring, engineered wood technology known for its durability and resistance to moisture and termites. This flooring provides a solid foundation for your custom shed, capable of withstanding heavy loads and high traffic. The shed's siding is crucial for its durability and maintenance.
Our choice, SmartSide Siding, offers the beauty of traditional wood but with advanced durability. This engineered wood product is designed to resist fungal decay and termites, providing long-lasting protection for your shed. We also offer robust wood ramps. These ramps are designed to withstand heavy loads, providing easy access to wheeled equipment like lawnmowers or bicycles.
We pay attention to every detail, including the color contrast trim. While it may seem purely aesthetic, contrasting trim is key in creating visual interest and enhancing curb appeal. We trust Sherwin Williams Superpaint to offer excellent coverage, numerous color options, and superior peeling, chipping, and weathering resistance. The paint's durability means your shed maintains its vibrant color for years, minimizing maintenance efforts and costs.
What Is Storage Without a Shed
Having the right storage shed is crucial for efficient organization. For a yard with limited space, an 8x10 shed could be the perfect solution. Dakota offers a variety of 8x10 storage sheds, each with unique features to cater to various customer needs. Are you an avid gardener needing a custom garden shed to safely store your tools and supplies? We have got you covered. Or maybe you need a space to keep your outdoor furniture during those harsh winter months securely? We have sheds designed for that too.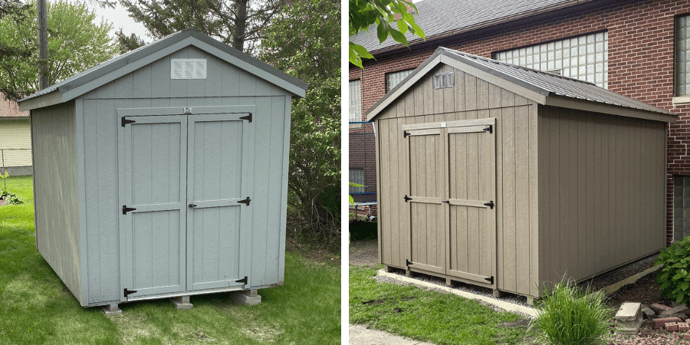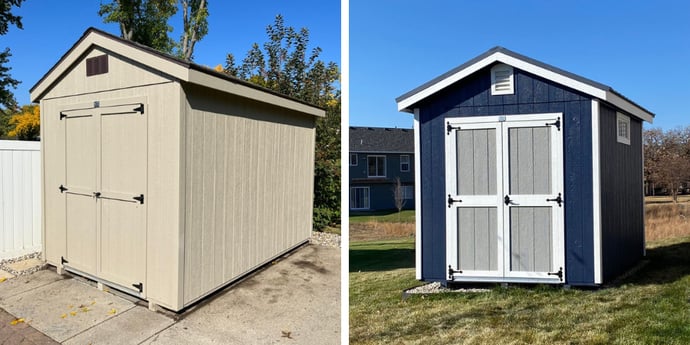 An Exceptional Buying Experience
Purchasing a storage shed is not an everyday occurrence, and at Dakota, we understand that it is a significant investment for most of our customers. We are committed to ensuring your buying experience is smooth, enjoyable, and rewarding. Our approach is centered on you and your needs. We guide you through the selection process, helping you navigate our diverse range of 8x10 storage sheds and the various customization options. Our customer-centric approach does not end with the selection process because the delivery and installation of your shed are just as important. Our team of skilled professionals will safely and efficiently install your shed.
At Dakota, we don't just want to sell you a shed; we want to offer you a solution to your storage needs. We understand that a high-quality storage building can help organize your life and keep your possessions safe. We focus on building a relationship with you based on trust, respect, and mutual satisfaction. We strive to satisfy our customers at every stage of this journey, constantly looking for ways to improve our processes, products, and services.
Our Promise to You
At Dakota, our customer relationship extends far beyond the point of sale. We consider each interaction an opportunity to demonstrate our commitment to you and are passionate about fulfilling that commitment. Here is our promise to you.
Mindful Purchasing: Making the right purchase matters. Whether purchasing your first shed or upgrading an old one, we promise to provide you with a storage building that we would confidently buy ourselves or recommend to our family. We want you to feel comfortable and confident about your investment, knowing it was crafted with the same care and precision we would demand.
Valued Opinions: Every customer has a unique perspective and valuable insights. Your needs, preferences, and feedback shape our product offerings and customer service. We promise to listen to you, engage with your ideas, and continually adapt our practices to enhance your experience with Dakota Storage Buildings.
Custom Solutions: No two storage problems are the same, and neither are their solutions. We are dedicated to understanding your unique storage needs and helping you identify the best shed to meet them. Our expert team is ready and eager to guide you in customizing your shed, ensuring you get exactly what you need — nothing more.
Delightful Shopping Experience: Shopping should not be a chore, and at Dakota, we ensure it is anything but the easiest experience. Our customer service is designed to be as enjoyable and rewarding as possible. We continually seek to improve our processes to make your experience seamless and stress-free, from the first point of contact to delivery and installation.
Respect for Your Time and Expectations:
We value your time and understand the importance of clear, timely communication. We promise to keep you informed throughout the buying process, whether about delivery schedules, installation plans, or unexpected delays. We strive to deliver on time, every time, and always with a positive and friendly attitude.
Full Satisfaction Guaranteed
At Dakota, we do not just build sheds; we build trust. Our commitment to your satisfaction goes beyond our products' design, craftsmanship, and installation. We provide a comprehensive guarantee on every shed we sell to ensure you are completely confident in your investment.
Quality Control Inspection
Each shed we create is subjected to a rigorous quality control inspection. This meticulous process allows us to ensure that every aspect of the shed, from its structural integrity to its aesthetic appeal, meets our high standards. When your shed is ready for delivery or installation, you can rest assured that it has passed through a series of checks designed to guarantee its durability, functionality, and beauty.
15-day Money-Back Guarantee
We understand that purchasing a shed is a significant decision. Sometimes, you may change your mind even after careful consideration and consultation. To cater to such situations, we offer a 15-day Money-Back Guarantee. If you are not fully satisfied with your shed within 15 days of purchase, you can return it for a full refund. This is our way of saying that we stand behind our products and their quality.
Top-to-Bottom Limited Warranty
Our confidence in our products and craftsmanship extends into a robust, top-to-bottom limited warranty. This warranty covers any defects in materials or workmanship, providing peace of mind knowing that your investment is protected. The warranty terms are transparent, with no hidden clauses, underlining our commitment to your satisfaction.
Transform Your Backyard For Your Storage Solutions
Choosing the right storage solution for your yard is a task that involves finding that perfect blend of functionality and design. With Dakota, you can find a shed that does not just meet your needs, matches your style, and enhances your space. We aim to help you optimize your outdoor space with a high-quality, aesthetically pleasing storage shed that stands the test of time. We believe every homeowner deserves a functional and beautiful yard, a space that complements their lifestyle, and a custom shed that seamlessly integrates with its surroundings. Take the first step towards creating a more organized, clutter-free, and aesthetically pleasing outdoor space. With Dakota Storage Buildings, the backyard of your dreams is just a shed away. Explore our range of 8x10 storage sheds, and configure one uniquely yours.