Ranch Roofline: Our Most Popular Shed and Garage Style
by Dakota Storage Buildings, on March 24, 2017

Ranch style storage buildings are

beautiful, practical, and versatile.
While all of our storage buildings are high-quality, practical, and versatile, many of our clients prefer our Ranch style sheds and garages. This style is our most popular—and top-selling—storage building. It's easy to understand why.
Our Ranch style storage buildings are beautiful and purposeful. With a 5/12 pitch roofline, this building can blend into any residential neighborhood. The high walls provide ample wall space to hang tools, mount shelves, or store supplies.
In short, you won't find a more dependable storage building for a better price.
Getting the most out of a Ranch style sheds or garage
This building style is ideal for storing vehicles, motorcycles, snowmobiles, boats, and more. Plus, it makes a great workshop, playhouse, dog house, or chicken coop.
Here are a few other use ideas.
Garden supplies - You can easily store seeds, fertilizer, tools, pots, hoses, and anything else you may need for your garden. Storing these items in the backyard is convenient. Plus it allows you to keep the inside of your house clean, and the outside of your house beautiful. Check out these garden shed storage tips.


Tools and workshop - Our Ranch storage buildings provides plenty of room for power tools, bulky cords, and larger equipment like saws, workbenches, and riding mowers. Everything can be organized, stored, and easily accessible. Create your own backyard wood working shop.


Sports equipment - Avoid tripping over sports equipment by storing it all in the backyard shed—hockey and lacrosse sticks, basketballs and soccer balls, cleats and helmets. You don't need a huge storage shed for this option just something that will keep the clutter (and smell) out of your house.


Fishing and hunting gear - House all of your hunting and fishing gear in one place without worrying about who will get into it. There is plenty of storage space in our Ranch style sheds; the more creative you are, the more you can squeeze into it.


Home office - Creating a home office means that you don't have to take over a spare bedroom, clutter the kitchen table, or kick the car out of the garage. Another great benefit is that outdoor office space in a shed could be tax deductible! Convert your shed into a convenient home office!
Fantastic features of the Ranch style building
All Ranch style buildings come with the following standard features with various upgrade options available.
1 set of double wood doors
1 window and two vents
4"x4" pressure treated skids
2"x4" treated floor joists for 8' and 10' wide sheds
2"x6" treated floor joists for 12', 14', and 16' wide sheds
All framework 16" on center
3/4" T&G high-performance OSB flooring
7/16" OSB roof sheeting
15 lb. felt (on sheds 120 sq. ft. and larger)
30-year guaranteed architectural shingles or steel roof in any color (ridge vent not applicable with steel roof)
Painted, lap, vinyl, and metal siding options
The most popular Ranch building sidings are painted, lap, and metal.
Why our customers love the PAINTED siding: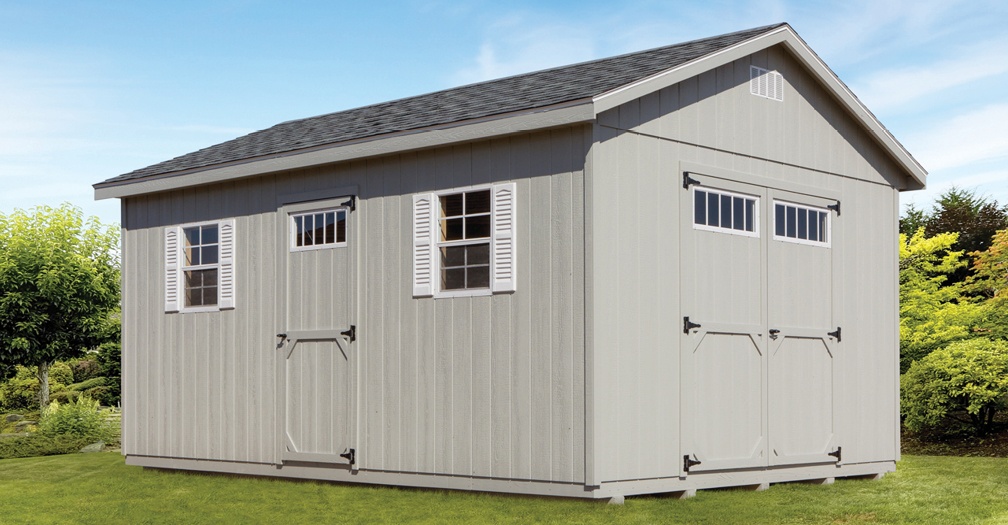 Why our customers love the LAP siding:
The clean horizontal design of Lap siding is timeless.
Our Ranch buildings with Lap siding blend into almost any neighborhood. Did you know that 90% of the new housing in our area is built with Lap siding?
Our Lap siding comes in many colors (check out our Sherwin Williams options).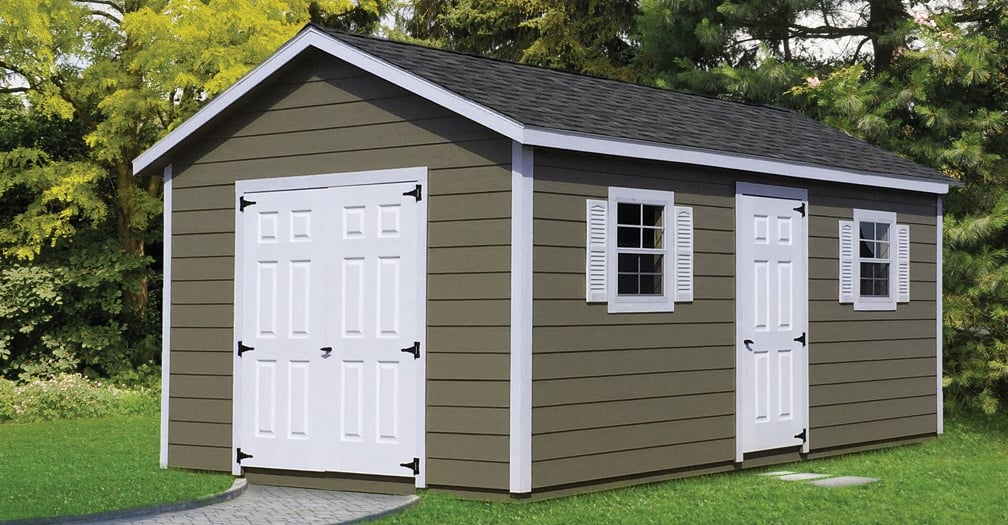 Why our customers love the METAL siding:
Our Tuff Rib steel siding comes with a 40-year guarantee.
This siding type is low maintenance.
We offer 14 color options—one of them will match your existing farm buildings.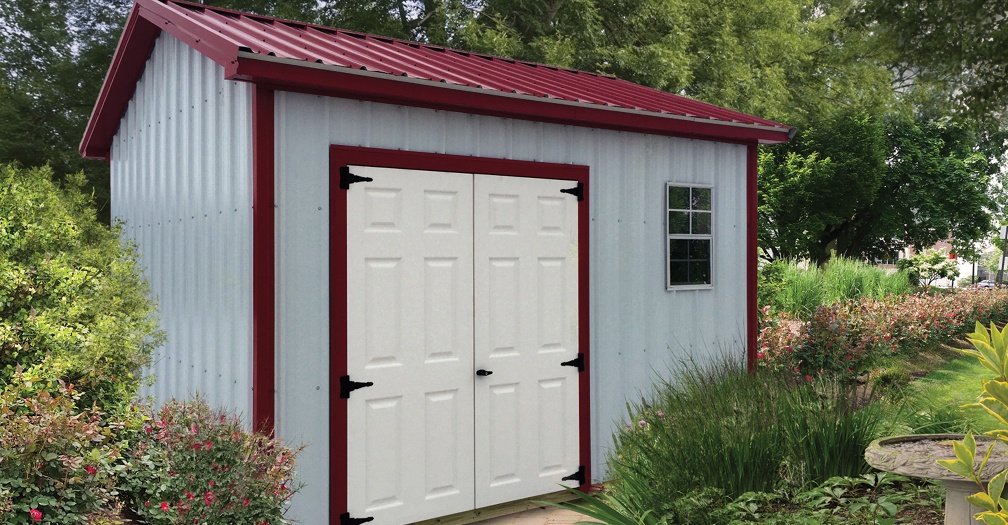 Browse our Ranch style storage building—and get at quote if you'd like!
Can you imagine a Ranch style storage building in your backyard, on your farm, or near your property? How would you use it? Dream big!
Customize your own Ranch storage building and get an obligation-free quote. Our online form will take you through the customization process step-by-step. You'll be able to choose all the details of your shed or garage from size and siding type to color and add-ons. After you've finished, one of our customer service representatives will send you a price estimate. Where you go from there; well, that's up to you!
If you just want to browse (and dream . . . ) for now, take a deeper look at our Ranch style storage buildings.
It's our mission at Dakota Storage Buildings to make high-quality buildings that exceed your expectations. Explore our storage buildings in person at any of our
South Dakota or Minnesota display locations.
Learn more about the process of choosing and buying the right shed or garage for you.