Explore Our Pre-built Garage Packages
by Dakota Storage Buildings, on October 13, 2017

Need more storage for your home or business? Consider one of our prebuilt garage packages!
There are many practical reasons for buying a garage.
For instance, at home, you may need it for a vehicle, snowmobile, boat, ATV or motorcycle storage; or maybe you need a home hobby workshop or woodworking shop garage or shed. If you live on a farm, having a garage gives you more room to store your equipment and materials.
At work, you can use a garage for business expansion. As your business grows, consider using a garage for a workspace, office space, or for storing inventory and overstock items. It's much cheaper than building an addition!
Whether for home or work, we sell high-quality prebuilt garages in Minnesota and South Dakota that can meet all of your needs. Keep reading to learn about our prebuilt garage packages.
Single stall prebuilt garage packages
Do you need to de-clutter your house or find room to store a vehicle? Maybe you're looking for garage designs that have space to store patio furniture, sports equipment, winter weather needs, and seasonal decorations. Or maybe you just need a workshop or workspace. Our single stall High Barn style garage and Ranch style garage are both perfect for the job—they're durable, practical, and affordable and they're available in a variety of sizes with several siding options.
Our garage packages are a cost-effective alternative to a permanent structure or addition. Renovations can take a long time—sometimes months—and often the project faces unexpected delays or issues. These issues can be avoided when you buy a garage.
All of our garage's come with Clopay Premium Series overhead doors that are energy efficient, easy to operate, and boast 1⅜" Intellicore insulation.
When you add a second overhead door to any of our garage packages, it becomes a useful drive-through garage. Imagine the benefits! Having a second overhead door makes parking and removing a boat or trailer easy, and it makes getting large equipment and cumbersome objects out of the garage possible without having to maneuver vehicles.
Ask for spray foam insulation to be added to any of our garage packages for a year-round building. With insulation, you can work indoors in any weather or temperature. Our spray foam is sprayed up to 2-3 inches thick creating a watertight membrane of protection against the heat and cold.
Our High Barn style garage has a classic barn roofline which provides a high ceiling and extra headroom. You can add a loft to this prefab garage for additional, out-of-the-way storage.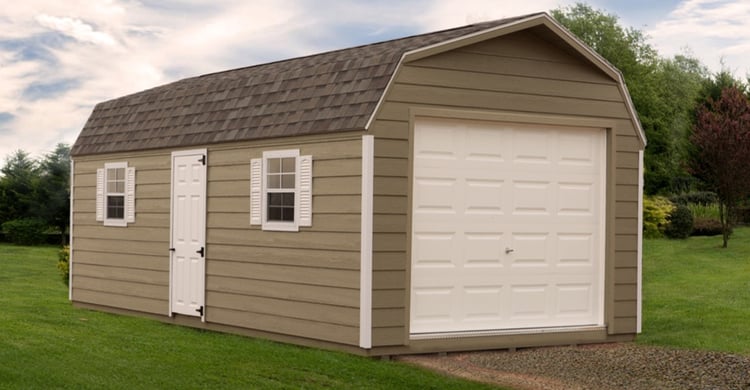 Our
Ranch style garage, on the other hand,
has a
c
l
a
s
s
i
c
g
a
b
l
e
r
o
o
f
lin
e
(triangular

shape) which
allows it t
o blend seamlessly into
any n
eighborhood.



Getting your garage to your house
Looking for a prebuilt garage? We can deliver your prefab garage to you (depending on the size of the garage) or make plans to build your garage on-site.
Ordering a prefab garage means the construction mess stays in our shop and out of your yard. Our carpenters build your garage package—the style of your choice with all the add-ons and upgrades you desire—and our delivery team gets it to your property. Delivery is free within 100 miles of our shop and 20 miles from our display locations. Beyond that, there is a $4.00 per mile one-way charge. Escort fees may apply for 14′ and 16′ wide buildings.
When we build on-site, we prefabricate each part of the garage in our factory; then we transport the sections to your property for assembly. Look through some photos of our assembled storage buildings to see a customer's empty spot be tranformed by our addition!
To learn more about our garage packages and options as well as all our various garage designs, order our catalog. If you'd like to know how much your ideal garage will cost, complete our quote form to find out.
Related blog posts: